5 Easy-to-Make Raw Desserts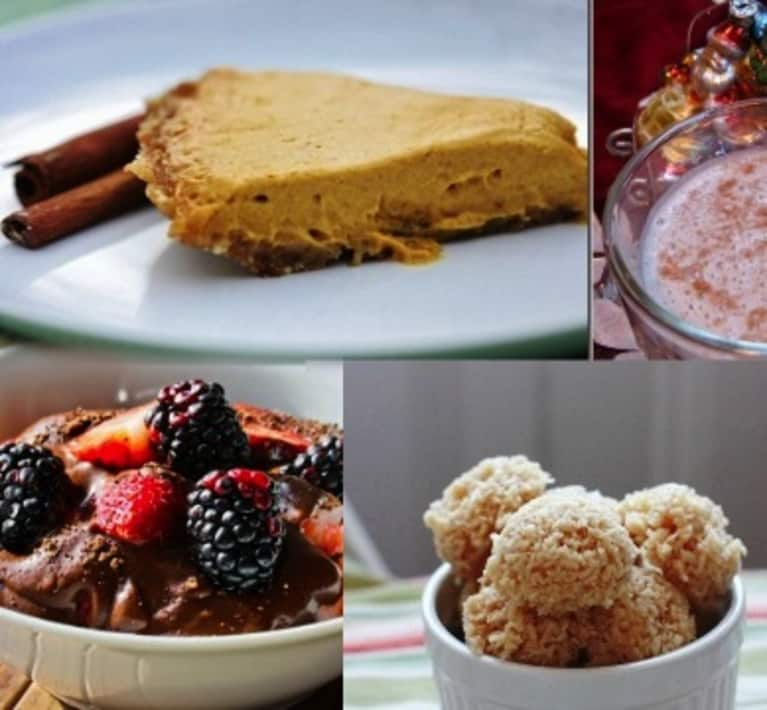 Most of us have an assortment of go-to dessert recipes we use at this time of year, when the weather gets colder, and we have more parties to attend.
However, if you're hoping to dish up healthier options for your family, the cookbooks on your shelves probably don't even come close to your standards.
Instead of firing up the oven, prep your blender, dehydrator, and cutting board, while enjoying the blessings of the holidays.
Here are my top five raw (unheated under 115 degrees to maintain nutrients and enzymes) and vegan (100% plant-based) dessert recipes.
They're sure to delight everyone's taste buds and minds and help you celebrate healthfully!
1. Pumpkin Pie (Raw, vegan, gluten and soy free)
Yield: 10-12 Servings 
Prep Time: 30-45 Minutes
Ingredients
For the crust:
1 cup cashews
1 heaping cup dates
3/4 cup carrot juice
1 cup Irish moss gel (see below for alternative)
1 cup cashews
1/4 cup nut or seed milk (substitute soy or rice milk if you like)
8 pitted dates
1 tsp cinnamon
1/4 tsp nutmeg
Dash cloves
Stevia to taste
Place cashews and dates in a food processor and process until broken down and uniformly mixed.
Press into a pie pan to make crust.
Set aside.
Combine all filling ingredients in a Vitamix or other high-speed blender and blend until the mix is very, very smooth.
Pour filling into crust.
Place in freezer for about 2-3 hours.
Transfer to fridge and serve at any time.
Be inspired with its deliciousness.
Freezer time is essential to help this set.
After it's set, be sure to keep it cold, as raw pie fillings are softer than those found in traditional baked goods.
If it's not sweet enough for your taste, add natural sweeteners such as more dates, stevia, agave syrup, or maple syrup.
If you don't have access to Irish Moss, you can (1) omit the moss and increase the cashews to one and a half cups, keeping the rest the same; or (2) omit the moss and add about one half to 1 teaspoon of xantham gum. (Again, increase the quantity as needed.)
2. Chocolate Pudding (Raw, vegan, gluten and soy free)
Servings: 1-2Prep Time: 5 Minutes
Ingredients
1 Avocado (pitted & peeled)3 Tbsp cacao powder1/3 cup raw agave nectar or 4 soaked dates½ tsp sea salt2 tsp vanilla extract ½ cup water (or more depending on your desired consistency)
Directions
In a high-speed blender, combine all ingredients until smooth.
Pour into serving dishes and chill or eat immediately.
Bonus: Vanilla is a natural aphrodisiac (as is cacao). It relieves anxiety, and is high in anti-oxidants.
3. Brownies (Raw, vegan, gluten and soy free)
Number of Servings: 12
Prep Time: 15 Minutes
Ingredients
For the Brownie:
1 cup walnuts
1 cup dates
1/4 cup cocoa powder
For the Icing:
2 avocados
1/2 cup agave nectar
1/4 cup cacao powder
2 Tbsp coconut oil
1 Tbsp vanilla extract
Dash salt
Dash cinnamon
Directions
Food process the brownie ingredients until blended and dry chunky.
Press into a small pan. (9x9 works well!)
Put all icing ingredients into Vitamix blender, and blend on high until smooth.
Spread icing over brownies and place in freezer to set for 1 hour.
When you are ready to serve, cut into 12 servings and enjoy!
4. Eggnog
Yield: 2-3 Servings
Prep Time: 5-10 minutes
Ingredients
½ cup raw almonds 1 ½ cups filtered water OR 1 ½ cups homemade raw almond milk
2 frozen ripe bananas
1 pitted date soaked for about an hour
¼ tsp natural pure vanilla extract
¼ tsp ground nutmeg
¼ tsp ground cinnamon
pinch ground cloves
pinch of Celtic sea salt
Directions
Place all ingredients in your blender and puree until smooth and creamy.
Add more water to achieve desired consistency.
Sprinkle with cinnamon and serve immediately.
Almonds are a great source of protein, vitamin E, and fiber, while spices like cinnamon can reduce your blood pressure and taste delicious!
5. Macaroons (Raw, vegan, gluten and soy free)
Servings: 24 cookies 
Prep Time: 15 Minutes Dehydrating 
Ingredients:
2 cups shredded, raw, unsweetened coconut
1/2 cup ground raw almonds (or almond flour)
1/2 cup 2 tbsp agave syrup
1 tbsp coconut butter or coconut oil
1 tsp vanilla extract OR the contents of 1 vanilla bean, scraped
1/8 tsp sea salt
Directions:
Mix all ingredients together in a bowl with hands, until dough is uniformly sticky and clumps together easily.
If necessary, add a touch more agave.
Scoop in tablespoons onto a dehydrator tray lined with teflex sheets or parchment paper.
Dehydrate at 115 degrees for about 6-8 hours.
Avoid sneaking them out of the dehydrator too soon, even though the smell of coconut and vanilla may be wafting through your house.
Coconut is a monosaturated fat, which is used directly for energy, and helps lower bad cholesterol.
**
There's no way you can go wrong with desserts so close to nature. Filled with heart-healthy nuts, natural sweeteners, and plenty of love, they are far more wholesome and satisfying than standard American goodies.
Treat those you love with these enzyme-active, nutrient-rich, and delicious raw desserts this holiday season!