Coming to Yoga for the Physical Benefits But Leaving with Much More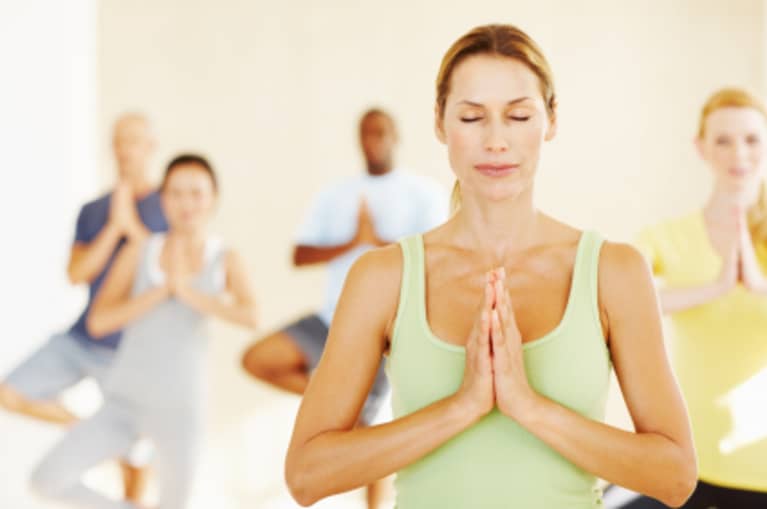 Admit it. You attended your first yoga class because you wanted that cute butt and tight torso. It's okay, we all thought about it at one point. When I started practicing in my early 20's, I believed yoga would be a great pathway to keeping me slim and fit. Oh, and then supposedly, I'd become more virtuous and get to calm down too? I liked the idea of myself as a yoga person. I began to eat, sleep and dream yoga.
From Downward Dog to Triangle Pose, I was drawn in. Absorbed. By the time I lay down, a sweaty mess in Savasana, I was – do I dare to say – "blissed out"? There were 80 other sweaty strangers in the room with me, (even touching me) and I didn't mind at all! I began to wonder what it was about this practice that was bringing me to such a state of calm and serenity. Why was it that the entire room was falling into a zen-like atmosphere and no one wanted to leave?
My instructor would walk around the room, slowly with a sense of earthly groundedness and I'd begin to wonder—mid Camel pose—how can it be that he moves with such poise and grace? As I followed my teacher's cues and doing my work to the best of my ability, I began to reap the benefits of my practice.
It took me awhile but I eventually did realize there was much more to the practice than planking until my abs and arms were toned to the max. Submission, trust, imperfection, letting go of fear and the release of ego were some of the initial attributes I began to realize. As I began to shift into new shapes, I derived more and more pleasure in becoming someone new off my mat.
I didn't realize the shift was coming.  It just sort of snuck up on me.  Have you noticed that yourself?  Even if you too began your practice for the perks of becoming more toned or flexible, something has shifted?  The real perk has become how flexible your mind has become? For whatever reason any of us has landed in yoga class, ultimately we all begin to walk down a path closer to enlightenment.
I wanted to bring that zen and awe-inspiring serenity into my own home. I didn't need to have to go only to the studio. It needed to become my life. How did I do it? PRACTICE.
The roots of yoga go back to over 5,000 years ago. Yikes. That was a long time ago. Why did it take so long to get to the United States?! It started in Northern India and it was a way to rejuvenate the body and prolong life. It was also used to deepen the physical-spiritual connection we all have within us.
Yoga comes from the Sanskrit word "yuj," which means to "yoke" or "unite." You can see "it's" more than what most American yogis think "it" is; "it's" about the "coming together" within all of this. Yoga helps us take a look at all aspects of our lives…pleasure, pain, joy or misery and nudges us to accept all parts. We live in a crazy and intense world. As such, we've become far too distracted. Its too easy to lose touch ourselves and our lives. Yoga is a path to get back on balance (no pun intended). Through the physical asanas we gain clarity of mind which allows us to unite with all parts of ourselves in order to feel peace. It's a way to brush away distractions, "imperfections," and ignorance in order to see the part each one of us plays in the universe itself, bonded with all creatures. It's a pretty crazy-amazing feeling once you reach that point of understanding.
Too heavy for you? No worries. In time, as you continue to practice—whether you want to or not—you will begin to tune in. Your yoga practice will become much more than a means to cute butt and flat abs. You'll start to see your place in the world around you in a completely different way. Trust me; your life will change for the better.