5 (Healthy!) Ways to Feed Your Inner Chocoholic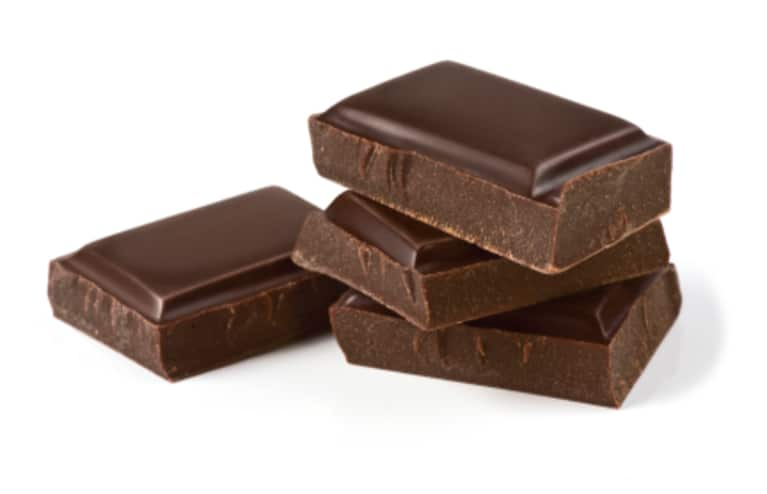 My name is Rebecca, and I'm a chocoholic. Ironically, I hated chocolate for my entire life until my rather recent discovery of Mother Nature's gift to humankind, the cacao bean. Turns out, I didn't dislike chocolate, only the massive amounts of sugar, butter and processed ingredients added to most chocolate on the market today. Chocolate is one of the most controversial foods out there, especially among health enthusiasts.
Like anything good in life, moderation is key. (Unless, of course, it's your birthday, in which case I oblige you to indulge to your heart's content.) However, as far as "vices" go, this one is packed with health benefits. Cacao is one of the best sources of magnesium out there, which gives energy, builds strong bones and, most importantly, makes us happy.
When I say I love cacao, boy do I mean it: cacao beans contain neurotransmitters that promote a good mood such as serotonin, dopamine and phenylethylamine. The latter, also known as PEA, can make your brain feel similar sensations to being in love. Not to mention the anandamide, which is known as "the bliss chemical." Cacao is also rich in antioxidants and can help with cholesterol and diabetes. Hungry yet? Put down that candy bar, and make these cacao-infused recipes!
1. Power Pudding
Place one medium-large avocado in a blender or food processor (I recommend a Vita-mix for the smoothest, creamiest pudding) with around 1 tablespoon of cacao powder, a pinch of cinnamon, a tiny pinch of cayenne pepper, a pinch of vanilla powder or extract, either a pinch of stevia or a date for sweetness and 1-2 teaspoons of mesquite powder. Then, add enough coconut water or your favorite nut milk until smooth and creamy. Optional add-ins for a creamier, thicker pudding: 1 tablespoon of coconut oil and/or almond butter and/or 1 teaspoon of spirulina powder. Top with cacao nibs.
2. "Chia-p" Date
This chia bowl is the healthy equivalent of a "cheap date," because it packs in so many nutrients in just a small amount and will keep you full for hours. Plus, for those who will have to get used to the tapioca-like consistency, like true love, these chia seeds get even better over time.
Place 2 tablespoons of chia seeds (I like Nutiva's white chia seeds) in a bowl. Meanwhile, in a blender, make your own nut milk (Brazil nuts are perfect for this, but almonds, hazelnuts, walnuts or hemp seeds work, too). Soak nuts overnight; then rinse and add to the blender with double the amount of water or, even better, coconut water. Then, drain through a nut milk bag. Blend with cacao powder, mesquite powder, vanilla and cinnamon. Add to chia seeds and stir. Let sit at room temperature for around 20 minutes, stirring occasionally, until the seeds have absorbed the liquid. This is better the longer it sits, so don't hesitate to make it the night before and eat it in the morning for a great power breakfast topped with fruit.
3. "Shake What Your Criollo Gave Ya" Milkshake
This cacao milkshake will bring all of the healthy boys to your yard! What kind of cacao should you buy? Criollo! Grown mostly in Latin America, criollo is rare, top quality cacao, known for its fruity flavor. I like Pacari's powder, but there are also many raw chocolate powders, nibs and beans out there, such as David Wolfe's Sacred Chocolate or, more commonly found, Navitas Naturals' powder.
Mix a large frozen banana (or 2 small) with 1 tablespoon of cacao powder and 1 cup of your favorite nut milk. (I vote for hazelnut or almond here.) Blend in a Vita-mix until creamy. Top with cacao nibs. For a mint chocolate chip variety, add some fresh mint leaves. For a fruity twist, add some strawberries or raspberries. For some added energy, add a teaspoon or 2 of maca powder. Sip through a (glass or bamboo) straw, and slurp like a little kid with a huge smile on your face. Have it as a snack for some energy or a mid-day, guilt-free indulgence, or even whip it up for breakfast. Kids will love this and won't even notice it's healthy.
4. Holy Moly HOT Cacaomole
Remember those already-made hot cocoa mixes with the tiny dehydrated marshmallows? They were a staple of my childhood diet, and I'm trying to forget them. Make your own hot cocoa mix to warm your body and spirit when the temperature – or your mood – gets low. You can even mix ahead of time, store in the cupboard, and take out a spoonful on a cold day or when you just need a little warming pick-me-up.
Mix cacao powder with mesquite powder, cayenne pepper, cinnamon and vanilla. Just add warm nut milk or hot water, stir and voilà! If you're missing those baby marshmallows, try adding dried coconut on top.
5. NOtella Spread
Here in France, Nutella, a chocolate-hazelnut spread is more ubiquitous than water. This "NOtella" also involves NO work. Ready? Open a jar of almond butter (preferably an extremely creamy one such as my current obsession, Dastony almond butter). Put some almond butter into a bowl. Add some cacao powder. Mix together. Spread on some rice cakes or carrots or apple slices or… oh, who are we kidding; you'll be licking this straight out of the bowl! You can also add some stevia or date paste for sweetness, but if you're using good quality cacao powder and amazingly delicious almond butter, you won't even need it. Feel free to make your own almond or hazelnut butter, too. Add this mixture to oatmeal, chia pudding or mix with nut milk for some liquid love.