8 Yoga Tips to Feel Better Now
October 1, 2012 — 20:03 PM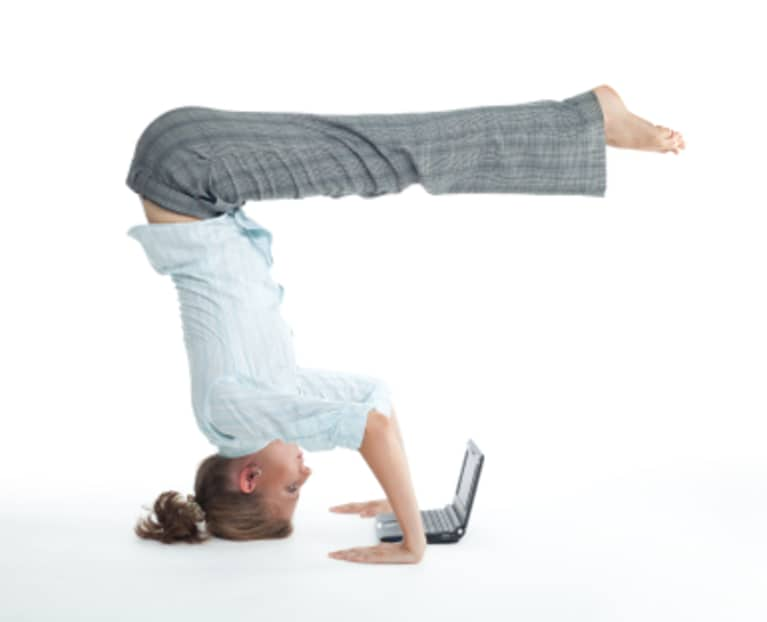 Sluggish? Sleepy? Stressed? Try some of these tips; no yoga experience necessary!
1. Feeling a little sluggish in the morning or after a long weekend as you get back into your routine? Try Downward Facing Dog pose. Not only will this pose energize you physically, but also it will wake up and clear your mind. Think of Down-Dog as a big yawn for the whole body to clear away any staleness and sluggishness as you get going in your day!
2. Trying to stay awake and need a quick pick-me-up while at the office? Skip the cup of coffee (that's right!) and instead, come into Standing or Seated Forward pose. This pose will increase blood flow to your brain while naturally refreshing your mind and even bringing some color to your face if it is pale from sleepiness.
3. Backbends (Cobra, Bow, Camel) are very stimulating to the nervous system. Pulling an all-nighter? Ditch the caffeine and backbend away! Avoid backbends before going to sleep.
4. If you need to feel alert and energized, keep your inhalations longer than your exhalations. If you are feeling stressed and need to bring some relief to yourself, keep your exhalations longer. Always breathe in and out through the nose, not the mouth. Your nose is a natural air filter and your lungs are able to absorb more oxygen this way.
5. Yawning a lot, yet not tired? You may not be breathing in enough oxygen. Yawning is a natural way for the body to eliminate excess carbon dioxide that has build up in the body. Replenish with oxygen. Breathe; the air is free!
6. Ever wish to experience a quiet, empty mind free of thought? Now you can. A nice technique I learned in my meditation studies was to simply ask yourself, "What will I think about next?" and voila! Your thoughts will disappear for that moment. Try it; it works!
7. We all have moments of confusion and indecisiveness. Sometimes we need to go upside down to see things more clearly. Inversions (Headstand, Shoulder-stand or partial inversions such as Down Dog or Standing Forward Bend) calm and soothe the nervous system, bringing the mind more peace, clarity, and a fresh perspective.
8. And lastly, whether you do yoga or perhaps are thinking about starting yoga, remember, you do not need to be flexible to practice. Yoga helps develop flexibility, not only in body, but also in mind and spirit.