5 Reasons to Shop the Bulk Bin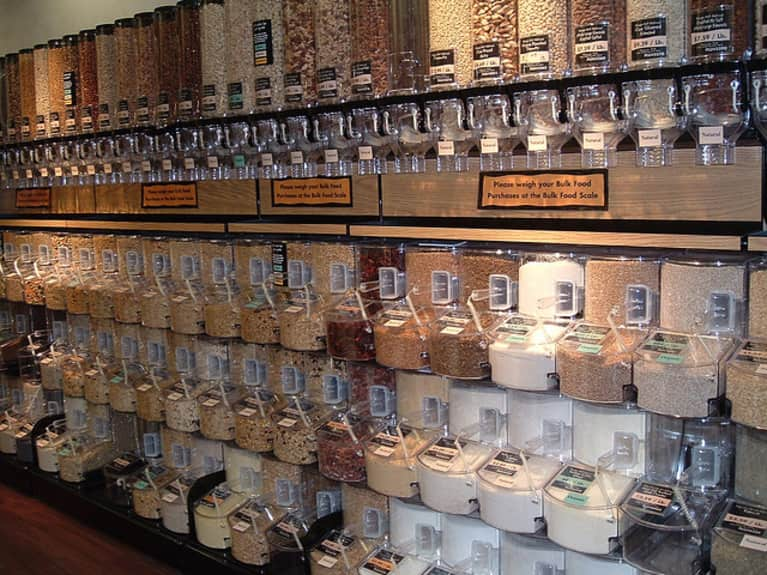 The perfect pairing with your local farmer's market, the bulk bin provides all that is necessary to complete meals! No longer just for health food store hippies, bulk bins have expanded to carry more than just stale legumes. Nowadays the bulk food section in your local grocery store is usually mostly organic and carries everything from whole grains, whole-grain flours, whole-grain pastas, nuts, loose-leaf teas, spices and more.
Here are 5 Reasons To Start Shopping in the Bulk Bin:
1. Save Money! Bulk Bins are infamous for their wide-selection at super low cost. By cutting out the packaging and ordering in bulk, markets are able to offer much better value. In addition, if making a particular recipe, we only need to buy what's necessary. No more half empty packages wasting away in the cupboard!
2. Save the Earth! Get rid of the waste! Plastic, cardboard, glass, bags, boxes, shrink-wrap, bottles... All this packaging adds up. As an exercise, try saving the packaging from foods you buy in a separate bag for a week and notice how much it adds up! Remember, just because it's recyclable, it still demands high amounts of energy and resources to break down. When shopping in bulk bins, bring your own containers to refill and feel proud to leave no waste behind.
3. Creativity in the Kitchen! Trying to eat healthy but sick of the same old recipes? Peruse the bulk bin to experiment with new foods. Work your way through the grains and legumes as inspiration to delight your healthy palate!
4. Vote with your wallet in support of farmers and not large corporations! It's estimated that when buying packaged grains, legumes or flours, only about ten cents to the dollar goes to the farmer and the rest goes to packaging and marketing. When we shop bulk bin, we avoid buying into a large corporation's strategic mass marketing and instead we are casting our vote in support of famers who produce whole foods.
5. For your health! We are just beginning to learn about the toxic effects of BPA and what it potentially leaks into our foods. Who knows what else is lurking yet to be discovered in our food containers! Additionally, shopping in the bulk bin not only encourages us to eat more whole foods and avoid packaged products but from a holistic point of view, encourages us to start thinking about meals in advance. When we limit our ability to walk into the kitchen and grab a packaged snack, we are forced to think recipes through and shop accordingly. We can no longer eat on the go, snack mindlessly or grab something quickly. Food becomes a much bigger, ritualistic part of our life, as it should be. This is a big step in caring for the self and creating long-term healthy eating habits.
image via BCMom/Flickr