Pesto for the Fall and Winter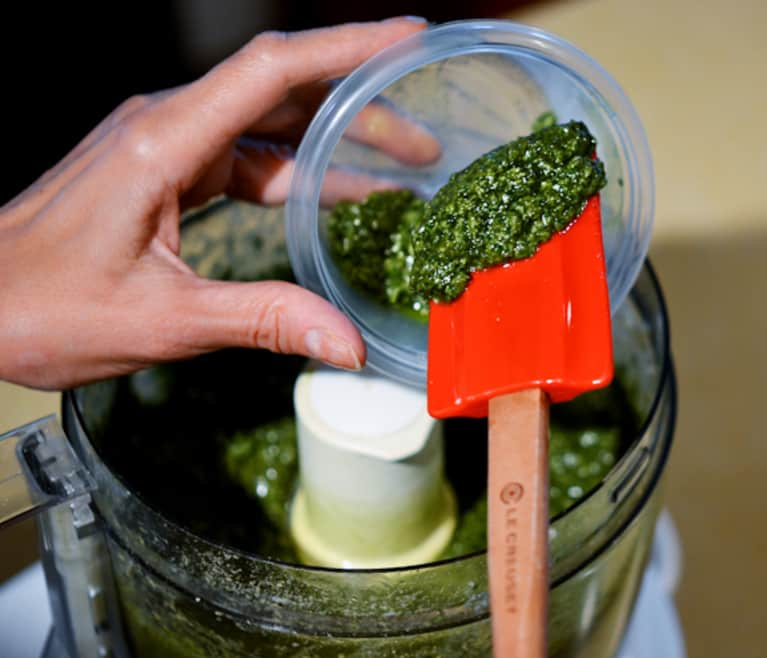 While my maple tree is gearing up for its orange ensemble, my garden basil leaves are headed towards their brown period. Unfortunately, basil doesn't look as fly in the fall as my backyard trees. As the cool evenings creep in, I've noticed their green leaves already beginning to crinkle at the edges, and their deep green hues starting to fade. It's come time to harvest the basil and store it for the winter.
If you're growing your own basil, consider utilizing it now before the first bitter frost prevents you from doing so. The herb is far too flavorful and nutritious to simply let it dwindle away in your garden. Basil is packed with iron in addition to numerous other antioxidants and phytochemicals that prevent cells from being damaged, all which add to its status as the perfect compliment to pasta.
One of my favorite uses of basil is in pesto, which fortunately freezes well, too. There's no better feeling in the cool months of winter than pulling out a garden favorite from the freezer and revisiting the fresh taste of summer. I'm personally a warm weather girl, so I'm always trying to carry this current season with me for when the snow starts falling. Luckily, there's still time left to do so.
Below, you'll find a simple recipe for pesto with the option of keeping it vegan. It makes three batches, but if you have a healthy bounty of basil still continuing to grow, consider doubling the recipe. You won't be sorry once the no-basil months set in and your fork full of linguine starts calling for a pick-me-up.
Basil Pesto to Freeze (Makes 3 batches to freeze, suitable for 3 lbs. of pasta)
-6 medium cloves garlic
-3 heaping, packed cups of basil
-1 cup walnuts or pine nuts
-1 1/2 cups of Parmesan or nutritional yeast*
-3 tsp. salt
-1 cup extra virgin olive oil
Pulse garlic in a food processor. Add in basil, nutritional yeast, walnuts/pine nuts, and salt. Begin to puree ingredients, slowly drizzling in the olive oil through the top of the food processor. Add a few Tbsp. of warm water if pesto needs thinned.
Divide into containers and freeze immediately. Or toss with pasta, use on bread/pizza/etc.
*What's nutritional yeast? Nutritional yeast is a deactivated yeast packed with B vitamins and other nutrients. It has a nutty, cheesy taste, making it a perfect substitute for vegans. I generally make my pesto with nutritional yeast and never notice a difference. You can find it at nearly all natural food stores or Whole Foods.