5 Life Lessons We Can Learn from Surfers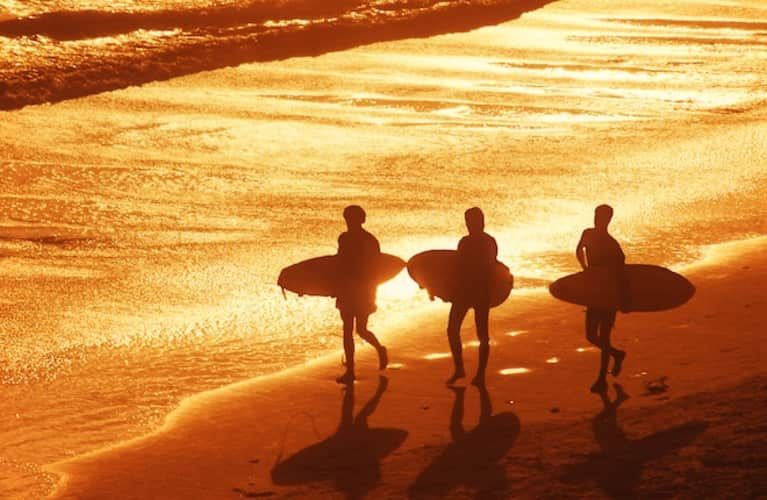 We've had some super fun waves here in the last week, and I've been lucky enough to sneak in some early surfs before work.
It got me thinking… surfers are generally a pretty content and happy bunch, and I think there are a few good reasons for it…
1. We understand commitment.
Learning to surf is a lifelong commitment. Ask anyone who surfs, and they'll tell you, it's an awesome journey: always learning, always being humbled by the ocean and always staying disciplined.
Surfers are committed to seeking out the best experiences… whether that means getting up at 5 in the morning, learning more about meteorology so we can predict the surf, or putting on cold wet wetsuits in the winter. We are so passionate about surfing that we'll happily go the extra mile, seek out challenges and be open to learning new skills.
2. We love to explore.
Not sure if you know this, but young surfers are called "grommets." When you're a grom, and you're learning to surf, exploring might simply be surfing a new beach break a few miles down the coast. This childlike curiosity and openness to new experiences becomes a character trait. Surfers travel a LOT… we search for new waves, we explore unknown territories, and we learn to respect new cultures and different ways of thinking to ours.
3. We face up to fear and humiliation.
Learning to surf is a whole lot of fun, but it takes courage. Courage to face your fears, and courage to be okay with humiliation. We understand that there is a learning process involved and that anyone who surfs will follow the same path. We all fall off and look like goofballs, we all have a "holy smokes, these waves are waaaay too big for me" experience, and we all have moments when it feels like we're back at square one. But, the difference is in remembering that it's part of the journey, and if you just accept it, you'll always come up smiling.
4. We are part of a family.
Surfing communities are pretty special. They are close-knit communities that provide a place to just be. We share the same passion, we celebrate each other's successes, and we love to swap stories. We respect our elders, and we recognize that we're all connected. There is no better feeling than paddling out and hearing an excited "yeeeeeeeeew" (kinda like a surfer's equivalent to "woop woop") as a big set rolls in.
5. We're grateful for the small things.
It might be a beautiful sunset, a dry wetsuit, a post surf taco or a mosquito net with no holes. We are simple souls, and when it comes to adventure, we seek experiences over material possessions any day. We have a deep respect for Mother Nature, and we find ourselves running around like excited kids when we wake up to an offshore breeze. We know deep within us that the old cliché, "the best things in life are free," is absolutely true.
So, there we have it… Five awesome lessons we can all implement and enjoy. If you're a surfer, try to extend these lessons throughout your life, not just at the beach. If you're not a surfer, have a think about these simple concepts, and how they could enrich your days.
I'm curious: Who are "your" people? What can we learn from you?