Yoga and the Serenity Prayer: A Lesson in Happiness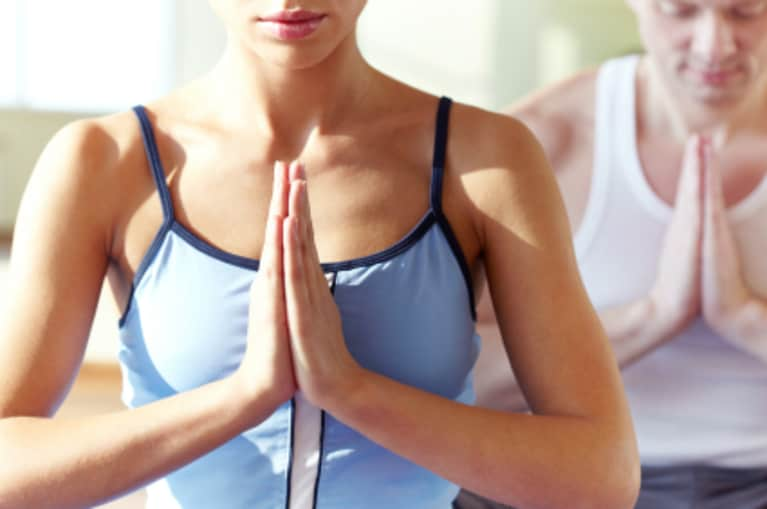 God, give us grace to accept with serenity
the things that cannot be changed,
Courage to change the things
which should be changed,
and the Wisdom to distinguish
the one from the other.
Living one day at a time,
Enjoying one moment at a time,
Accepting hardship as a pathway to peace,
Taking, as Jesus did,
This sinful world as it is,
Not as I would have it,
Trusting that You will make all things right,
If I surrender to Your will,
So that I may be reasonably happy in this life,
And supremely happy with You forever in the next.
Amen. ~ Reinhold Niebuhr
One could say that the serenity prayer was the mantra of my childhood. I heard it recited several times per week and saw it on key chains, wall art and coffee mugs. As I matured, my understanding of the prayer deepened, and although I've grown away from the Christian religion, the well-known iteration of the prayer still resonates with me in a very fundamental way.
At its essence, the prayer is a beautiful distillation of yogic teachings. Within the most common stanza of the prayer, we are encouraged to find grace and contentment (santosha), embrace positive change (tapas), and learn the fine art of discernment (svadhyaya).
When one delves deeper into the lesser known lines of the prayer, the connection to yoga increases. We find references to mindfulness, non-attachment, surrender to God (isvara pranidhana) and finally, liberation (moksha). This is the stuff that we are all trying to learn every time we hit our yoga mats or meditation cushions.
Many of us come to our mats seeking "reasonable happiness." Yoga teaches us that to achieve this, we must begin to accept the world as it is, not how we'd like it to be. We must summon our inner fire to change situations that make us unhappy, and we must learn how to distinguish between things within our power and things that remain out of our control. Once we begin to live these truths, we begin to find the beauty and value in each day, each interaction, each breath. We start to view the world without judgment and begin holding our fellow (wo)men in compassion. We begin to discover that although life has pain, we have removed ourselves from the cycle of suffering.
And somewhere in these insights, we uncover the fact that reasonable happiness is (and always has been) our choice. This is the ultimate wisdom of the Serenity Prayer, yogic philosophy and life. Every choice we make -- be it one of action or surrender -- either moves us closer to happiness, or it doesn't.
And so, I pray. God, grant me the serenity, courage and wisdom to choose happiness.