3 Ways to Bring Serenity Into Your Home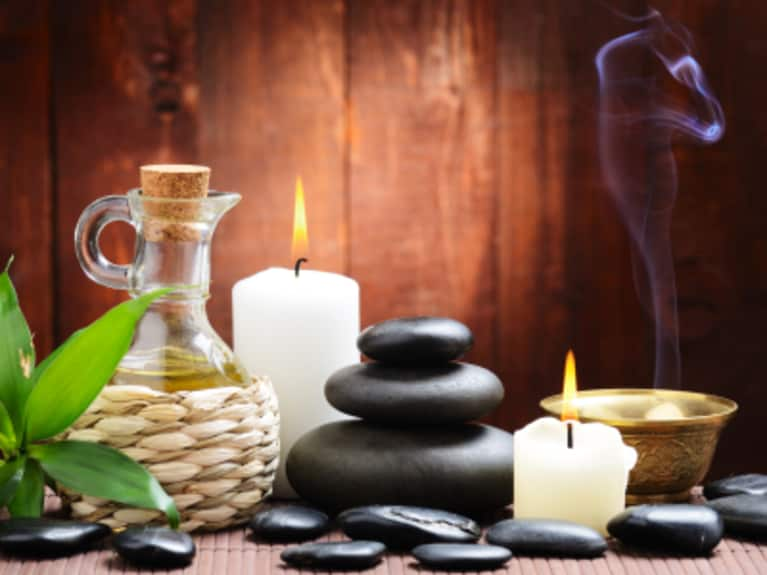 We all know our bodies are our temples, but do we also treat our home environment as our sanctuary?
We are the ones responsible for cultivating a healthy physical environment by eating properly, moving our bodies, stimulating our minds, soaking in positivity, and developing our inner fire. Similarly, we are the ones responsible for creating a safe space in which to rest these lovely temples that are our bodies.
I have always seen my bedroom as my own personal sanctuary where I retreat after long days out in the world. Things are where I want them to be, decorated, placed, and colored to my very own, specific liking. I'm soothed by my bedroom, comforted, warmly welcomed from the unknowns of the outside world into the embrace of a space I've made all my own. I am quite drawn to feng shui, and follow it to an extent; by "to an extent" I mean that, at this point in my life, I'm living in a place with roommates where my bedroom sort of encapsulates my "whole space." I practice yoga in here, I sleep in here, my bathroom is connected to my bedroom, I write in here, I watch the occasional television in here, I often eat in here…it's sort of an all-inclusive sanctuary at this point in time because I do not have my very own home (yet) in which to do exactly what I please at any hour of the day. It's sometimes overwhelming to include so many opposing activities in one space, and yet in a way it is liberating. It is my space. I set the boundaries for this blessed room that is mine, and mine alone.
So these are a few ways I increased my serenity here at home, in my sacred personal space:
1. Place a lamp in the bathroom, offering soft and soothing light. I did this and the increase in calm is remarkable. While I don't spend much time in my bathroom, it happens to be connected to my bedroom. When I enter and switch on the soft glow of light, it is wonderfully peaceful. The one small bulb require far less energy than the row of bulbs above the mirror, who are harsh, bright, and blazing; instead the light shed through the lovely, champagne-colored, beaded lampshade is kind, comforting, and gentle. I still need the bright lights here and there for certain moments, but the soft glow of my pretty lamp has made my bathroom far calmer. Lighting a candle in addition to the soft lamplight also makes for an absolutely tranquil shower or bubble bath!
2. Create a "serenity bedside." A porcelain Buddha and a small, resin Buddha sit parallel to one another on my bedside, which is draped in a crimson Indian shawl. Between them is a framed quote by H.H. the XIVth Dalai Lama and two tea lights. A healing amethyst crystal rests on a lovely gold, beaded pouch. An elegant wood carving of the goddess of quietude hangs on the wall next my bedside. A small box with the moon and stars etched on top contains some shea butter lip balm, essential oil, and earplugs. Just last night I placed a Spiced Pumpkin candle to scent my bedside with my favorite time of year. It brings me a sense of calm. I change parts of what is placed there at times, while other components remain constant. I am brought comfort by the arrangement, even the direction each piece is facing. Since it is the last thing I see before bed, I credit my "serenity bedside" in helping me drift off to peaceful sleep.
3. De-clutter. I know, I know…if you don't leave that bill out, how will you remember to pay it? If you got rid of some dust-gathering knickknacks it would be a betrayal to your memories, right? If you toss out things you no longer need, you'll inevitably feel the need for them and wish you hadn't, correct? I know the thought pattern, I was born under the sign of Cancer the Crab, I'm nostalgic and sentimental to a fault. I collect "things" and it is only through conscious effort (including the verbalizing of it through this very article) that we are able to adjust our behaviors. My suggestion is this: find a space of some sort (whether it's a shoe box, a lidded woven basket, a clothes hamper…) and put in any clutter that you want to either find a new home for, or get rid of entirely. At the end of the week, divide the things that you found yourself reaching in for all week long from those you didn't. Repeat the process. After two weeks get rid of the things you have still not fished into the space for. Anything you've taken out and kept, find a new home for immediately. Don't perpetuate the clutter by plopping it back on your dresser, or wherever. By not seeing the clutter, we create a more serene atmosphere for ourselves on the outside. By slowly eliminating the clutter, we cultivate a more serene state of existence on the inside.
Now, for those of you reading this who have a whole home to bring serenity to, just remember baby steps. Perhaps focus in on just your bedroom, as I have done. Make spaces sacred one by one. We can't expect to wave a magic wand around and have everything be perfectly harmonious within the house. In fact, if not for the effort and energy put into bringing about said harmony, how very enjoyable would the serenity even be? It's like in Under the Tuscan Sun when Frances decides to go slowly through the house, introducing herself to it so it could introduce itself to her. Have respect for your own home, desires, and intentions. Harmony is better enjoyed when it has been earned. Patience, peacefulness, and the dedication to cultivate serenity within your home are the only ingredients you need to make your space into your sanctuary.