20 Ways to Reinvigorate Yourself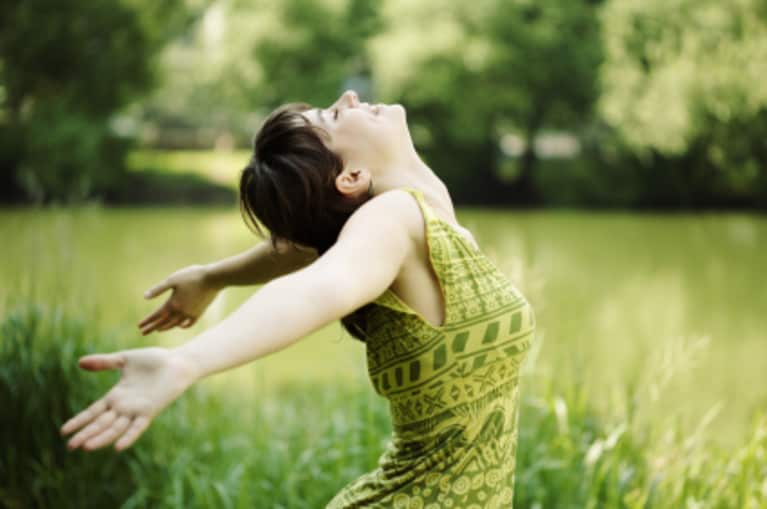 Here are 20 ways to feel renewed—body, mind and spirit. I hope you enjoy this list—and keep adding to it.
1. Read a book. If you're already a voracious reader, then pick up something outside your usual realm of interest. Open your mind by opening a good book.
2. Stand in the rain. When rain hits (even a light shower), the first thing we often do is run for cover or grab an umbrella. Instead, the next time it sprinkles try walking to your car or your house—slowly and without cover. Who knows, maybe the next time it rains you'll put on your bathing suit—or, at the very least, a sunny smile.
3. Be gentle. Allow your attitude towards others and towards yourself to soften—and notice if you get some sweeter feedback in return.
4. Turn the music up. Music can be both an emotional and a physical release. So the next time you feel low on energy or just plain under the weather, try cranking up a powerful ballad or two.
5. Take a hike. Literally. Almost nothing makes me feel recharged like the scenery, smells and sounds of a good hike. Too much of our days are spent cooped up inside and away from nature. Let good old mother earth remind you that energy abounds around you at all times, just waiting to be tapped into.
6. Look sharp. Sometimes an attitude adjustment is as easy as a wardrobe change. Get out of those lazy day clothes and into something that makes you feel special—even if you're hanging around the house solo.
7. Practice yoga. Every time I get off my mat, I feel like a different person—and in many ways I am. One of the best ways to renew your entire being is right there waiting for you—just a sticky mat away.
8. Take a day off. Okay, not all of us are lucky enough to take a day off from work or full-time motherhood, but you can take a day off from your mat (or another routine activity). Sometimes a short rest period from my asana practice is the best thing in the world—because the next time I hop on, I'm almost always feeling alive and raring to go. I'm also reminded of what I already do on a regular basis to rejuvenate myself.
9. Breathe. Every breath you take is new, precious and different from the last one. Try breathing while imagining wellness and refreshing air filling your entire body.
10. Get some zzz's. Coming from a sleep-deprived mom, I can tell you from first-hand experience that I feel so much better after a great night of sleep. Make sure you're giving your body and mind time to recoup with rest.
11. Eat your veggies. I honestly believe that good food renews the body and the soul, and the first step towards that goodness is often fresh ingredients—like some in-season produce. Hit your local market and find something that speaks to you. Noticing things like color and aroma, especially while you're cooking, is even more revitalizing.
12. Make a friend. Connecting with other people brings out the best in you. Making conversation with new friends can remind you of a favorite hobby you left behind and renew your faith that good people are still out there. For me, these realizations alone are invigorating.
13. Look at the stars. Feeling like a small piece in a vast puzzle can be a relief. It puts thing into perspective—that bad day, that argument. So take a peek up at that beautiful night sky, and breathe in the energy that the universe has to offer.
14. Go swinging. This suggestion might seem silly, but swinging for five minutes is enough to bring out the kid in almost anyone—and how energizing is that?
15. Create. Being creative is itself a recharging experience. From conception to finished product, creating makes you come alive. Making a bracelet for you or a friend is simple and inspiring; or get creative in the kitchen with new spices. Don't be afraid to tap into that well of imagination that we all possess.
16. Be adventurous. Give that challenging yoga posture a try (safely); try out that new haircut; or try something you've never done before. Talk about exhilarating!
17. Break free. Just because you did something one day, doesn't mean you have to do it the next. Habits and patterns aren't always healthy, and sometimes they serve to sap energy and verve while offering very little in return. So question your routines, and find vitality in creating new customs.
18. Find love. Sometimes love is right under our noses—a long-term relationship still filled with romance, for example. Sometimes, it means stepping outside of your comfort zone and meeting new people; and yet other times, we need to fall back in love with ourselves. Whatever fits the bill for your current state, try finding love in your life. That's guaranteed to enliven.
19. Get out of bed. While I've already mentioned that an energy-boosting night's sleep is crucial to starting your day off right, it's also important not to hang around in bed for too long. Often, the best thing for a full day of power is an early workout. I'm actually on my way out the door for a 6am yoga class rather than my usual 9:30. Different, check. Out of bed, check!
20. Let go of fear. Living your life in fear is the number one way to stop good vibes in their tracks, and you know what? Both bad and good things will still happen regardless of how much time you waste worrying. While worry is natural (and in some ways self-preserving), you have to know when it's time to back out of fear—and step back into life.
So what are you waiting for? Get out there and be the best you possible—you're already in there, just waiting to be let out.