6 Easy Ways to Make Your Week Healthier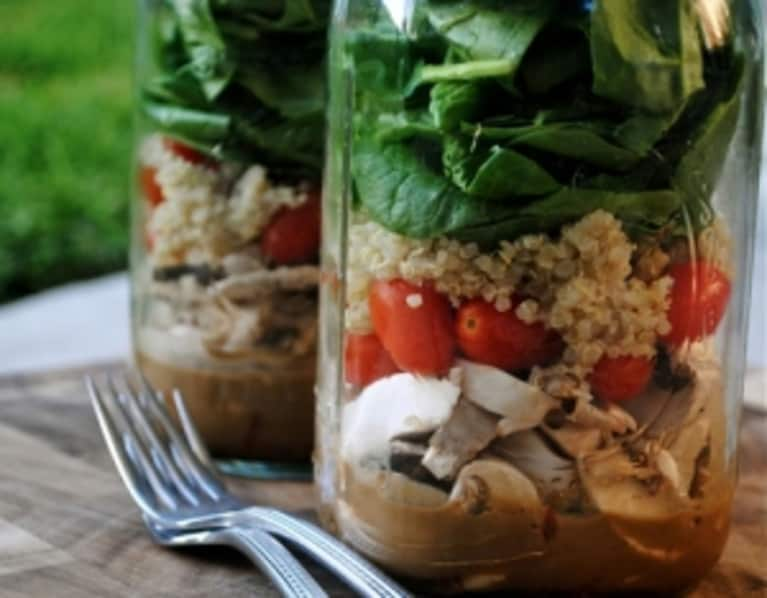 We've all been there. A week so busy and treacherous that you can't even fathom cooking, let alone cooking healthy foods. But there are a few things you can do to lighten your load during the week!
1. Cook rice, quinoa, and other grains on Sunday, and store them in the fridge. If you cook enough to use in your lunches & dinners throughout the week, then that's one big thing you can cross of the daily check list! Base your dishes around these pre-cooked grains, and you're golden.
2. Make yogurt parfaits & salads in a jar for your breakfasts and lunches. There are so many possibilities with these! For breakfast, layer yogurt, fruit, nuts, and granola in a mason jar the night before, close tightly, and store in the fridge for morning. Just grab it, and go! For lunch, layer dressing, nuts, grain, shredded carrots, tomatoes, and leafy greens in that order! When you're ready for lunch, just pour the salad out into a bowl – if you keep the order right, it will be perfect, with the dressing on top!
3. Cut up your veggies when you buy them. Chopping and dicing and slicing and mincing is a drag. So get it all out of the way at once! Though you shouldn't do this all the time, as some veggies lose their nutrients after cut, it's a good thing to do when you're really in a bind! If you're going to use the veggies in the next day or so, you can keep them in the fridge. Any longer, stick them in a bag in the freezer.
4. Roast, roast, roast! Okay, I might be a bit biased. I just love roasted vegetables too much. But honestly, it's such a time saver! For dinner, just stick some cut up veggies coated in olive oil & salt in the oven, and let them cook for an hour! You can go on with your business while they're in there. With virtually no prep time, and your pre-cooked grains, you can have dinner made before you know it.
5. Make enough for leftovers. I suppose this one's pretty obvious – if you make enough dinner for two nights, you don't have to cook on night two! Done and done.
6. Put enough water in your tea kettle for the entire week. That way, you can just switch it on in the morning without having to fill it up. It'll save a few precious seconds, and your tea will be perfectly sippable for your morning commute.
7. Plan your week in advance, and write a shopping list. This is probably the main thing that makes my week run smoothly. On Saturday morning, I'll plan out all of the dinners for the upcoming week. Usually I stick with 4 repeats, and 3 new meals. I write out all the ingredients that will be needed, and then hit the Farmer's Market! You'll be so happy on that busy Tuesday night when you realize that you don't need to craft up a skillet surprise from the miscellaneous vegetables in your fridge.