5 Tips for Beginner Yogis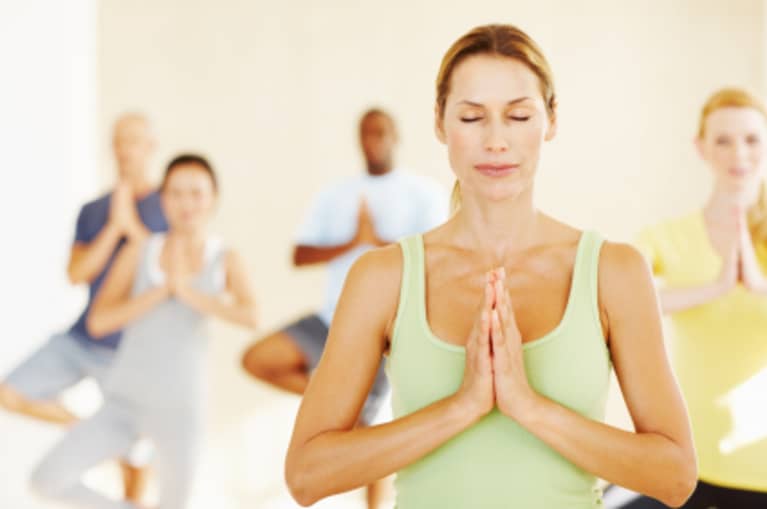 As an owner of a busy yoga studio in Central New Jersey, I have enjoyed seeing thousands of people come through our doors to practice this fine, ancient art. Many of our visitors are brand new to yoga, having been sent to us by an acquaintance, a doctor, or simply drawn in by an inner urge. Regardless of what brings our new friends to our front desk, they almost always have one thing in common: nerves and anxiety about beginning. This is natural and understandable. To be a "beginner" at any thing, especially as an adult, is a daunting thing. Who wants to be the only person in the room who doesn't know what they are doing? If you are just beginning your journey in yoga, or you have been flirting with the idea but are apprehensive to begin, then here are five tips that will help:
1) Ditch the inner critic
I am not flexible.
I don't know the names of postures.
I am not "good" at yoga.
I have never done this before.
I will look stupid.
I cannot balance.
I cannot concentrate.
You get the idea. Our gorgeously active minds have a seemingly inexhaustible ability to churn out negative and limiting thoughts. But, this is the thing: the reason you go to a yoga class or studio is to learn and practice safely. Nobody expects you to arrive already flexible, perfected, focused and experienced! That's why you find a teacher and take a class to begin with, and then another and then another. Pay zero attention to the endless monologue in your head that gives you 101 reasons why you should NOT do yoga. You only need one reason and one prequalification to do yoga, and that is an earnest desire to do it, period, the end. The rest is just static.
2) Remember, no one is watching you
We know that maybe your mother or your pet dog is fascinated by your every move, but the honest truth is, that almost no one else is! Our fretful minds delude us into believing we will make a fool of ourselves in that classroom, and that "everyone will be watching me." Uh, guess what? No one actually cares what you do! Except of course, the teacher, who is there to, let's be clear, to teach you. So, she has to pay attention. The other students are all too busy working on their own thing to care one hoot if you topple out of your tree pose. And if you do, believe me, they are just glad it wasn't them. They feel compassion, not judgment.
3) Start where you belong
Choose a class appropriate for where you are today. If you're a beginner, take a beginner series, or find a basics class you can attend regularly. This might sound obvious, but I am often surprised how many people want to skip this elemental stage. Our culture demands of us immediate "success" in almost all that we do, and we translate this when approaching yoga by leaping into, say, a rigorous vinyasa class with little knowledge of why we are doing what we are doing when we are asked to do it. It can turn into a frustrating ninety minutes of flailing around, instead of the glorious experience we were promised. Yoga asana is an ancient art that we must respectfully and mindfully learn. Don't be ashamed to be a beginner. True, there are times when it's totally okay as a beginner to venture beyond the basics and attend Open or Mixed Level classes, but be humble. Don't miss the foundational alignment lessons.
4) Know your own body
If you have an injury or another physical condition that might affect your practice, always tell the teacher. But, take personal responsibility for your unique and beautiful bag of skin, muscles and bones, too. Only you know what you truly can and cannot do, and there is a fine wisdom line between pushing yourself to your "edge" where you experience growth/expansion/magic and pushing yourself beyond this point to pain and re-injury. Bottom line, neither be too timid, nor too bold. Find your inner wisdom. Shhh. You might need to quiet the inner critic to do so.
5) Dedicate, always dedicate
In life, there is a fail-safe way of curing the blues: remember there is always somebody out there in the world suffering a little more than you. And then, do something for such a person! It works every time. It works when you practice yoga, too. If you feel frustrated (and you will!) with the limits of your physical form, then dedicate. Remember there is somebody out there in the greater world (you might even know him) who doesn't today, or ever, get the privilege of unrolling a sticky mat. Maybe they are lying in a hospital bed, or undergoing chemo, or taking care of a small child. Maybe they are too poor. Or they live where war is raging. When you take a minute, you begin to understand the enormity of the privilege of being able to practice downward facing dog in a room with a bunch of other people in an upside down V. Does it really matter if you're not perfect?
Get this last tip right, and you will no longer be a beginner. Your yogi heart just got born.
Namaste.