5 Herbs to Spice Up Your Sex Life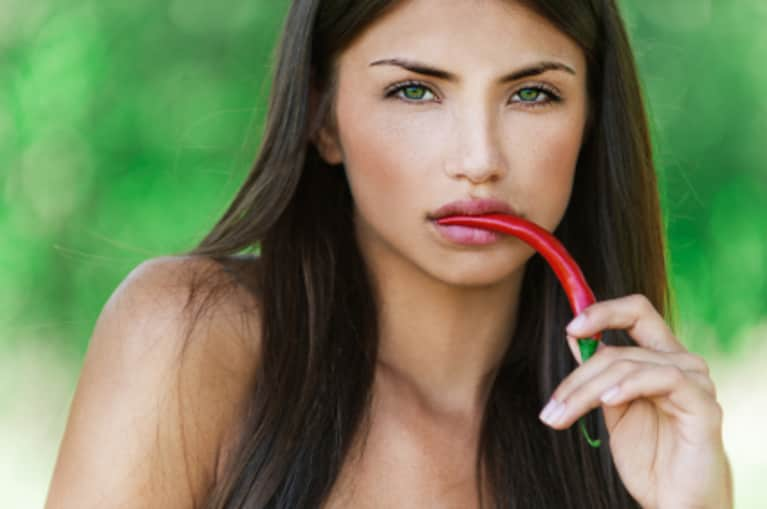 I am a foodie—a self-declared lover of languid meals cooked with intention and loads of flavor. An intuitive eater, I have for the most part chosen real, sometimes raw, mostly colorful cuisine, a testament to my European upbringing and preference for Mediterranean delicacies regardless of food fashion.
One trend that's been around for eons and is likely to remain here for the long haul is: aphrodisiacs. From Cleopatra to the Mayan Kings, humanity has licked those bananas and gulped those oysters with sexy things on the mind. Is there any truth to the legends about foods that put you in the mood?
Conventional medicine has long scoffed at the idea that certain substances can rev up your engine, and until recently, it seemed that the naysayers were right. Recent anecdotal studies are more promising. A publication from Canadian researchers found that the world's most expensive spice, saffron, is indeed a likely lust enhancer.
It isn't alone. In no particular order, here are five herbs that will tickle your palate and your parts… or your lover's parts, if you so choose.
1. Saffron: 
Saffron is popular in cuisine from the Mediterranean coast and throughout the Middle East and Asia. Cleopatra is said to have bathed in saffron scented waters before making love. Even the Bible describes saffron's seductiveness in the Song of Solomon:
"Your lips drop sweetness like honeycomb, my bride, syrup and milk are under your tongue, and your dress had the scent of Lebanon. Your cheeks are an orchard of pomegranates, an orchard full of rare fruits, spikenard and saffron, sweet cane and cinnamon."
It has been suggested that part of saffron's magical property is thought to be its enhancement of "lust" via certain neurotransmitters that stimulate libido or erogenous zones. Saffron may also lower blood pleasure and stimulate respiration.
2. Asian Ginseng: 
Asian ginseng is a traditional herb used in Chinese medicine to promote strength and longevity. It may also act estrogen-like to prevent vaginal atrophy.
Asian ginseng contains compounds known as ginsenosides that are thought to give ginseng its medicinal properties.
3. Chili Pepper: 
No lips are left unaffected by this spice's potent kiss. Rumor has it that Montezuma spiced his daily chocolate potion with chili before visiting his concubines, and to this day chili has a hot reputation. Chili may enhance arousal by helping to release endorphins, increasing the heart rate and creating a flush on the skin that mimics arousal signals.
4. Mint: 
This breath freshener makes kissing that much sweeter and it's reputation goes way back. Both the ancient Greeks and Roman's are said to have made generous use of this lush, green plant.
As a tea, it's calming properties are an excellent way to wrap up a delicious meal. Mint also contains vitamins such as A and C and magnesium, calcium and potassium, important nutrients for sexual health.
5. Ginger: 
This root's spicy, tangy hot scent aids digestion and circulation, always important for good health and performance. Subtly sensitizing our erogenous zones, ginger's not so subtle shape earns the moniker by form as well.
In general, aphrodisiacs can be classified into two categories: 
They either look like certain body parts and therefore inspire naughty thoughts
They actually do improve overall health to support naughty deeds
When it comes to the latter, there are two organs we most want to feed: the heart and the brain. The latter is our primary sex organ, and it needs lots of healthy fats (think Omega 6) to cook up our fantasies and function at top form.
What's interesting to note is that our heart sends more signals to the brain than the other way around. While science figures the meaning of that out, the rest of us can concur that when it comes to making love, a healthy heart is key.
Our skin may be the largest organ, and the one that experiences most of the sexy fun, but it is our heart that we most want touched when we are engaged in nocturnal pleasures.