Turn Your Day Around with Side Crow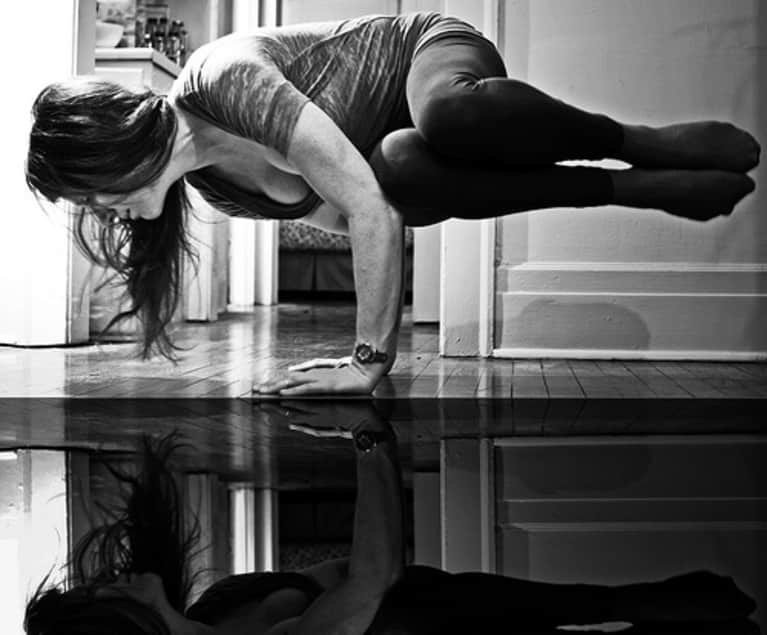 Yesterday, I was emotionally tanking. The day had started off relatively well, and by started I mean while I was still under the covers and by relatively well, I mean that I could have probably been in a better mood. It was just one of those days where it felt like each little annoyance built upon the previous one, creating one giant cloud of stress and aggravation (yes, it's true, even yoga teachers have days like this). I think you can probably relate. Suffice it to say, the day culminated into a slight breakdown on the phone with my boyfriend. After he talked me down a bit, I hauled myself to a yoga class, more because I couldn't stomach the thought of sitting and stewing in my house all night than anything else.
I felt immediate relief, greeted with hugs from friends, familiar faces, a calming atmosphere, and the promise of a half-flow, half-Yin class. The phrase, "melt in to your mat" took on a whole new meaning. It took me a few rounds of Surya Namaskar A to let the emotions of the day start to drop away from my conscious and to come into the present moment.
Midway through the class, our teacher guided us into an arm balance series. I've never been very good at arm balances and get a little frustrated with them. Crow? Cake-walk. Side crow? Face-plant. Our teacher, who knows about battle with arm balances, was watching and encouraging me to play with side crow, giving me helpful tips along the way. There was a lot of "Oh oh! You're almost there!" and "so close!" After observing a few tries, she made a comment that not only changed my arm balance, but shifted my emotional balance: If you look down, you'll go down. You need to look forward to establish a counter balance. I'd been looking down all day. I'd been putting all of my energy into looking down, instead offering myself an emotional counterbalance. I was looking down, and I went down. I was actively defining my day and my well-being by changing forces (and ultimately negative forces) outside of my control. The counterbalance I could have offered myself could have been simple: I have friends and family that make my heart swell with love. I have a partner that brings me endless joy and happiness. I am safe, I am healthy, and my yoga practice makes me feel physically and emotionally strong. I was, and am, okay. Actually, way better than okay. After realizing this, I felt a giant sense of relief and release. I looked forward, shifted my weight, and found myself in side crow. And again first thing this morning. And later at my desk at work. I physical embodied of an emotional state of being.