6 Ways to Steamroll Gossip and Blame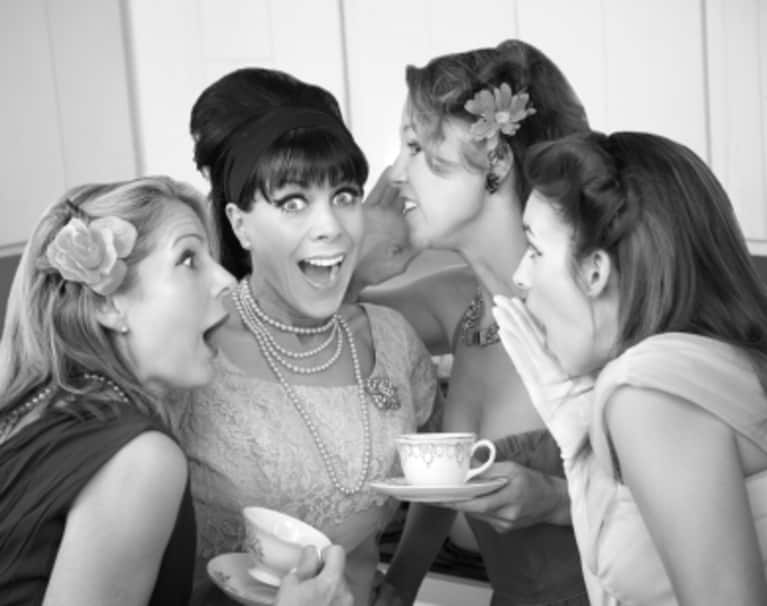 "Be the change you wish to see in the world." Gandhi's famous quote is a sweet check-in for how we are showing up in the world before gossiping about others. It's ironic, because to end all the negativity in our lives, it must start with us. Until we start showing up consistently, and clearing out all of the skeletons in our closet, we have no right to point at others and complain, or gossip about their performance. It's a wonderful exercise to try to catch yourself before complaining about the job others are doing in regards to recycling, or how many times you see them eating "badly," or attending yoga class. The funny thing is, when you are completely in integrity with your ideals, you won't even notice what others do in those areas of concern.
1. Shadow
For the first two years of my last relationship, I was the quintessential plant-based, whole foods, health-nut, making faces every time my girlfriend was about to sink her teeth into a piece of pizza or a glorious scoop of ice cream. The problem was, not only was I a bad boyfriend for telling her what to put in her body, but I also happen to have a massive sugar addiction on the weekends… In fact, the worse I was eating, the angrier I would get with her. Carl Jung coined the term "shadow projections," referring to our unconscious desires and behaviors that we have not fully integrated into our consciousness. My favorite way to remember this is, "When you point the finger at someone else, the other four are pointing right back at you."
2. Be Empty
It's liberating to know that we all interpret every situation as good or bad. There is a split second between the stimulus and our response to make a choice. We have a choice. It's what Buddhists refer to as Emptiness. Nothing, no situation or person, is inherently "good" or "bad." It's much easier for our minds to label everything as either "good" or "bad" to save time, rather than actually approaching every situation with a clean slate. Instead, try the latter; it's more fun, and you meet way cool people you wouldn't have approached before.
3. Nothing Anyone Does Has Anything to Do with Me
Say that again. "Nothing anyone does has anything to do with me." Empowering, right? To take emptiness one-step further, we can decide that others reactions to our actions are just that, THEIR reactions. We didn't create their reactions with how we acted; it's how they showed up. If someone showers us with compliments for a great yoga class, or blames and yells at us for lack of results on a detox program, it's their response to take on. And yeah, of course it's great to receive compliments. But, as soon as we realize that it's their reaction to the awesome yoga class, we get hung up on compliments and criticisms less, and just continue to produce our best work possible.
4. We Are All on Our Own Journey
For loved ones, it's really easy to get attached to their outcomes as I did with my girlfriend. We all want the "best" for them, because we know it is tied to our future. But, we must realize that we all have our own timelines and processes. Plus, if people are not ready to change, there is no use "helping;" it will just make it less appealing to make a behavior change.
5. A Gratitude Shower
If none of these work, think of all the reasons that the person is a rockstar in your book. This one is still a struggle for me, but think of the last time they smiled at you, held the door for you, or all the qualities that you dig about the person. If you can outweigh the negative attributes with positives, then your perception completely changes.
6. Meditate.
At least 5-10 minutes a day. When you wake up. It makes it so much easier to fish those negative comments out of your head before you spit them out.
Shoot for 21 days being complaint free... if you can't do it the first time, keep trying; it'll make you a better person! Ghandi obviously checked in with how he was showing up before creating massive change… how are you gonna create massive change?