Practical Guide to Dreaming Big!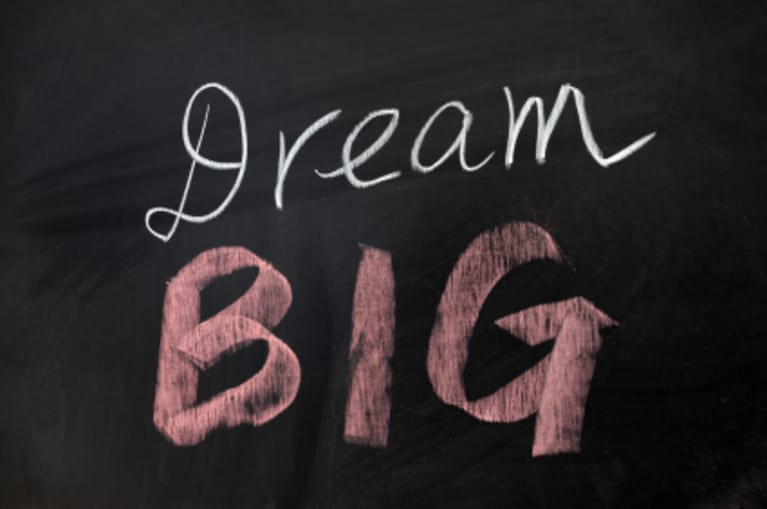 Were you one of those kids at school who was always getting told off for dreamily looking out of the window?
I wasn't. You see, I'm not a natural dreamer.
In fact, I used to push away any dreams that entered my head. I was unbelieving: 'I can't have that,' scared: 'But what if I don't get it?' and scathing: 'Stop being so frivolous and get your head down.' The phrase 'waste of time' resonated in my head every time a dream popped in.
But since those days I've made a lot of changes. I've lost 140lbs. I've ditched a well-paid job that I was highly successful at but bored with. I've retrained and I've moved countries. I've even set up my own business. And in the process, I've learned what a vital role dreaming plays in actual doing.
I am the most practical person I know. And I hear everyone else like me saying, 'but, I don't want to set myself up for disappointment - what if I don't make my dreams come true?' Well, you sure won't get there if you DON'T give yourself permission to dream. And once you start dreaming, it's fun. Give it a go and not only will you enjoy it but you'll also start to experience how dreaming can actually help you achieve the change you want in your life.
Here's my practical guide to dreaming:
Why should I dream?
It gets you really thinking about what you want. How do you want your time, space, work and relationships to look? Dreams help you realize who you really are.
It gets you fleshing out all the details. This is great because when you are faced with a choice, you'll know what to do. You'll have clarity over what makes you happy.
It focuses you. The saying 'where we put our focus grows' is true. Once you're focused, your energies will have a place to do their work.
It inspires you. Everyone needs inspiration to get out there and do positive things, especially when they're not so easy. To choose that healthy smoothie over the pizza, to go look for that new job, to make that scary phone call.
It gives you energy. It'll breathe space, possibility and life into your mind and body.
If where you are right now is point 'A', dreaming gives you point 'B'. With that information you can mark out milestones along the route and set achievable goals to get you there.
Give yourself time. Dreams aren't about rushing.
Make sure you have some paper and something to write with. Dreams come with words or pictures.
Go find a gorgeous, comfortable place to sit. Dreams are your most beautiful self and they'll show themselves in a like environment.
Ban all 'if's and all 'but's. The term 'I can't' doesn't exist within your dreams.
Make sure this is YOUR dream. Don't write or create what's expected, or what the herd is doing. You are unique. Dream YOUR dream.
Dream! Imagine, linger over, draw out and enjoy your ideal lifestyle; your home, job, partner, state of mind and free time.
Flesh it out. Here are some ideas:
It's evening and you've just had your perfect day. Write your diary entry.
Go find some magazines and cut out pictures and words that represent your dreams.
Imagine you're living your perfect life and write a letter to a friend that you haven't seen for years, tell them all about what it's like.
You're living your dreams and meet someone interesting at a party who asks about you. What do you say?
Imagine there was a film made about your life. Now describe it. What would it be like?
Your dreams aren't frivolities. They are there for a reason - to show you what you need to explore to be a happy, fulfilled person who loves your life.
Make them real like this, revel in their life-creating joy and then experience their power to move you forward and get you changing your reality.