Just Breathe! 3 Steps to Beginning Meditation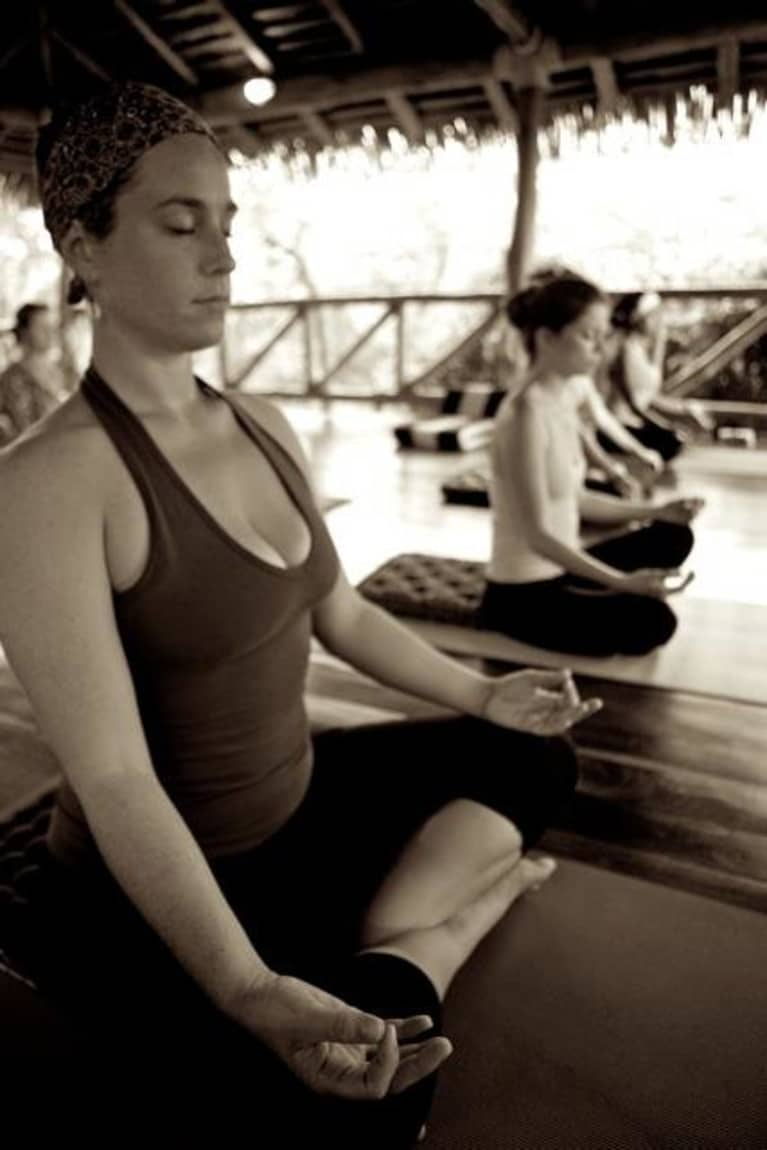 Over the years I used a variety of reasons to explain why I didn't practice seated meditation, including, "I can't stop my mind from thinking," "I'm uncomfortable sitting for too long," and "I don't have enough time." Yet as I deepened my yoga practice and learned more about the importance of conscious breath, I realized I was depriving myself of a powerful resource.
Studies show that meditation can increase concentration, decrease anxiety and contribute to a general sense of wellbeing. As someone who suffered from panic attacks, I was told that meditation would help me regain control when I began to feel overwhelmed.
The truth is, I was making excuses. They weren't good ones, but any excuse works when we need one. I had created such a stigma around meditation that I needed to just shut up and breathe. So I decided to dispel the myths.
First, I learned that meditation isn't about completely stopping the mind from thinking. Rather, meditation is the practice of quieting the "chitter chatter" of the mind by focusing on the sheer act of breathing.
Secondly, meditation doesn't have to look perfect. So if lotus pose is uncomfortable for you, find something else that works. You can choose how you sit and for how long.
Lastly, while I said I was too busy to meditate, I realized that taking five minutes to focus on my breath could create a sense of having more time. Plus I'd become fiercely focused on my tasks and therefore be more efficient with my time.
In the end, practicing meditation has greatly improved my ability to control my emotions and helps me stay connected to my authentic self.
So here are my 3 tips for how you can stop making excuses and start breathing:
1. Find a comfortable seat. You don't need to sit on the floor with your legs crossed or use a fancy meditation pillow. You can meditate while sitting upright at your kitchen table or behind the steering wheel while parked in your car. Heck, you can even practice while laying down on the floor or in your bed. Conscious breathing is easiest without distraction so find a position that is comfortable.
2. Close your eyes and lengthen your breath. If you are a visual person, imagine your body receiving and releasing healing golden light as you inhale and exhale. If you are more of an auditory individual, practice counting slowly to 8 as you inhale and exhale. If you get distracted, don't worry, it happens. Keep refocusing on the quality of your breath.
3. Choose a reasonable amount of time. You don't have to meditate for an hour to get the benefits of the practice. Perhaps start with 5 minutes a day and see how that works for you. Patience is key with meditation. Set a timer and release your expectations to become enlightened immediately.
For me, meditation is like a reset button. My consciously breathing you can quiet the mind and reconnect to your Divine light. Give yourself the opportunity to observe the benefits without judging the process and enjoy.
Leave a comment below and tell me...
What helps you in your meditation practice?
or
What excuses are keeping you from starting?