Listening to Your Body vs. Guilt: The Yoga Teacher's Dilemma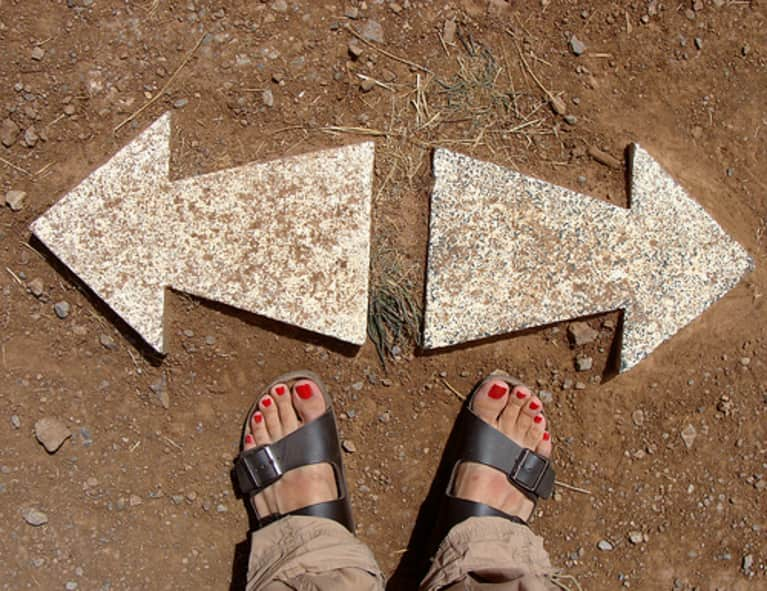 As yoga teachers, many of us spend quite a bit of time encouraging our students to listen to their body. This shows up in various ways -- from reminding them that it's always okay to take Child's Pose, to alignment cues, to class themes about taking care of yourself and everything in between.
I'd venture a guess that this may be the biggest area of common ground between various styles of yoga. And that our students might even accuse us of being a broken record (in a good way, I think) on this point.
So why is it so hard for us to take our own advice?
My Right Knee 
I recently decided to cancel my fall teaching tour due to a knee injury. I say "decided to" instead of "had to" because I recognize the agency I had in the situation.
I was faced with a dilemma that yoga teachers are faced with every day: Do I take care of myself, or do I not let my students down? Where is the middle ground here, if it even exists?
The Show Must Go On 
I see and hear from many teachers who have a, mostly subconscious, idea that "the show must go on." Of course, they don't put it in those terms, but that's what it boils down to. Unless you or your very close loved one is bleeding on the side of the road, it's not okay to cancel class -- and even then you should make an effort to get bandaged up and get there anyway, teaching from a chair with an ice pack if you have to.
I hear from still others who don't want to let their students down. They'd feel too guilty. And they fear that students won't come back to class if a class is cancelled or has a sub. Or, even more insidiously, they fear that their students won't think they're "good" teachers if they have to take some time off for their own health.
Because what "good" yogi gets sick or hurt, right?
Calling BS 
I completely understand where these teachers are coming from because I've felt it all myself. I have taught through migraines, colds, a sprained ankle, grief and more.
But I'm still calling BS on the idea that any of us "should" teach through difficult circumstances -- or that it's even a good idea.
Reality 
The cold, hard facts are that it's true -- you may lose a student here or there if you have a sub or cancel one week. Yoga students are like the rest of us; it's very hard to maintain a regular practice schedule, especially when so much else is calling us in our life.
But the other cold, hard fact is that if we're teaching beyond our edge, we're not walking our talk. And I think that's even more detrimental, to ourselves but even more so to our students.
Discipline and Trust 
When we continue to teach when we should really be home resting, we're sending our students a message that they should do the same. We may not think that's what we're doing, but they're receiving it loud and clear.
After all, how could they not? Many yoga students look up to their teachers, so if they see their teacher going to class anyway, despite what they've been saying about taking care of yourself, they'll think they should just "buck up" next time, too.
I mean, yoga requires discipline, right?
But here's the thing: discipline isn't something ill-informed, and it doesn't have to be dogmatic. What if our discipline was to listen to our body and follow its lead?
And what if we taught our students the same thing -- and showed them that we meant it by doing it ourselves?
Could we trust our students that much? Could we trust ourselves?
Stepping Forward 
Modeling yoga for your students is not an easy job. By modeling I, of course, don't mean Voguing like Madonna. Rather, I mean embodying the principles of the full yoga practice.
Coming together in community to figure out how we can better support and empower each other to walk our talk. Because if we can't do it, we surely can't expect our students to.
The freedom and transformation we want for our students has to start with ourselves.
image via flickr/julia manzerova