Want to Meditate? It's Easier Than You Think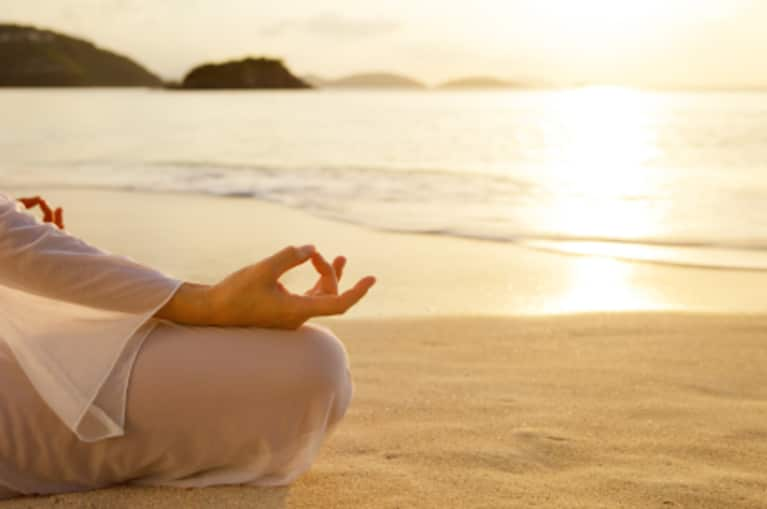 There's something about meditation. The word itself is often imbued with a kind of mystical quality: "I spent two hours meditating yesterday. I felt really close to the Universe, you know?"
Well, that's great. Seriously. But what about the rest of the world? The ones who think a lot about meditating but are intimidated or think that they have to jump right into a two hour session? The ones who aren't even exactly clear on what meditation is, exactly, but would like to find out?
Meditation, in my book, is an activity that clears the mind and works to bring the personal spirit into unity with Universal Spirit. For many, this activity is sitting quietly with no distractions. However, it can actually take many forms: yoga functions as meditation for many - particularly yoga done independently at home with no distractions. The act of silent focus on breath and movement clears the mind and allows the Spirit to speak within ourselves.
Maybe it's not yoga for you - maybe it's sitting on a bench by the water, listening to nature. Could it be laying in the middle of a body of water on a float? Perhaps it's right before bed, as you're preparing to sleep.
If you want to start a daily meditation practice, I can only suggest that you take the steps I have taken: identify the times and places that you are most inclined toward the type of behavior mentioned above. Chances are you are already practicing some form of meditation whether you realize it or not. If not, feel free to go with the old standby - sitting with your legs crossed and eyes closed.
Next, focus on your breathing: It should enter all the way through your diaphragm. Block out the sounds around you and hear only your breath.
In five minutes or so, open your eyes and gently wiggle. Five minutes is a long time when you are first beginning, so allow yourself to end here for the first couple of weeks. When you can center on your breathing immediately and easily empty your mind for those five minutes, you might consider expanding to ten minutes.
I think that if you meditate for anywhere between five and ten minutes a day, you might be surprised what you learn about yourself - and what that might mean for the way you begin to treat not only yourself, but people in the world around you.
Meditation is about centering yourself and unifying with the Universal Spirit. You don't have to do it for hours a day to reap some substantial benefits - and there's nothing intimidating about it, I promise. So go get started!