How I Found the Unlikeliest Teacher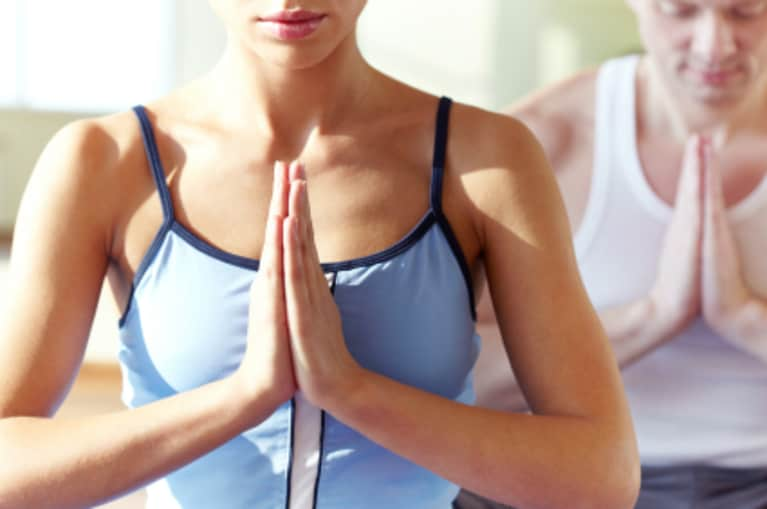 Have you fallen out of a regular yoga practice?
I did, for many reasons (and excuses), one of which was my inability to find a guru I could connect with.
I met my first guru – let's call him Mr. S – in an Ashtanga class six years ago. I'd signed up for the trial session on a whim, desperate to heal a broken heart, and I spent the entire class having my downward dog corrected for what felt like the 50th time that evening. My muscles were screaming in protest, and I could barely stand straight, but when I waddled out of the studio at the end of the class, my heart was the lightest it had been in months. And so, my journey into yoga began.
Those precious Wednesday evenings on the mat soon became my escape from a world that was rapidly tipping off balance, and the discussions on the metaphysical that Mr. S and I had after class fed and challenged my insatiable curiosity. Under his guidance, my yoga practice transcended through the physical into the spiritual. I was in awe of this tiny, insanely flexible man who hung off trees in the local park and had me racking my brain for an answer to his question: "Where do you exist?" To a young yogini, he was the picture of worldly wisdom. I very naturally crowned him on my guru pedestal.
But as life would have it, I found myself on a plane to India later that year for an exchange program. When I returned home, Mr. S had already left Singapore, and the time I spent away had also completed the healing process that had begun on my mat. I took my time easing back into a studio practice and trying out different teachers, but I couldn't seem to forge a decent connection with anyone. She was too precise, he was too demanding, she was too inexperienced... I was fixated on filling the shoes Mr. S left behind, and nobody else had feet that were large enough. After a few more half-arsed attempts at getting back into a studio practice, I gave up; yoga was relegated to the occasional home practice with a DVD.
Fast forward to January of this year. Utilizing a trial hot yoga pass I'd received as a Christmas gift, I stepped into a studio for the first time in two years, this time with the decision to toss aside the student-teacher connection and Mr. S fixation, and to approach hot yoga as an alternative to pounding the pavement and clocking the miles on my elliptical machine.
A month passed, and then three. I was driven by the physicality and intensity of hot yoga, so I picked classes based on how hard the instructor would work me, not how I connected with him or her. I was happy, but mostly because yoga was an effective way to work off the insane amount of calories I consumed as a food writer.
And then I met Ms. Army Commando, a visiting instructor who was in the Singapore studio for a three-month stint. Her first few classes went by in a blur of sweat and piercing, military-style instructions incongruous with her petite frame. My body ached where it never ached before, and that kept me going back the next two weeks. She sure knew how to give a good workout.
Then one day, something changed. Her voice softened, she stopped bellowing at us to keep our legs at 90-degree angles, and instead encouraged us to "move like a dance". And then she began to tell stories in class, incredibly personal ones about her journey into yoga and what the practice meant to her. I was baffled, and a little intrigued. You mean this lady had a vulnerable side? Her stories almost never came with a question but the more I listened to them, the more they made me think about what yoga meant to me. Did I get on the mat only to sweat it out, or could there be a deeper relationship with my practice? What is my story?
I kept a friendly distance, but after hearing a particular compelling story, I went up to her after class to thank her for sharing it, and we ended up trading many yoga tales over the next few weeks. It was my first time forging a personal connection with a teacher after Mr. S, but Ms. Army Commando's youth and candidness made it effortless. She was relatable, and more a friend than a guru on a pedestal.
Instinctively, I opened up to her more and more, and I started to see changes in my practice at the same time. I experienced strength when I challenged myself with arm balances, and at the same time witnessed beauty and grace as I flowed through the rhythm of her Vinyasa sequences. And then, I started to notice my smile – a subtle lifting of the lips that stemmed from the heart. For the first time in my practice, I understood what it was like to move like a dancer, even as my warrior feet ground firmly into the mat. For the first time since practicing with Mr. S, I experienced pure, unbridled joy on my mat.
Practicing with Ms. Army Commando has made me realize how narrow-minded I had been in my search for a teacher. I'd envisioned my next guru to be just like Mr. S – much older and wiser with no pose too impossible and no question too difficult. Instead, I found her – youthful and unassuming with a whimsical sense of humor and her heart on her sleeve. There are poses she still struggles with and vices she still can't quit, and that's okay. She is a friend I go to dinner with, and at the same time a teacher who brings out the strength, beauty and joy in my practice every time I step on the mat. And that, I've learned, is the best kind of guru connection any yogi can ask for.