Profile of a Competitive Yogi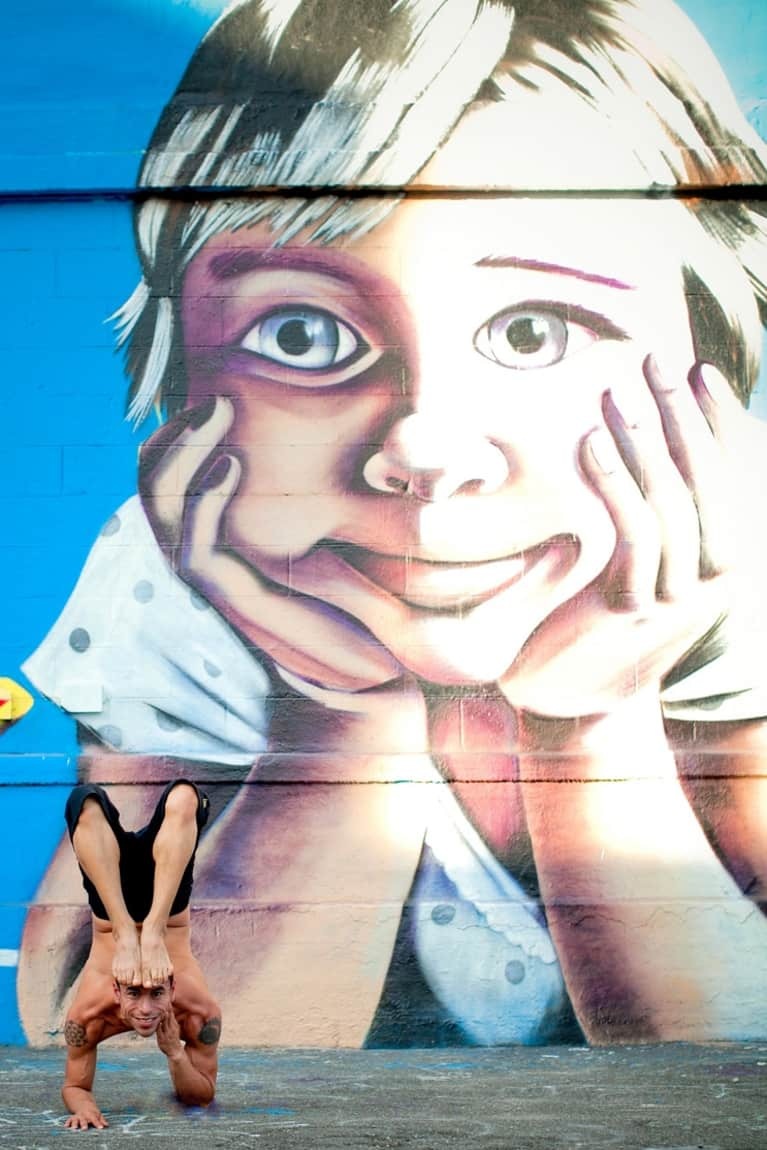 "Competition drives us to be the best we can be, but to be a champion requires the submission to results and outcome." ~ Joseph Encinia
His name may be synonymous with World Yoga Champion, but Joseph Encinia is one of the most humble, generous, and grateful people you could ever meet.
Starting a regular yoga practice less than a decade ago was the key that turned his health around. Looking at him today, it's hard to believe that as a kid, Joseph endured rheumatoid arthritis, suffered a heart attack in his teens, and grew up thinking that that he'd never be able to participate in sports. Thankfully, yoga proved him otherwise; he's definitely made up for lost time.
Through a Hatha practice, Joseph embraced a new way of living. He gained newfound physical strength, as well as an internal surge in motivation and determination. It was competing in Yoga Asana competitions that were a driver in his embrace of a yogic lifestyle. As a competitor, Joseph cultivated a will that powered him to give his absolute best within the present moment. He may have stumbled along the way, and dropped 50 pounds in the process, but achieving top honors last year reminded him of the rewards attributed to an uphill climb. And he's only getting better.
At 27, Joseph is as healthy and fit as he's ever been. He gives back through teaching yoga, demonstrating asana, and is one of the finest examples of an athlete. Here's why.
What pulled you to enter your first Yoga Asana competition?
I entered my first competition because I wanted to show myself just how much yoga has given me. Physically, I was starting to take my body to a new level. I gained flexibility I never thought possible. Mentally, I was gaining more confidence and faith in myself. When I entered the Yoga Asana competition that first year (2004), I knew I wasn't going to win... I just wanted to have fun onstage and enjoy the feeling of being in a competition for the first time in my life.
Give me a run through of the competition poses.
There are currently five compulsory postures and two optional postures. The compulsory postures are Standing Head to Knee, Standing Bow Pulling, Floor Bow, Rabbit and Stretching poses, respectively.
The first two compulsory postures display one's ability to focus on balancing on one leg while demonstrating the maximum rounding and back bending of the spine. They also show one's connection with mind and body. The following three compulsory poses display the competitor's spine flexibility and strength.
To receive high marks in the compulsory poses, final expression of postures must be held in stillness while maintaining a calm rhythmic breath.
The two optional postures done at the end of the routine show the competitor's level in advanced poses. They not only show one's maximum levels of strength and flexibility, but also the person's character. The competitors always seem to have a story behind their choice of optional postures.
One of my optional poses was Peacock pose. It shows so much strength and balance, both mentally and physically. The appearance of a weightless body defeating gravity on two hands is something I could only dream of when I once struggled with my weight. With this posture, I wanted to demonstrate to everyone who struggles with weight issues that with determined effort, the body will even appear to overcome gravity.
How did you feel after competing for the first time?
When I completed my routine for the first time on stage, I felt relieved and happy. Although I fell on the stage and didn't even touch my head to my knee in Standing Head to Knee, I felt a strong sense of accomplishment. I realized after competing that the goal of the Yoga Competition is not to win, but to share your asana practice with your community and the world.
What motivated you to keep on competing, year after year?
What motivated me was the support I had from my fellow competitors. It's always an open and friendly championship. Nobody is wishing for someone to break a leg, or fall out of their posture. It's quite the opposite; everyone is very helpful and friendly. Backstage, the competitors assist, correct and talk it up with each other. I knew from seeing this, and the champions demonstrating onstage, that competing was something I was going to continue. Seeing what the winners could do with their bodies motivated me to set and reach new goals every year. I used the competitions to facilitate my own growth with yoga and asana.
What was the clincher that got you to holding that World Champion Trophy in 2011?
I was always focusing on doing my best throughout the years, but I did lose touch with the real reason as to why I first competed… which was to share yoga, and show how the practice had repaired my mind and body. Over the years, as my ability increased, I lost my focus. It wasn't until the International Semifinals in 2011, when I fell onstage because I was distracted, that I understood. I understood that I needed that inner focus to find peace and stillness in the poses, which was the very reason why I'd started the practice and why I'd first competed.
At the 2011 International Finals, I competed for me. I was halfway through my routine – a time when I usually lose control of my breath – when I realized I had control of it. It hit me for a millisecond that I'd been meditating... I wanted to laugh but regained my focus and finished my routine. As I walked off stage, I felt that I had given my best and I didn't care if I'd won or lost.
How do you train?
My training usually revolves around the principle of moderation. I'm usually not one to plan and regulate every meal or class I take. I follow the principle that, "The yogi is not one who eats too much, or eats too little, sleeps too much or does not sleep enough." On average, I take one class a day. I spend time at home stretching and building strength: doing push-ups, pull-ups, and sit ups.
What have been the biggest changes to your mind, body, and spirit as a consequence of competing?
The competitions have given me:
Mind - Determination to push beyond boundaries; self control to continue my practice; concentration to focus on techniques, breath, and stillness; patience to continue year after year; and faith that someday I was going to get Gold!
Body - The competition took my broken body to a place of amazing health. I did my first competition within six months of starting a yoga practice. Every year, I strive to take my practice to the next level. Because of this, my health doesn't suffer any more, and I haven't taken medication in over five years!
Spirit - My spirit has evolved throughout the years; I've learned to connect to my Self. It was only in 2011, during that last competition, that I realized this. By letting go of ego, I was able to feel the stillness and silence of the spirit that we always talk about in yoga.
Do you think yoga should be an Olympic sport? If yes, what are your hopes for it, when exhibited on a global platform?
Yes, I do hope for asana to become an Olympic sport! I believe it's the right time. I hope that when it does, people will see that such a movement is not to change the nature of asana as it is in the yoga discipline. It is to change the entire nature of sports. One day, kids will look up to yogis as their athletic role models! They will understand that the sport of asana is promoting health and wellbeing, and not violence and aggression. When this happens, I'll know that yoga has changed the world!
Do you have a dream to compete?
Yes, and I can't wait. I'm already getting ready!