3 Reasons to Embrace the Power of Song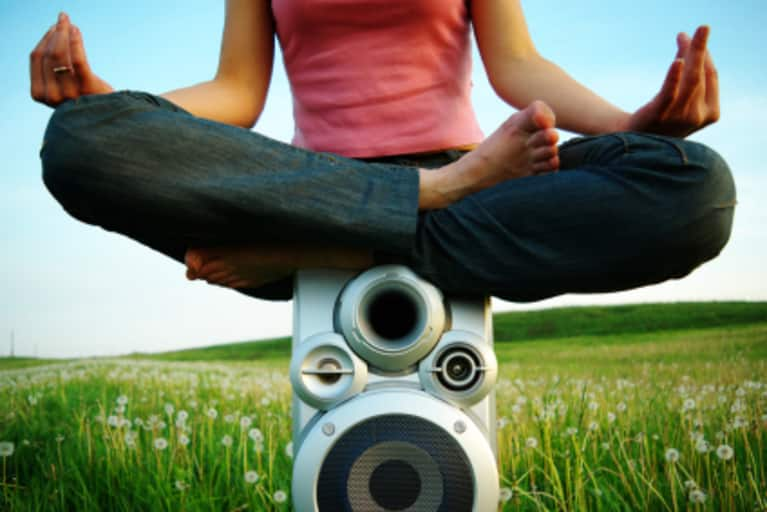 I initially began yoga with one single aim: to get fit. Yet, the more I practiced at my local gym, the more I realized that yoga is more than simply contorting yourself into a sequence of positions. After each yoga class I felt increasingly connected. I knew I had stumbled on something profound, and my hungry heart was calling out for more.
Two years later I find myself sitting in a circle with fellow yogis in a small candlelit room. We aren't twisting ourselves into pretzel shapes, however. We aren't even quietly focusing on our breath. We are simply singing. In the midst of the sheer joy I feel at this present moment, I throw my initial skepticism to the wind and choose to embrace the power of song.
Bhajans are devotional songs originating from southern India and consist of only a couple of lines that are sung over and over again to a simple melody. Although bhajans can take many forms, and there are a variety of traditions, they have one common goal: to sing to the Divine. In yogic terms, the Divine is the essence that permeates all things in this world. By their very powerful nature, these songs serve to stir up energy, allowing the singer to surrender to the universe through the vibration of song. The repetition of such mantras becomes a means of meditation. Following kirtan (a session of devotional chanting), there is always a mixture of peace, excitement and gratitude in my heart.
This can be said for all types of singing, the real purpose of which is to find our voice and sing our unique song. Music and the human voice go hand in hand. If we begin to accept the fact that music doesn't necessarily have to be an art form, just a chance to express ourselves and connect with others, it becomes a different experience. So, here are a few reasons why embracing singing can transform your life:
1. Letting those barriers down. It doesn't matter whether you believe you can sing or not. It doesn't matter whether you sing in a group or by yourself. In either scenario, the opening up of the voice is a metaphor for an awakening of the heart. The more you do it, the more you let yourself flow. From this comes a sense of freedom that will stay with you.
2. Feeling connected: the power of one voice. Being part of a group is nourishing, and singing in unison reminds us that we are all connected and that we are all one. This allows us forget all of our individual troubles and focus on the here and now.
3. Singing to yourself about yourself. Whether you decide to sing devotional songs or not, the real reason to sing is to celebrate your existence. In kirtan, through chanting the names that contain the essence of our true selves such as Krishna, Rama and Hanuman, we are singing to ourselves about ourselves. But similarly, all songs tell the human story, be they about love, pain, hope or truth. Singing them is to engage with what it is to be human, and a reminder that the lives we live are full of beauty and wonder.
So, sing whenever you can, wherever you can. Sing in the shower, or in the car. Sing by yourself, or sing in a group. And when you do so, remember the real reason why you are singing: to celebrate your life.