11 Ways to Nurture Yourself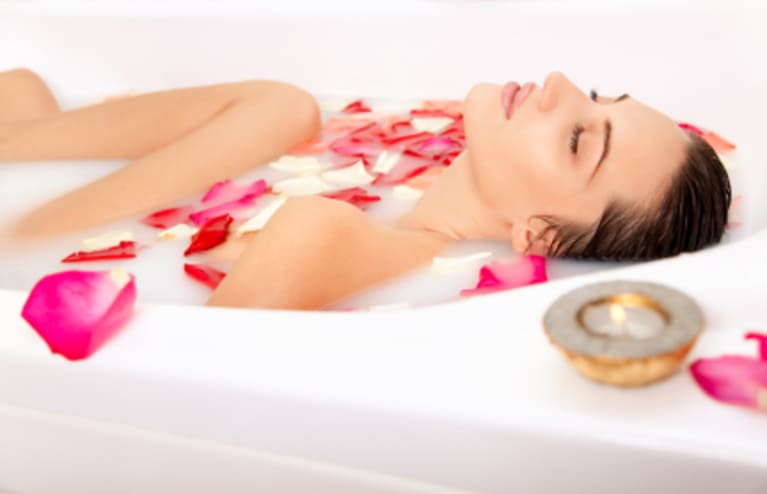 Are you feeling a little rundown, unmotivated and dull? Then it is time you took a day out of your busy schedule to nurture, pamper, love and nourish your body and soul. This day detox is designed to empower you, so turn off your phone, cancel your lunch date and make some time for the most important person in your world – YOU.
Throughout the day enjoy these cleansing food tips:
Avoid meat, dairy products, sugar, refined and processed foods, pasta, bread, rice, alcohol and coffee.Increase your intake of fresh fruits, vegetables, juices and water.Drink at least two liters of water.Take 1000mg of antioxidant rich vitamin C to help cleanse and revitalise your system.Juice it! Detox with some of my favorite combinations throughout your day.
Apple, celery and fresh ginger
Carrot and pear
Carrot, orange, apple and lemon
Beetroot, apple and carrot
1. First off greet the new morning with a big smile and a heartfelt thank you as you have been blessed with the gift of another day, another chance and some new opportunities. Start your morning with some mindful breathing. Not only will this increase your energy levels, but it will nourish your cells, relax your mind and reconnect you with your inner guidance. Sit or lay comfortably on your bed or on the floor. Now breathe in through your nose. As you inhale imagine the breath flowing down your body and renewing and nourishing all your cells. Really focus on your breath as it floats down your body. Now exhale through your mouth, imagine all the toxins leaving your body. Repeat this cycle for five minutes. Get up out of bed, open up a window and let the fresh air fill your home and your heart… take a deep breath in.
2. To help eliminate toxins and give your skin a healthy glow start your day by squeezing half a lemon into a mug of hot water, sip this mindfully, savouring every sip. As Thich Nhat Hanh reminds us, "Drink your tea slowly and reverently, as if it is the axis on which the world earth revolves - slowly, evenly, without rushing toward the future. Live the actual moment. Only this moment is life."
3. Now either roll out your yoga mat, take a run in nature or go for an invigorating ocean swim, this is your moment to connect with your mind, breath and inner wisdom. Spend 45 minutes connecting with the rhythm of your body, feel the energised flow of your circulation, bringing a radiant glow to your complexion.
4. After your morning exercise make yourself a smoothie, I personally like green smoothies (my favorite is kale, banana, chia seeds, coconut water and mango all blended together with love) however any smoothie will do. If you are still hungry make yourself a bowl of hot oats (made with almond milk, chia seeds, cinnamon and berries is how I like to enjoy this breakfast).
5. After breakfast relax with a good book, meditate, write a personal affirmation, daydream or spend some time in nature. Whatever it is that you decide to do, make sure you enjoy the simple pleasure of just being in the moment.
6. Lunch time make yourself a nourishing salad that will feed your mind, body and soul. My personal favorite is spinach leaves; avocado, baby tomatoes and grilled asparagus drizzled in olive oil and freshly cracked pepper.
7. After lunch it is time to remove some more toxins by pampering yourself with a Healing Shower. First body brush. Use either a natural body brush or hemp mit. Starting at your feet gently brush your body, using an upward stroke towards the heart, gradually making your way up your whole body and don't forget your arms. Body brushing stimulates the lymphatic system, gets your blood flowing and helps remove toxins. It is important to remember that while you are brushing your body, you must love and honor your body, and refrain from any judgement or criticism. Now for the Spiritual Cleanse, to reinvigorate, jump in the shower, washing off any dry skin. As you shower imagine that the water flowing from your shower head is cleansing you, taking away all your negative and self-sabotaging beliefs and washing them down the drain. Replace them with loving thoughts. Dry yourself off and rub in your favorite non-toxic body cream.
8. Now it is time to connect with nature and yourself. Dress in some comfy clothes and plan a leisurely walk in the park, by the beach, or at a nature reserve near your home. You are going to nurture yourself by taking a walk with a different point of view. Walk in awareness with soft eyes, feeling your connection to the Earth Mother. Look around and if something catches your eye like a bird, cloud or flower, take a moment to observe it more closely. See its simple beauty.
9. Make yourself a nourishing meal. Maybe a hot hearty soup to warm your soul. My favourite is lentil, onions, veggie stock, carrot, broccoli and pumpkin. Savour every bite of your meal, imagine your body being nourished with each spoonful as the vitamins flow into your body and feed your cells.
10.Spend the evening in self-love – Burn your favourite essential oils and set your creative inspiration free. Create a vision board, a diary of possibilities or de-clutter a room to create space for new things to enter your life.
11. End the blissful day with some sweet dreams. Unwind with a cup of holistic delight: blend cacao, stevia, coconut water, coconut milk and cashews and drink either cold or hot. If you prefer brew yourself a peppermint or camomile tea. Light some candles put on some soothing music and soak in a lavender bath until your heart's content. When you have had enough, dry yourself off, rub in your favorite natural body balm and put on some clean pyjamas. Before retiring for the day make sure you write down in your gratitude journal three things that you are grateful for. Close your eyes, take a mindful breath and get lost in your dreams.