The Call of the Guru-Groundhog
August 30, 2012 — 19:09 PM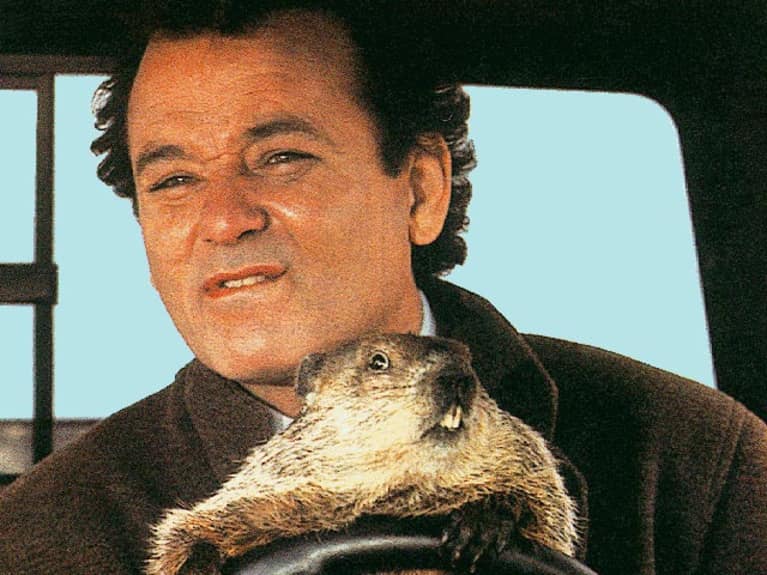 I first saw him sitting quietly in the distance, upright on his hind legs as he chewed a stalk of grass: aloof, detached and tall amidst the ground zero that had been my personal Eden just one day before. There would be no prized harvest of purple-sliver cauliflower. It was as if a tornado had quietly come through in the still of the night and leveled the landscape with no one to bear witness. I was devastated.
At first, I saw him only as the perpetrator of a great crime. But as I stepped toward him, he froze and our eyes locked. He gave me his darshan. Known in India as the gaze of a saint, darshan is a penetrating transmission of awakening that passes from the eyes of a wise one to wake another from the sleep of unconsciousness. My life might have changed then and there, if I had been willing to simply submit to his call—a call that would have allowed me to see that his actions were a mirror for what I was unwilling to see in myself. But I did not, and he fled into the woods.
I began an eight-year cycle of denying our connection. I did everything I could to set the groundhog apart from myself. First I stacked boulders around the perimeter of the fenced garden to discourage digging. The next year I replaced the fence; this new one was set two feet beneath the ground and four feet high (I watched weeks later as he climbed up one side and down the other, wide backside waddling behind him). The more I rejected him, the more he beckoned me by making his mark wider and more pronounced.
The next year I added a flexible plastic fence around the wire one, hoping the groundhog would lose his balance on his four-foot climb and tumble down to defeat. Instead, I watched as my guru became an aerialist, using the swing in the plastic fence to hoist himself up and over like an Olympic pole vault medalist. I used coyote urine to deter his visits. I set up a Have-a-Heart trap, only to find the bait mysteriously missing behind a shut door. This was certain evidence of the magical prowess of an advanced being.
As time passed, my rejection of the guru grew more extreme. I would chase him, hurl insults and rocks, and alternatively plant extra veggies near his hole thinking this might satisfy his appetite. I stuffed rags soaked with ammonia into his home in hopes that he might select another initiate … perhaps a willing devotee more ready to receive his message.
Like a true guru, the groundhog did not give up on me. He became more penetrating when I allowed our eyes to meet. He slowly wore my will down. Last year, I planted what came to be known as the hash-brown garden. This was a mix of the things I knew for sure he didn't like: potatoes, garlic, peppers and onions. Even with his persistent visits, I kept everything I planted. It finally all belonged to me. But in "winning," I became aware of a vast emptiness inside. Emptiness not unlike what was left behind in the Have-a-Heart cage.
At the close of last year's season, I finally chose to answer his call and connect with the message my guru was bringing. I allowed myself to be awakened. I realized that I hadn't wanted to look at what the groundhog raised to my attention: that I often wasn't good with boundaries; that like him, I could be driven by a ravenous appetite for something more, something beyond what I thought could be found in my own backyard; and that the more I attempted to send things I didn't like away, the more they came back in even stronger force for my attention. My guru-groundhog had finally coaxed me out of hibernation and brought me face to face with what I had been avoiding.
Alongside my acceptance of his call, I decided this past spring to plant more than just hash-browns. I decided to aspire towards the diversity and beauty of Eden once again, and to celebrate a good accompaniment to eggs over easy if that was all I got. And remarkably, I am enjoying the first true bounty of that planting in nearly ten years.
This summer, my great guru and teacher mysteriously disappeared. Perhaps he met the end of his life span, or perhaps I reached the end of a life span of a long-held pattern, and no longer needed his gaze. Whatever the cause, as I revel in the enjoyment of sumptuous harvest meals, I do miss him … in some strange and curious way that only two cohorts of Eden can know.