How to Learn and Grow From Our Injuries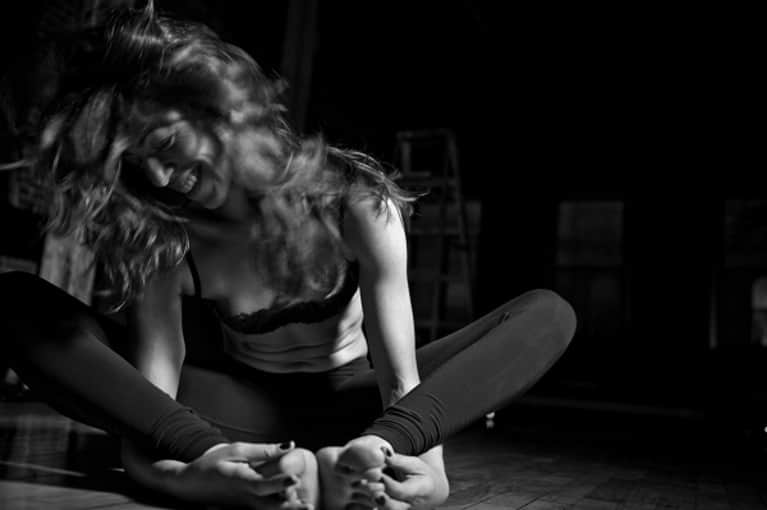 Name an injury, and I have either had it, or taught someone with it, with the emphasis on the former. Currently, in fact, I have 4 torn muscles, those that stabilize the right shoulder, preventing me from doing yoga, or pretty much anything, as I know it.
The feeling is of being injured is not entirely new…. In the past dozen years I have had a broken pinky toe (don't knock it til it happens to you!), a dislocated cervical disk, a mega broken foot (3 metatarsals), a stress fractured femur… and well the list grows longer the farther back into my youth and competitive athletic years you go. Yes, some in fact have been yoga related, from either me not listening to the teacher and doing something they instructed not to, and now as a teacher I know is totally wrong, or from receiving an improper assist. Other injuries can be attributed to life, plain and simple. What I have now, in fact, started on probably my best hour of summer frolicking ever as I dove into crystal clear water from a few meters up.
The thing is, with every injury I have had, of whatever the type for whatever the reason, I have come out not only a better person, but a stronger one, and a much better yogi and yoga teacher. In fact, I do not even stress anymore when I am injured, because I know the bright side, that an injury can, in fact, be cool. How?
1. LEARNING. Every injury opens the door for you to learn about your body. I always think of it as a real life biology or anatomy class, two passions of mine.   I ask my doctor, physical therapist, and acupuncturists question after question, so that I can learn how the mechanics of this amazing body we have really works, and truly begin to feel its intricacies. From there I try and learn how everything is interconnected, and what causes what, largely by being aware of  how things feel, and what ramifications I am feeling or suffering from due to an seemingly isolated problem.  An injury is the best lesson anatomy lesson you can have.
2. MODIFY. Unless the doctor says, "Absolutely no you need bed rest," there is a way to modify many activities you do. Yoga, for instance, is something that can be modified for almost every injury, and actually encourages healing. I used yoga as my physical therapy for my broken foot years ago, and since have learned to modify my generally athletic Ashtanga inspired Vinyasa practice for every injury I, and any client, have had. With my broken foot, I modified all poses that involved pressure on the top or side of the foot., gaining strength in areas I had been ignoring. Depending on what you have, try staying in plank pose, eliminating twists, micro bending the knee, using a Warrior I foot stance across the board… there is a way. Outside of yoga, try swimming without kicking or running with your arms static. Use your injury as impetus to a (temporary) new way.
3. EXPERIMENT. You never know until you try. Age old rule, that holds for injuries as well.  When you are modifying, try out new things. You may realize that you were under using one muscle, and now have an opportunity to strengthen it. Or maybe you learn to befriend a whole new pose. When I had to take out my headstands for my neck, forearm stands became my bread and butter (gluten-free organic of course). If it is not yoga, then experiment with an activity that perhaps is long-lost, or totally new.  Maybe try swimming, rollerblading instead of running, hiking hills instead of spinning.  Your body needs a mental-physical connection to be healthy, and there are many ways to do it.  So use your injury as an opportunity to try out new things.
4. BE CREATIVE. Along the lines of the above, your injury is actually a petri dish for creativity. With my hurt shoulder I could either complain and do nothing, or think out of the box on how to practice, and teach. I have in fact come up with some killer fabulous sequences in the past six weeks, and I can feel more to come.  If you take your mindset out of what you cannot do and let it roam in what you may not ever let yourself think you can do, you may surprise yourself. Use your injury as jet fuel for creativity, on the mat and off.
5. PRACTICE PATIENCE. This is definitely the hardest for me. When my team of healers and helpers just now told me two months minimum no vinyasa yoga, or when I was in a cast for six months with my broken foot, there was naturally an initial moment of panic. But then I remembered all of the above, and that injuries are actually one of life's ultimate tests of patience. If you are not patient, they will never heal. If they never heal, you will never be able to do what you love in the same way. If you are patient, the body will heal itself as it knows how to do best, but you have to stay out of its way, calmly. Try and see your injury as a cosmic lesson, and you may realized that once it is healed and healthy, your mind is not only healthy, but stronger, too.