To Teach Or Not To Teach...Is That The Question?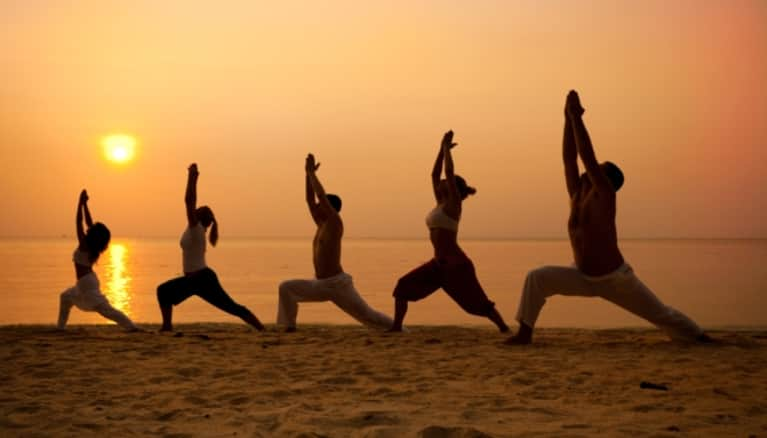 Well, here I stand at this crossroads in my life. I'm not getting any younger, and I am still of an age where long distant travel and exciting experiences inspire me and don't leave me shaking with fear. I'm 27, male and have a good job in a local secondary school teaching Music. I have a husband and a dog and close friends that I share much of my day-to-day happenings. I have been practicing yoga on and off for about five years, and at least four times a week for the past couple of years (more on this later). So, as I said, here I stand.
The opportunity has presented itself to delve deeper into my practice. To undertake a yoga teacher training. For the past few years, this has been almost calling me from the outer depths of the internet. I have spent evenings Googling different training opportunities and reveling in the thought of teaching yoga and understanding my practice that much more. Now, the opportunity has basically fallen into my lap, and the fear has started to rise. I can hear the monkeys in my mind telling me all the reasons they think it is a bad idea.
My practice has been developing nicely over the past few years; a local studio (Whitespace Yoga Studio) has provided me the opportunity to refresh, ignite and transform my practice. And, I even volunteer one evening a week in order to be surrounded by like-minded yogis willing to share this amazing journey. I am inspired by the people in my life, and my brain is telling me that this year-long commitment will be worth the money, the time and the energy. The butterflies in my stomach are, however, arguing a different case: "I'm not good enough," "I can't even get my head to touch the floor in [insert pose]," "If I'm feeling this way, then how can I possibly stand in front of a class and teach acceptance and enlightenment."
This is where my personal practice comes in, taming that monkey mind and sharing my experiences with other people (probably feeling similar things with regard to their own personal life stories), not fearing the unknown and going with the flow, opening to grace and uniting my mind, body and spirit. Hold on a second: Isn't this an ideal resume for a Yoga teacher? I may not be able to wrap my legs around my head and balance on my big toe, but I can relate, empathize and inspire people in their own journeys.
So, this crossroads in my life where school teacher and yogi combine is exactly where I need to be. Yes the negative thoughts are going to crop up from time to time; I am going to feel inadequate and small and fragile. But, as long as I remember what my practice has taught me so far, I will be okay. You will be okay. We will be okay.
For all those other yogis on a personal journey, dealing with negativity (internal or external), for those people who think they are not good enough, for the person that fears the unknown… I am dedicating this journey to you. You are my inspiration.