5 Tips for Getting Your Kids to Eat Healthier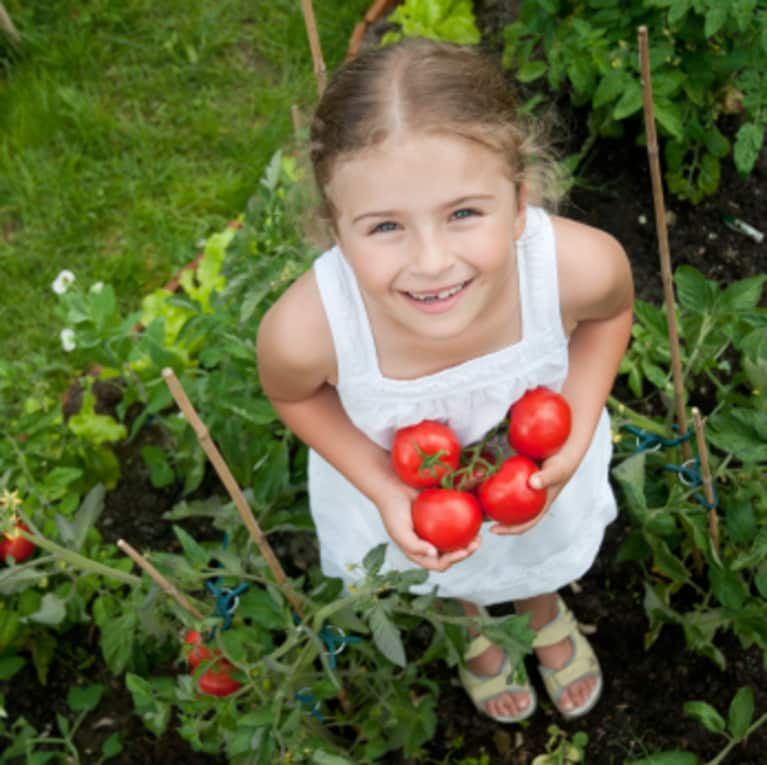 I always knew I wanted to be a mom, and thought I would be the perfect, crunchy, loving, outdoorsy mom that all moms wanted to strive to become. But, when I snapped out of it and found myself in survival mode as a single mom of two kids with a full -time job, I realized that some things would just have to give. We don't go hiking as much as I thought, and I don't sew all of their clothing. Or any of it. Or their Halloween costumes. But, the one thing that I choose to focus on is their nutrition. When I tell the other moms that their children ate lentils and rice or kale chips at my house, they often laugh as if it is a joke. And, it is true that they don't always love it, but at least they are trying new things. And, some of my friends are now making kale chips for their own kids!
Kids are picky! Let's face it. In a country that is bursting at the seams with "food" choices, many of our nation's children would rather grab a pizza or mac 'n' cheese than anything else. We have all heard the scary news that our children's generation is the most obese, least active, and most likely to be outlived by their parents. We need to give these kids some useful tools! Start at home, and hope for the ripple effect.
So, how do we get them to make healthier choices? Follow these five tips "to a T," and you and your kids will be well on your way to more nutritious meals.
1. Make it tempting
Make the plates look attractive, even tantalizing! Use an array of colors, shapes and simple designs to call your kids' attention. Here are some ideas: Make a rainbow on the plate out of red bell pepper slices, carrots, corn kernels, celery sticks, blueberries and raspberries. Add some steamed cauliflower or a pile of rice on the ends for clouds! Also, use cookie cutters to shape the grains that you put on the plate. My kids will gobble up the artwork, regardless of the ingredients.
2. Be tenacious
Don't give up! Keep offering fresh fruits, veggies and healthy whole grains every day. The kids may whine, they may refuse to eat - but you are stronger! Avoid the urge to throw in the towel and order a pizza. If you keep offering up fresh fruits, veggies and whole grains, they will eventually eat them. Hang in there, and don't give up!
3. It's gotta be tasty
And once they do dive in and eat them, they'd better be yummy! Make sure they are palatable for kids. At first, avoid those foods that are super healthy but also have very strong flavors, such as turnips, Brussels sprouts and onions. Take baby steps, and give them simple, yet delicious tasting whole foods.
4. Make timely choices
You do not need to get busy in the kitchen for hours to make this work. Most likely, you are a very busy parent, and every minute counts! This consists of washing and cutting up some fresh fruits and veggies, perhaps steaming some of the veggies, and preparing some brown rice, whole grain pasta, or quinoa. It is helpful to make up a large batch of the whole grain ahead of time, so you don't have to cook every night; just reach into the fridge. Also, muy importante, don't give them heavy duty snacks right before dinner. Make sure they come to the table hungry! If they are hungry, and they know you won't be their short-order cook, they are more likely to eat what you have prepared for them.
5. Eat it together
Take time out, and eat dinner together. Not only is it a fantastic way to get in a little bit of family time, you are also modeling good eating habits. Eat the same things that you prepared for them! You can add some more grown-up flavor such as garlic, cayenne or Bragg's to your own plate. I keep seeing proof that when kids grow up, they end up eating the same way their parents always ate. Eat well for your sake and theirs!
Remember, the kids are always observing you and what you do. Here's an opportunity to set them up to have healthy eating habits for life. And, if the meals look good, taste good, and your family is enjoying the experience, you'll all be healthier, happier and looking forward to your next meal together.