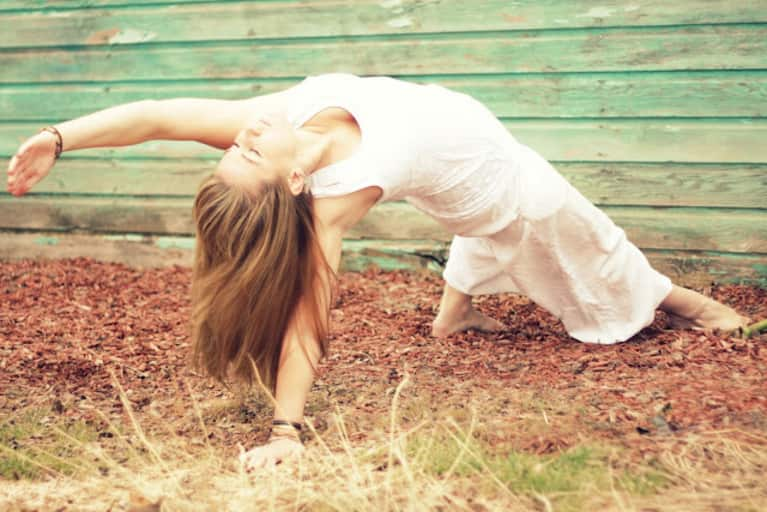 Recently, I went to a yoga workshop that included live music by Sean Hayes. There is just something sexy about practicing yoga to live music, right? I love music and I feel music, I really do - but I'm definitely not the first to show it. I've always felt I would make a fool of myself, so I restrain all internal hip swaying so it doesn't accidentally leak out. Oh, but I want to sway these hips so bad!
As the workshop begins, I'm flowing through the practice and really loving this intoxicating music, and I noticed so many neighbor yogis that were very literally grooving through their practice. They were allowing their hips, their heads, their hair, their hands, all body parts to feel the music and jive whilst practicing asana on their little 6 by 2 foot space. Asana jive. It was beautiful and I was envious. The same envy I felt for theater majors in college, because they could just let their inhibitions (if any!) go and truly play the part, no matter how weird. Let your freak flag wave!
About halfway through the practice, we were standing in tadasana as a new song started to play and the teacher started to dance. Oh shit. And of course, he invited us all to dance - forget the asanas, forget mats, forget your protective little space bubble, forget your mind- forget everything and just feel the music and express that feeling.
What the hell? I so did not come for this. To make a fool out of myself. I can't dance! And I definitely can't dance in the middle of a yoga studio, in the middle of a yoga practice! What would Pattabhi Jois think of me?
I know what I would think of someone standing in the middle of a yoga studio, still, resigned, and rigid, as everyone danced around her…tight ass.
Meanwhile, my insides are ready to spill out through every limb. My hips, my knees, my feet, my head all screaming at me to let them go! Let me do what feels natural. It was a battle I had felt so many times before, and I knew, ironically enough, that if I didn't want to look like an idiot I would have to let the idiot inside of me go. So let go I did. I started out small. I didn't want to overwhelm my poor, running on red bull, mind. So I just copied what the girl in front of me was doing. Snapping her fingers, throwing her hips side to side, shaking her head. I was building on this feeling, this movement. Eventually I built it big enough to where my mat could not contain me. I was meant to really move. Step off my mat and explode. And do I did. It was glorious and we were all laughing and dancing and having a genuinely good time.
The last time I felt this feeling was at the Hare Krishna temple. At the church I attend, we're often thanked for our silence, so going dance crazy in a beautiful and ornate Hare Krishna temple, just did not seem right. But, it was glorious and we were all laughing and dancing and having a genuinely good time. I'm not about to convert to Hare Krishna or anything, but it was an amazing reminder to liberate yourself from your own barriers, and truly be free and be spirited and be your quirky self.
After the song ended and we all made our way back to our little spaces, I celebrated my small accomplishment and moved on. I moved on through the rest of the practice as I otherwise would have. In control, trying to create perfect lines in each asana, trying to engage all bandhas, bring back my ujjayi breath- all the things that I know and that are safe. There I was, back being myself, accepting that I can merge these two desires- the desire to be in control, dedicated and intense, but also be free, and wild and a little insane. This battle between myself and me certainly isn't over, but I am so happy that I experience these little wins over myself. I am going to kick my own ass into freedom!
Try something that challenges your nice, cushy routine! Step out of your mat bubble and get funky! Your mat and your practice will always be there for you to bring you back to your comfort and sanity.