4 Dangerous Chemicals in Everyday Beauty Products
Written by
Lee Holmes
Lee Holmes is a holistic nutritionist, yoga teacher, wholefoods chef and author of multiple wellness books. She runs a four week online 'Heal Your Gut' program with an accompanying eBook.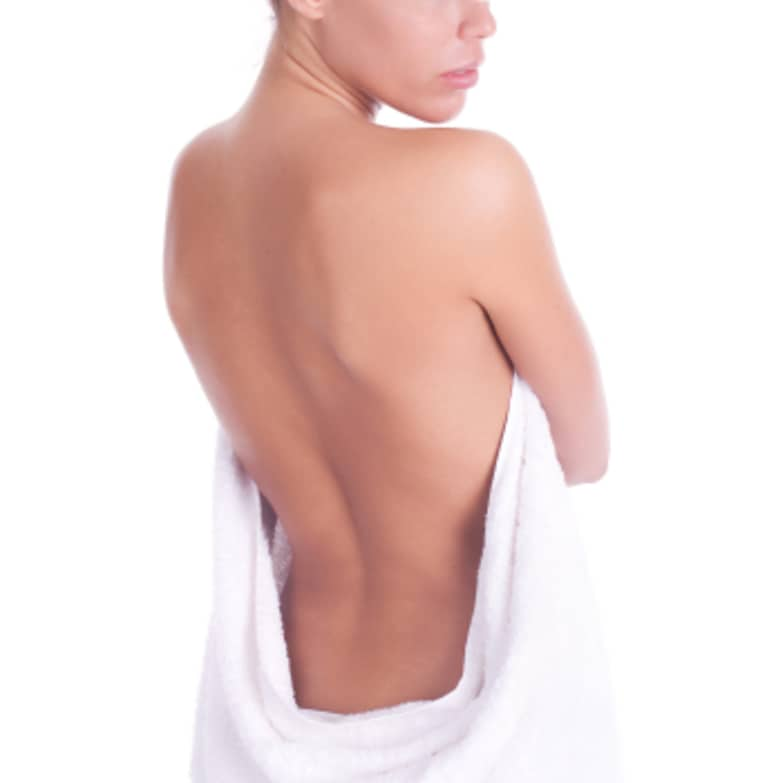 It seems that the world's obsession with beauty is screaming louder and louder every day. Take a look at your local supermarket and you'll find an entire aisle lined with a vast array of lotions and potions to up your beauty factor. I remember a time when I used to cover myself with commercial moisturizers, spritz myself with perfume, lather up with quick foaming body washes, and finish up with layer upon layer of makeup. I was so focused on the goal of beautification that I was oblivious to the ugly truth behind my lengthy list of products. I'm a loud advocate for wholesome food, free from harmful additives and artificial ingredients, however, food is just one area that you need to clean up in order to ensure you're avoiding the consumption of disease breeding toxins.
Did you know that our skin absorbs a whopping 60 percent of any topical product we use? Think about it; nicotine patches are designed to be placed on the skin and absorbed into the body, so why wouldn't the ingredients you layer on your skin everyday be leeched into your system? Take this into consideration with the fact that the average woman also wears nearly 515 chemicals a day!
The beauty industry loves to promote the promise of eternal youth, skyscraper lashes, and a holiday glow, but there are many scary truths that are hiding behind these promises of beauty and perfection. Nowadays, more than 10,000 chemical ingredients are permitted to be used in the production of personal care products. Pick up one of those moisturizers off the shelf next time you are shopping, and it's no surprise that this is true. The danger is that many of these chemicals have been scientifically linked to a range of harmful diseases and bodily reactions.
Here are some facts about a handful of the most commonly used, and most dangerous ingredients in your everyday beauty products. For a toxic-free life, look out for these harmful chemicals when buying your next round of beauty essentials:
1. Aluminium. This toxic metal can be found in virtually every personal care product, and is especially present in antiperspirant deodorants. There's an increasing concern about the use of products containing aluminium, especially when applied to the skin near the breast in the form of deodorant. The reason for this is that aluminium can have oestrogen-like effects in our systems, which can disrupt the healthy functioning of the endocrine system.
2. Toluene. This petroleum based by-product is most commonly found in nail polishes and cosmetics. Toluene is a harmful neurotoxin, which can affect the functioning of the brain and central nervous system, and can pose implications for the healthy development of children; both born, and unborn.
3. Parabens. These guys are a group of nasty, synthetic preservatives that can be found in just about all of your cosmetics and personal care products. If you have babies, be sure to check the ingredients list of your baby products too, as they are commonly found in shampoo's and moisturizers for the little ones. Parabens have been linked to the disruption of normal endocrine function, severe allergies and even cancer.
4. Sodium Lauryl Sulfate (SLS). You'll most probably come across this in commercial shampoos, body washes, and toothpastes. SLS is actually an industrial chemical designed to create foam. Although it hasn't been scientifically proven to be harmful on its own, the manufacturing process of this chemical can contaminate products with 1,4 dioxane; a bi-product that has carcinogenic and immune system suppressing actions. What research does indicate, is that nearly 22 percent of all personal care products, including those for children's use, contain the cancer promoting contaminant 1,4- dioxane. Let's face it, it not worth the risk.
Taking these facts on board, it's really important to read the ingredient lists of your products, and do your research so that you and your family are safe from their harmful effects. Bath, beauty and skincare products should be made with pure, organic oils, fragrances, butters and pigments, and should contain absolutely no synthetic preservatives, toxins, artificial fragrances, colors or mineral oils. Once you've re stocked your makeup bag and bathroom with safe, organic products, you will notice an improvement in your overall health, which in turn, will improve the way you look, especially in the long term.