5 Ways to Bliss After a Stressful Week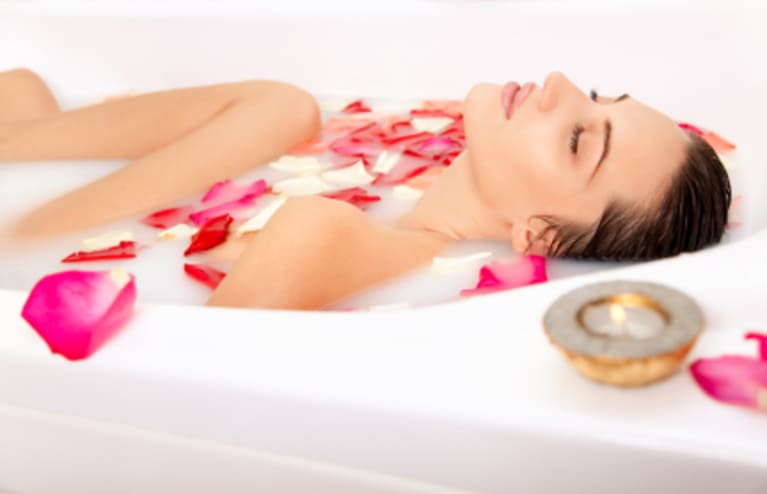 Has it been 'one of those weeks'? Were your weekdays jam-packed with meetings, phone calls, emails and the occasional mind wandering texts/Facebook updates/nose powdering breaks? During a whirlwind week like that you may feel great checking items off that pesky "to-do" list or you may feel overwhelmed when you realize all the items left undone, things you have yet to accomplish. Whether it's been a productive week or one spent spinning your wheels, how you unwind can greatly affect your sense of well being.
Follow these tips for rejuvenating your bliss after 'one of those weeks'.
1 – Move Your Body Like a Goddess
I know that you often hit the gym at the end of the day to burn off that stress in a spin class, by lifting weights, pounding the treadmill or boxing it out. How about taking a break from punishing your body and do something that pays homage to you? Maybe you've always been curious to try that belly dancing class your friends have raved about – go for it. Belly dance or "oriental dance" has been around for centuries, and there is something very satisfying in its seductive feminine movements. If that doesn't appeal to you, go inside and listen to what your body is craving: Yoga? Swimming? Tai chi? Gyrotonic? The key is to do something that gets your body moving in a way that nourishes and rejuvenates you and promotes relaxation.
2 – Slip Into Something Sexy… Your Gratitude Mode
One of the most powerful tools for enriching your soul is keeping your gratitude tank full. Writing down 10 things you are grateful for puts you in a mindset of abundance and bliss. It's amazing how effective this little exercise can be. Even more powerful – buy yourself a pack of blank 'Thank You' notes that reflect your personality. Write one out for a friend and go into detail on how much this person means to you and all their special qualities.
3 – Create a Self-Care Spa
Immersing yourself in warm water is an ancient healing method for mind and body. Shut off your computer, silence your phone and get into a zone of self-care. Light as many candles as possible, turn out the lights, put on some meditative music and run a steaming bath. Mix in some relaxing bath salts for tired muscles and scented bath oil for baby soft skin (why not try several drops of some energetic Love Oil?). Bonus spa tip: fill a bucket with ice and water and dip a few hand towels in it. Keep them handy for when you get too warm, ring one out and then put it on your forehead. Take 3 deep breaths and unwind from the entire week. Clear your mind. Allow only positive, loving thoughts in. Be grateful for this beautiful body you have, this wonderful amazing life that you are living. If you're missing the required tub, you can always do a warm foot bath or snuggle into a cozy robe, lie in bed and hold a heating pad or hot water bottle on your tummy and meditate. This Ayurvedic healing method will work wonders.
4 – Re-connect with Someone You Love
Is there someone you haven't connected with in a long time – months or years even - that you know would love an out-of-the-blue phone call from you? Not an email, text or Facebook message, but a phone or even Skype call? Someone who brings out the best in you. Maybe someone whom you've bonded with at one time in your life who you share special memories with. In this technological age, we are often superficial in our communication and disconnected from the people that matter to us the most.  Reach out to that person. Surprise them. Let them know they are still on your mind and in your heart.
5 – Give Your Body the Fuel She Craves
Recognize that your body is a masterpiece. And she is very precious. You can live longer, love harder, laugh fuller and be your most joyous self if you fuel your gorgeous body with nourishing foods. Listen to what your body is craving this week – go ahead and plan on eating just that. However, be sure to fuel it with a health boosting salad first! Make a huge salad with tons of greens, some colorful and crunchy veggies (carrots, red/yellow/orange bell peppers, cucumber, radish) and a touch of healthy fat (walnut pieces, almond slices, avocado) and a light vinaigrette dressing. Add a sprinkling of fruit if your body is craving the sweeter things in life (strawberries, grapes, sliced apples or goji berries often work great in salads). Don't forget to drink a big, refreshing glass of water as well. Your body will thank you and your skin will alight from the inside out. Oh, and remember that naughty little thing your taste-buds were craving? Now have half of it, and enjoy every single bite. This way, you will be healthier and stronger… and you will need that extra strength to fight off all those admirers drawn to you like a moth to a flame!
Now it's your turn. What do you like to do to honor your body and spirit at the end of a stressful week? What are some creative ways you can hone your self-care skills? Let me know in the comments below! And if you haven't yet signed up for my weekly eNewsletter, I invite you to do so now at RadianceAdvisor.com. Have a blissful day!