6 Tips for Teaching Private Yoga Classes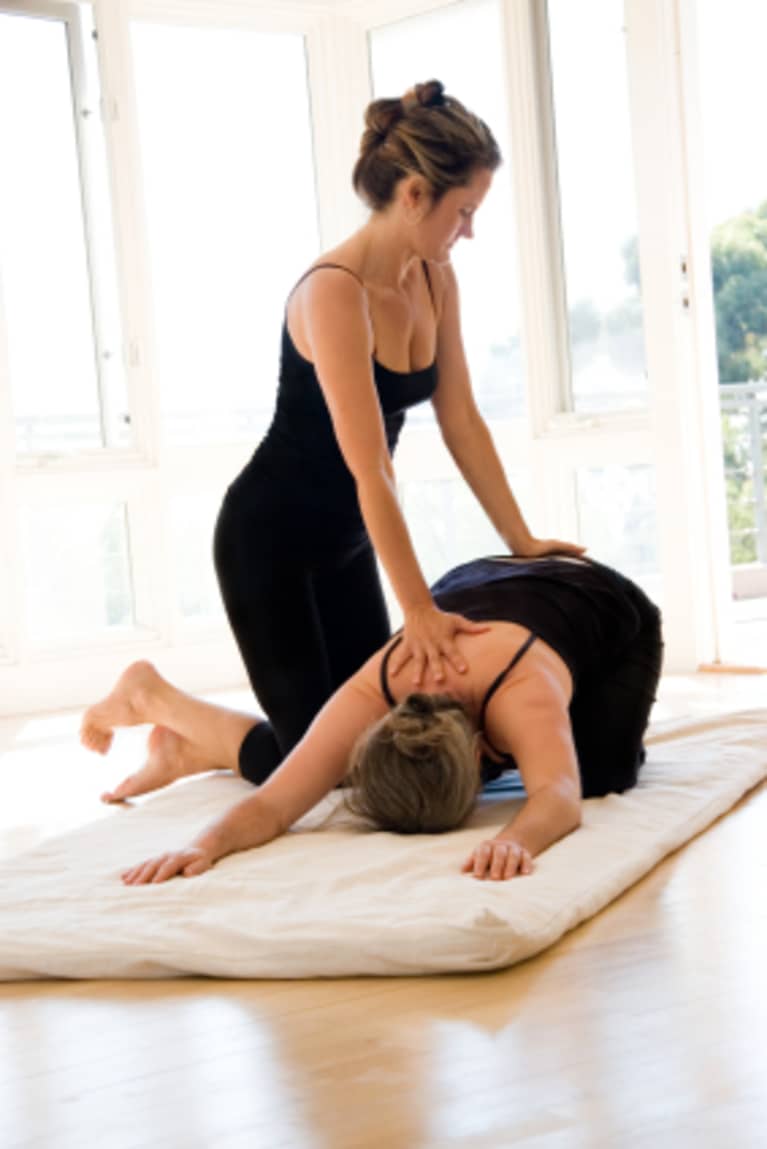 Are you a yoga teacher (or aspiring teacher) who wants to teach privates? You'll want to check out these tips:
1. Get their information ahead of time
How can you help someone if you know nothing about what their issues are? Plus, most clients (students) filling out a form the day of -- on the spot -- tend to forget things, or don't really realize what could be important. Things like: five years ago they were in an accident, or that they really only do drink two cups of water a day and live on coffee and caffeine... Getting a health evaluation and questionnaire to your new student a few days prior, or even a week, can give them time to "think things over" and be more conscious of their routine and habits.
Even though your session is primarily geared towards the physical, what they do in other areas of their lives will highly affect the outcome of your session(s). It is important to know about diet (even if you are not a dietitian). There are basic red flags: how much water they drink (should be minimum .6 times body weight); medications; what their job is like; work load; daily routine; and how much sleep, rest and recovery they get.
And, don't forget to simply ask them what they want to get out of your sessions! Often, I have people come in and say they want to learn more about yoga postures, but as the session progresses, they want to do meditation, or they tell me they are interested in XYZ, or they want to learn how to use this prop, and so on. Save yourself the trouble, and be prepared.
2. Do the research
This is another reason to get an evaluation sheet prior to your meeting. Sometimes it may be something like MS or chronic headaches or a pesky hip issue; even so, it's still important to take the time to be prepared. Come with tools, and lots of them. What you plan may not pan out, so you'll want to have another angle to take.
3. Have your pricing already figured out
When it comes to finances, many people hate to talk about them. And when you are putting a price on your time and efforts, it is important to make sure: one, you see value in yourself and two, you practice being clear at communicating that to your clients. Everything is energy, and when you put out to the Universe that you aren't worth much, then you won't get much.
I often tell yoga teachers that they need to:
Shop around for what others charge for similar practices, and what people in your area are actually willing to pay.
Practice talking to a client and telling them what you charge; you would be amazed at how few people feel comfortable talking about the value of their worth without justification involved. Karma.
Offer a package deal. You don't need to gouge yourself, but a few bucks off means a long-term client. Don't offer too many options, because people will become overwhelmed and indecisive.
4. Take notes during your session, or immediately afterwards
It's important to keep track of pains, complaints and successes during your sessions -- things you might notice and otherwise forget or ideas you might have for next time. These notes can also helpful if your clients request some sort of written guidelines (which they will).
Some things you may want to record: a summary, any comments or complaints from the client, a body blueprint for injuries or issues that is easy to glance to at any time, etc.
5. Instead of pointing out what is so wrong with them, celebrate all the amazing things that are right
We are all so critical of ourselves. And with someone watching our every move, it can feel intimidating! So, notice all the great things. Instead of flat out telling them what's wrong, try phrasing it as what needs more attention, or awareness, or care. It's all how you say it, and words do matter. I was taught that when a client (or student) comes in, to build up in them all the good things -- what they are doing well, what they are a natural at -- and then kindly wrap in the things that need attention. I can't even begin to tell you how important this is and how much it really works in a one-on-one session to build confidence, self-esteem and awareness.
Coming from a yogic foundation, I find it very important to address the behaviors of the person, the lingo they use towards themselves. Things like, "well when I was skinny," or "that was stupid of me," or even simple things like "I can't do that." This all leads us back to a negative mindset. As a yoga teacher, I fully understand that I am teaching a lifestyle, an off the mat practice, not just moves. But how to live. In the end, for many that is what they need and what keeps them coming back.
6. Keep it simple
No need to overwhelm them with tons of "stuff" that they know nothing about. What are the basics? Breathing (which most people are not able to do successfully), asana mechanics, meditation. What is their focus, and what are the ground roots of that need? My sessions start out with some mindfulness to get grounded and in-touch with the body, some basic breath work, and some pelvic floor work (no matter who they are, everyone can benefit from this when done properly). I go from there. Instead of teaching tons of stuff okay, teach a few things very thoroughly, and communicate with them along the way. That is why they are one-on-one with you, to get that kind of attention.