The Less You Hold On to, The More You Have to Give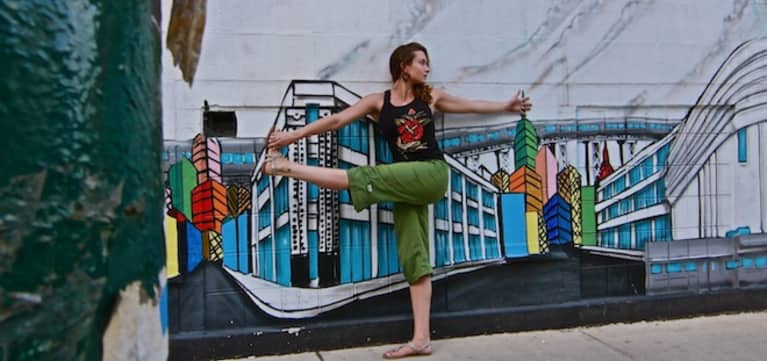 The beautiful reality of practicing yoga is the meaning each moment carries, the impact of even the smallest decisions now can bare weight in our lives. It doesn't mean we resort to overanalyzing every choice we make, seeing mysticism and signs in banal, everyday occurrences. It means we take full responsibility and power in our thoughts, energy and actions each day, recognizing how deep our impact can be on another, and when we cling to less, we find access to more.
I am moving for what feels like the hundredth time in 20 years. Not sure if moving at significant stages, coming from divorced parents, or just being a sentimental person has led me to keep and savor stuff, but up until recently, I've gradually accumulated more and more stuff as I got older. Regardless how many times I moved and to where, I'd bring everything from my past and present lives to my future residence. It really started to weigh me down. Not surprisingly, I did the same with emotions. I have a uselessly strong memory. I remember Junior High boyfriend's birthdays and weird shit like that. I don't hold grudges but I've never forgotten how someone made me feel. It's really challenging for me to wash my slate clean, but this current move, at this stage in my life, is teaching me valuable lessons I really need to learn.
Relating to my article about cleaning out the closets, as I approach this move I'm contemplating big concepts: how much do I need and how will my "stuff" affect what I can give and how I can be now? As we've steadily released more and more items from our home, something inside let go too. As I decided to unleash outside, I felt more liberated inside. It made so much sense. What I was holding onto, even in just my clothing and shoes, were relics from my past I'd convinced myself were still worthy of keeping. I don't buy designer or big labels, so the items weren't expensive or even very valuable, but something in me held on just because. Just like old recycled memories, stale relationships, bad habits. Just a comfort thing, me playing it safe, expecting repetition and sameness from myself again. Not anymore.
I cherish the pieces of art, books, and keepsakes we've collected in our travels, and am so grateful to have many comfortable surfaces with which to sit, but the trick with "things" is: there will always be more, and at some point, something's gotta give. I cannot take any of it with me when I die, nor would I grab it in a fire or emergency, and none of it says a damn thing about me, my life thus far, or even my experiences living. Only sharing those moments with others, while traveling, or through stories during a delicious dinner, can really reveal you and your experiences adequately. No shirt, bag, piece of jewelry, not even a beautiful photograph can adequately convey the exquisite life experiences you're having. We don't need as much as we think.
If you carefully watch nature, you'll see life provides more than enough to meet the needs of other plants and animals. Humans are many things. Brilliant, fascinating, mysterious, resourceful, and unfortunately, often wasteful. We consume to the nth degree. We're almost always engaging in buying and selling. If you break your day down, you'll begin to realize it. This isn't necessarily bad in every case, it's just important to bring more awareness into the why of our decisions, and how we're choosing to sustain ourselves. When we begin to live lighter, to let go, surrendering things outside of us, we become adept in the art of non-attachment.
We should absolutely soak up all the short days we have and appreciate the beauty in even man-made things, but when we cling to people, attach ourselves to possessions, identify with memories and emotions, we limit ourselves. We become more distracted by less important things, fleeting things, transient things. Even people, when our relationships are unconditional, without expectation and without a strict fastening, they enable freedom in each party. When we glue ourselves to these outside forces, we live in a subtle but pervasive fear, a fear of loss, that loss somehow hugely affecting our happiness now. It's a lie we tell ourselves from childhood and as we begin to see our own power in manifesting our genuine bliss, we then begin to see the truth.
Having more doesn't somehow make us more. We have less time, energy and even mobility the more we choose to carry around, physically and mentally. Naturally we will acquire more as we progress, but it behooves us to release as well to restore balance. When writing of non-attachment, Osho expresses, " I am not for renunciation. Enjoy everything that life gives, but always remain free. If times change, if things disappear, it makes no difference to you. You can live in a palace, you can live in a hut...you can live as blissfully under the sky."
I'd never be for renunciation either. This isn't even about purification or living a strictly detached life. Not at all. You're reading the words of someone who still very much loves pizza and cookies and tie-dye yoga pants. Life is without a doubt meant to be enjoyed. I'm simply learning the more I surrender and choose to let go, the more time, energy, money and even heart I have to give out. The less my possessions, my associations and even my accomplishments define me, the deeper the well of my soul can show through. I seriously feel more connected to life and more able to truly live it, the less I carry around with me.
When in doubt, do as the wise Yogi Tea bag says, "Travel Light, live light, spread the light, be the light." Don't allow things and attachments to cloud or dull your inherent light. Let go and shine on.