4 Ways to Find Your Spiritual Path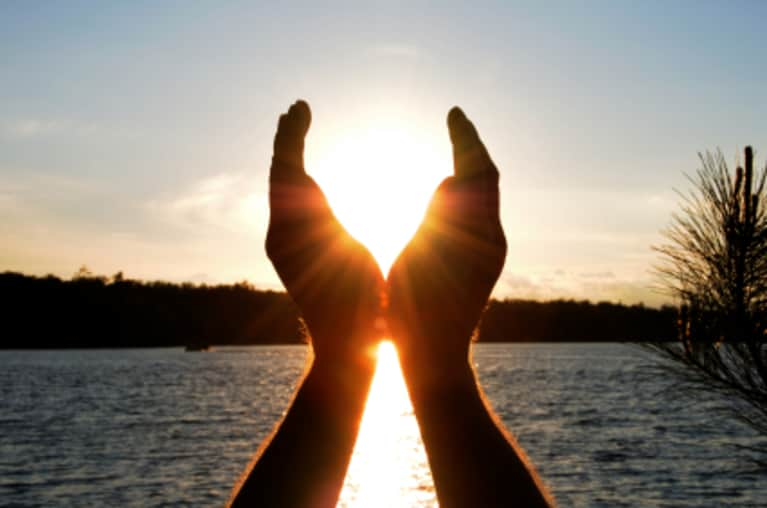 "I love you when you bow in your mosque, kneel in your temple, pray in your church. For you and I are sons of one religion, and it is the spirit." - Khalil Gibran
I remember when I was a little girl: I felt strange and abnormal, because everyone had their set religion. It was either Christian, Catholic, Baptist, Jewish, etc., and then there was me. I was never brought up or raised with any religious beliefs. We celebrated Christmas and Easter, but I never really understood any meaning behind those holidays (except for spending quality time with the family). My parents are not non-believers; they just chose to raise their children a little different than the norm. I'm not saying it was right or wrong; it was just my experience. And hey, what is really the norm nowadays anyway?
It wasn't until my very early twenties when I hit a life bottom and started seeking that missing piece. At the time, I almost felt as if I had a hole in my soul, and nothing I was doing in life filled that hole. I kept repeating to myself, "There has to be more than this." It was suggested to me to start praying, but I never knew what I was praying for. I followed the direction anyways, but when I finished my prayer, I felt worse. I remember so clearly getting up from a prayer one evening saying out loud, "I don't know much about prayer, but I can't be doing this right. I don't think you're supposed to feel worse after prayer!?"
So, determined that I was "doing" life wrong, I started seeking how to "do" life right, which I believe was the beginning of my spiritual journey. Or, at least the beginning of being conscious to my spiritual journey.
I realized my seeking needed to be redirected from within. For a long time, I was trying to have outside things determine my happiness and my spiritual fitness. I learned the hard way - that doesn't work. At least not for me. The more I began to pray and seek, the closer I came to my innerself. I was coming into conscious contact with my true self and with a God of my understanding.
I didn't really know what I was doing. I was following the guidance of those who had what I wanted. That sparkle in their eye. The pure certainty that life is perfect. The ability to live in the present, contentedly. The more books I read, the more I craved. Each one was so different than the last but yet so similar. The primary focus was growing spiritually and being happy.
I was open to anything. I attended retreats, read book after book, participated in meditation groups and before I knew it, my life was transformed. I saw that my job, friends, financial situation and relationships were all improving, and I was amazed. However, the real transformation was the feeling I had inside. The okay-ness with myself. The feeling of connection with the spirit within. And the overwhelming sense of joy with life and all things in life.
I realized: As long as I make an effort and actively seek a greater tomorrow with a God of my understanding, then my missing piece - my hole in the soul - will always remain full. The more I seek, the more excited I get, because I am reassured there is so much more for me to learn and experience.
Today, I don't confine myself to any one religion, and I still don't follow any sort of "norm," but when I do find something that feels good and works for my spiritual journey, I hold on to it.
I love having the freedom to believe whatever I choose to believe. I have also gained a great amount of respect for each and every religion and spiritual practice that exists today... I know we're all on the same journey; we're just taking different roads to get there. There is no right or wrong way, just different paths we choose in growing closer to our inner-selves, which today I choose to call "God."
Finally being conscious of my own spiritual journey, I now help others find their own path to consciousness. Here are some quick tips to start you off on your unique path:
1) Know there is no "normal" when it comes to spirituality, religion or beliefs. Your beliefs are unique to you.
2) Be grateful for the differences that surround you. These differences allow you to mold your own journey into exactly what you want, rather than following the crowd.
3) Keep seeking for your greatest you. With each day that passes, you have the opportunity to wake up and do better than you did yesterday. This enables you to feel better each day, too!
4) Love your entire journey, not just the feel-good moments. More times than not, it's the painful events in our lives that help mold us into the beautiful spiritual beings we are.
What tips do you have the have that have helped guide you along your spiritual path?