5 Steps to Staying Slim & Sexy While Eating Out
August 9, 2012 — 21:00 PM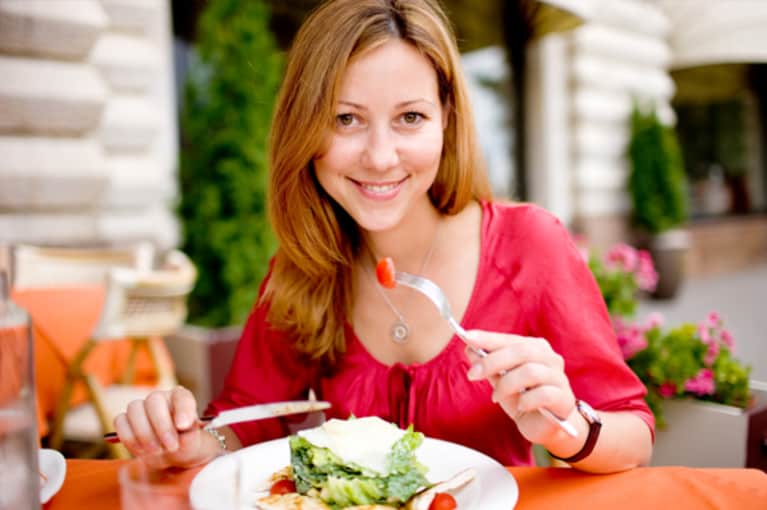 Until recently, eating and drinking out felt like an obstacle course laced with multiple temptations. No matter what my best intentions were, once I arrived at the restaurant, all bets were off. I'd become entranced by the smell of the delicious foods, the social ambiance, the clanking of wine glasses, the sumptuous desserts, and before the meal was even over, I knew I'd feel guilty and regretful yet again. After years of eating out for business and pleasure, I figured out strategies to eat out with confidence and still fit into my wardrobe with ease.
With summer in full effect, people everywhere are dealing with both bathing suit season and months of backyard barbecues, brunches and roof top parties. So, how can we stay in bikini shape without feeling deprived or depressed? The five juicy tips below will empower you to eat out without blowing your diet or bursting out of your clothes.
1. Don't arrive famished
Eat a small snack two to three hours beforehand such as a handful of nuts or a piece of fruit. This will help you avoid tricky temptations like overindulging on the bread basket or ordering decadent appetizers that have more calories than an entrée. Your success starts before you even start your meal. Create a winning mindset, and have some food in your stomach. Research the restaurant's menu beforehand, so you know what you'll order confidently.
2. Eat mindfully
While it's easy to get distracted by conversation and the social aspects of eating out, stay mindful throughout the meal of what you're putting in your body. Mindful eating equals healthy eating. Do not overeat just to fit in. If you do, you will regret it later. And even if it's been a particularly challenging day, don't eat by default or medicate to compensate. Stay present.
3. G.B.S your meals
Just as you have a GPS for your car and on your Smartphone, you should have a smart tool to navigate menus when dining out. When in doubt, "G.B.S it." Order your food grilled, baked or steamed. You will never fail by ordering these options.
This works for protein options like beef, chicken, fish, as well as vegetables. Ordering an omelet with veggies (regular or just egg whites) is another healthy and filling option. Also, style your plate like a pro: eat protein the size of your iPhone, carbohydrates the size of a tennis ball, and fill the other half of your plate with salad and vegetables. If portions are too large you can (1) order an appetizer and small salad; (2) ask for a doggy bag for your leftovers or; (3) ask that the large portion be split in half before it even arrives at the table.
At buffets, walk the entire table to gauge the healthiest options, and fill your plate once, ideally with lots of fresh vegetables and grilled options. At cocktail parties, see what's being offered and stick to 3-5 appetizers maximum as one hors d'oeuvre can have anywhere from 40-80 calories.
4. Choose a splurge and really savor it
When indulging, be sure to order with total excitement; enjoy your indulgence to the fullest, and have zero guilt. Why? Because this is a conscious choice, so powerfully choose it! Pleasurable foods, when savored and eaten in moderation, are a totally hot strategy for staying fit and healthy. Make sure to pick one indulgence: the bread basket, the dessert or the cocktail, and no more than twice a week. Also, ask for salad dressings on the side and skip fried foods to avoid excessive calories.
5. Get strategic with your drinks
It's easy to get carried away when drinking out or feeling pressured when in a group setting. The best way to have a good time without getting a guilty hangover the next day is to use the 1 1 technique: Drink an alcoholic drink followed by a glass of water or seltzer. Don't order the second drink until you have finished the glass of water. This will help your body metabolize the alcohol, so you don't get too tipsy too quickly. Try sticking to a two drink maximum per night.
Red wine is always a great option. It's rich in antioxidants and can support cardiovascular health due to its resveratrol content. Choose a glass of pinot noir or a vodka drink with cranberry or pomegranate juice. These options, as well as a Cosmopolitan and a 3.5 ounce Martini, are all under 150 calories on average. Avoid mixed drinks such as a Pina Colada or a Margarita whose calories range from 250 to 750 calories for one order depending on size.
These tips are based on my ebook: "The Sweet Path Wellness Guide to Eating Out Without Blowing Your Diet or Bursting Out of Your Clothes" which you can download for free at sweetpathwellness.com.