9 Ways to Convince Your Office to Offer Yoga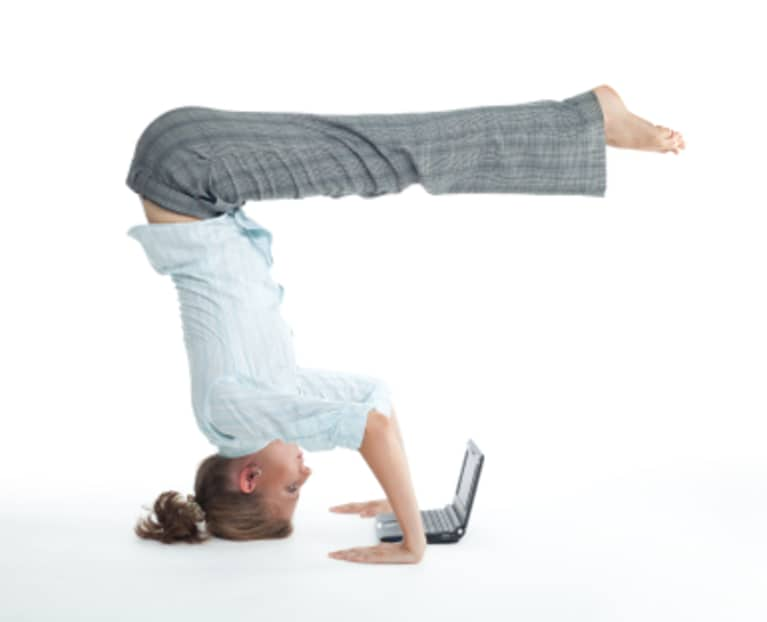 This is why everyone who works in an office should have corporate yoga classes at least three days a week:
Wake up! Buzz! Alarm clock goes off. 7am. You drag yourself to the bathroom and brush your teeth with fluoride toothpaste. Fluoride must be okay, right? The government put it in the water, and you drink that every day.
No time to move your body with love and intelligence. No time for anything before work but breakfast. You go to the kitchen and eat gluten (toast), and instant coffee with refined sugar.
You drive your car to the office. No time to walk there.
You reach your work and ride the elevator up, sit in front of your computer in a chair that makes your back ache after ten minutes. You try to work for a couple of hours, but by noon your chin is sagging towards your desk with exhaustion.
No options to energize and strengthen your body with love and intelligence being offered at lunchtime. Oh well, maybe someday you'll find the time. Drag yourself to lunch. Eat some bread, cheese, additives. Drink some fizzy soda. It can't be that bad for you if everyone is drinking it.
Another coffee, just to drag yourself back to the office.
Finish work, drive home.
Reach the house, no energy left, no motivation to move your body with feeling and strength.
Sit in front of the TV - you deserve to relax after such a hard day, you eat takeout "food" while watching shows till midnight and try to fall asleep. It ain't happening, so it's time to reach for some pharmaceutical drugs that make you finally crash into a catatonic state.
Oh well, maybe on the weekend you'll find some time to do something nurturing and nourishing for your body. There's no time five out of seven days a week, too busy to show your body you love and value it. But, in your heart you know things can't go on like this - belly growing, flexibility declining, stiffness setting in, muscles weakening, back aching, brain slowing, bad skin, and energy dwindling.
Even if this isn't you exactly, then it is probably some of your coworkers. People who work in offices need yoga desperately. Here are nine ways to convince your office to offer yoga:
1. Tell them that it will make them a leader at workplace wellness initiatives.
2. Speak to the head of Human Resource Department (HR), and explain that it will assist them in creating more alert, relaxed, creative and productive employees.
3. Suggest to your manager that it will build cooperation and relationships of trust between employees.
4. Get talking about it with other staff, and build a list of people who are committed to attending regularly. Decide amongst you what times would suit best - lunch, before, or after work. Then pass this information on to whomever makes the final decision.
5. Find a multipurpose space in your office (a meeting, training or boardroom, where the furniture can be cleared) that will be available for classes to be held.
6. Surf the web for corporate yoga companies. Choose a couple that look like they appeal to your needs and values.
7. Remind your Occupational Health and Safety Officer that taking proactive steps toward meeting their requirements will guarantee better retention of staff and improve employee health.
8. Email everyone in your office this article.
9. Now surrender it to the Highest Power. You've done your very best; let God take care of the rest.