How Coffee Beans Can Improve Your Yoga & Meditation Practice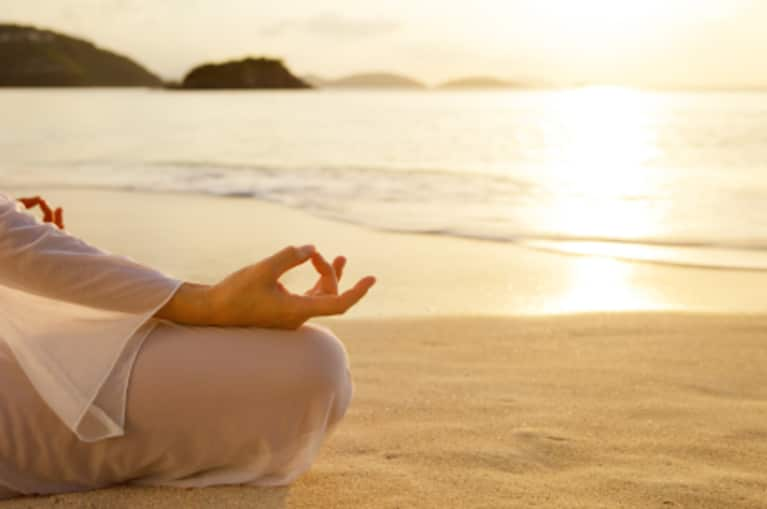 Sometimes the simplest things become tools when life gets busy. Take coffee beans, for example.
If you've ever been to my yoga studio you may have noticed the big jar of coffee beans sitting at the back. We use them for special events, like our annual 108 sun salutations class. I also use them as inspiration for my own personal sun salutation ritual when I can't get in for a group class, and I find that they are also a GREAT tool for those wishing to set aside time for a home practice.
My ritual goes a little something like this:
25 Suns Exercise
1. Divide 25 coffee beans into five piles of five, and set them up at the top of your mat.
2. Place a jar or coffee mug next to your bean piles.
3. Starting with the first pile, move one bean into the jar or mug each time you complete a sun salutation.
I suggest that you start with five sun As, then five sun Bs, and continue to alternate until you have moved all of the beans into the jar.
The beans work well because they make the sun salutations into a moving meditation by drawing focus back to the current moment (versus your to-do list).
Counting coffee beans as meditation was something that I picked up in the late 80s when I worked at the Fontana Spa in Lake Geneva, WI. I led groups of guests to the lake, and taught them sun salutations and meditation, followed by a hike. One of my regular guests always brought along her coffee beans and used them during sun salutations and during the meditation to count breaths and repetitions. I was calm and peaceful just watching her.
To this day, I use this technique whenever I want to grab a practice at home or on the road. I move, sweat, breathe and laugh like a crazy person when my beans skitter off to all corners of the room. When friends find rogue beans in odd places at the studio (especially since I don't drink coffee), it always makes me smile… Try it out yourself!