Play the Game of Gratitude: Awe & Wonder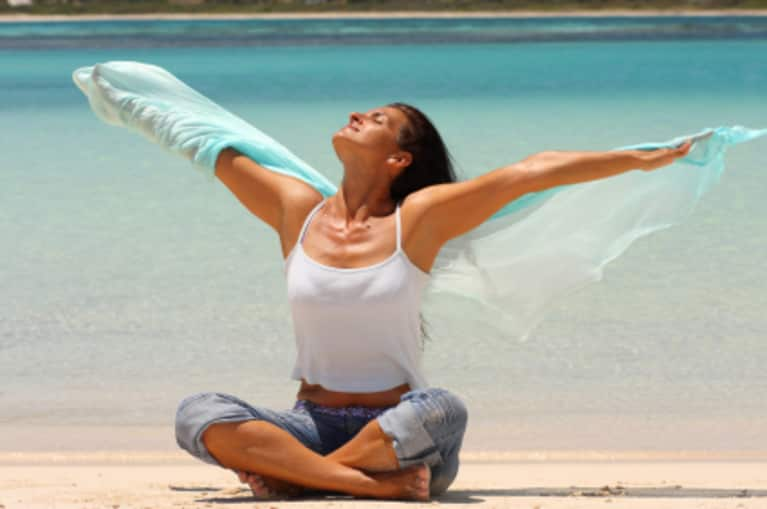 I have a little game I play sometimes: I call it Awe & Wonder. What are some of the little things that have the potential to bring a sense of awe and wonder to your life? If you really think about it, those little things can even bring you to your knees in appreciation.
Stop to ponder for a moment and be amazed at how many things you can come up with. Awe & Wonder for me…
… is sitting with my friends and thinking I'm the luckiest girl in the world.
… is loving the red sequined fan that my girlfriend turned me onto, so I can look amazing fanning myself to keep cool.
… is those little moments of sharing with my husband. That moment when he offers to take my dinner plate to the sink and when he'll save the last bite of chocolate cake for me, or when he asks if I want the last piece.
… is those times when I'm blown away by my son's talent and the drive to pursue his dreams. It's the love of my dogs and cats.
… is something as simple as having a healthy body that moves with grace and ease, and the desire to take care of it. Because, if you don't have your health, you don't have... well, you know the rest.
… is the appreciation of the curiosity and intelligence to troubleshoot and figure out and sometimes fix things computer or internet related.
… is the amazement at my ability to bring to the forefront complex situations or unconscious fears through my dreams. It's having the trust in myself to pay attention to said dreams... they say a lot.
… is something as simple as the smell of lavender or the sweet scent of fresh basil from my garden. It's the fragrance of extra virgin coconut oil and its multiple uses. It's appreciation of keeping things simple, like a lemon and olive oil dressing on my salad, and loving how awesome and fresh it tastes. It's the taste of sweet black grapes.
… is realizing that life is what we make it, and we can make it great or we can make it suck, but whichever reality we are facing at any given time, we did indeed create it.
… is appreciation for those yogis who come to practice with me time after time, stepping up to the challenge of moving forward and meeting themselves on their mat, taking their good days with their other-than-good days, realizing that in the end, they're all good days because they learned something about themselves. And if they didn't, well, there's always tomorrow.
Awe & Wonder is an exercise in gratitude for the little things and small moments that, when practiced on a regular basis, builds your creative muscle. When you understand from experience that gratitude for the little things can build into bigger and greater things just by the power of attraction, you'll want to practice it every day. You'll begin to understand that you create your world.
Go. Now. Awe & Wonder away.