Yoga & Ego: A One Star Family Style Restaurant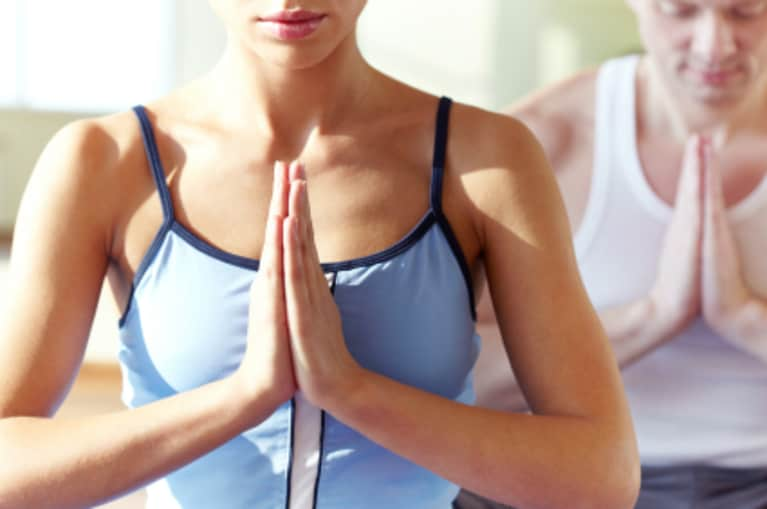 This year, a lot of light has been shed on the topic of injury and yoga. As a teacher and a student I've seen the ego as the number one culprit behind this. Pushing yourself to a limit that is far beyond where you should have stopped - battling through practice with no caution - buys you a one-way ticket to sloppy-asanaville. And if you keep this up, you'll be elected mayor. This kind of recklessness is how injury happens. So, how do we find the balance?
Whether you're new to yoga or experienced, it's important to find a balance in your yoga practice that safely lets you explore postures, taking you to your edge but knowing when to stop. A teacher can offer suggestions for your practice, assist and adjust you, but they're ultimately just the guide for that class. Smart decisions need to be made on the part of the student. We need to know ourselves and bodies well enough when deciding what we allow ourselves to do.
This is where yoga becomes like family style eating. Family style restaurants have a menu full of delicious appetizers and entrees in huge portions; they all look so good! So good, in fact, you order all of them. But what happens when these huge dinners come out that eight people can share, and there are only two of you?
You're crossing the line of excess; you're eating way too much. You're stomach hurts after. You're bloated, gassy, and you may even get sick later. Your eyes were bigger than your stomach, and now your stomach is bigger than you, getting closer and closer to the edge of that table. You suddenly start to acknowledge those buttons on your jeans because of the increase of pressure on your waistline.
This is the same as overdoing it in your yoga practice, doing everything just because it's offered to you without even considering whether or not you're prepared for that particular asana. Instead of feeling sick and bloated after class, you're experiencing pain or suffering from injury. Don't get me wrong: there's no harm in trying something new. But, there is a difference between preparing in small stages and leaping over all the small stages to throw yourself into something you're not ready for. This is unsafe and only makes an asana out of you and your practice!
In the case of yoga, the eyes bigger than the stomach becomes the ego bigger than the body that stops listening to the teacher and blows past all the steps necessary to prepare. Even the practiced yogi can catch a bought of overwhelming ego. Thinking, "Oh I've done that before. I've been practicing for 10 years. I can say this pose in Sanskrit, therefore I know what I'm doing," and then blowing right through. Every time we touch our mats we are a different person embarking on a different yoga experience. Even if we are practicing the same yoga sequence, it will be different each time. And that is the reason why it's so important to approach your practice with good sense and your listening ears! You should not only be listening to your teacher but listening to your body, as well. You don't have to eat every asana on the table. Take your time, you can always take home the leftovers and have them for practice tomorrow!
TIP: If you are interested in breaking through a particular part of your practice, try taking a workshop at your local yoga studio to get a better understanding and the tools you need to take you to the next level!