Am I Where I Thought I Would Be?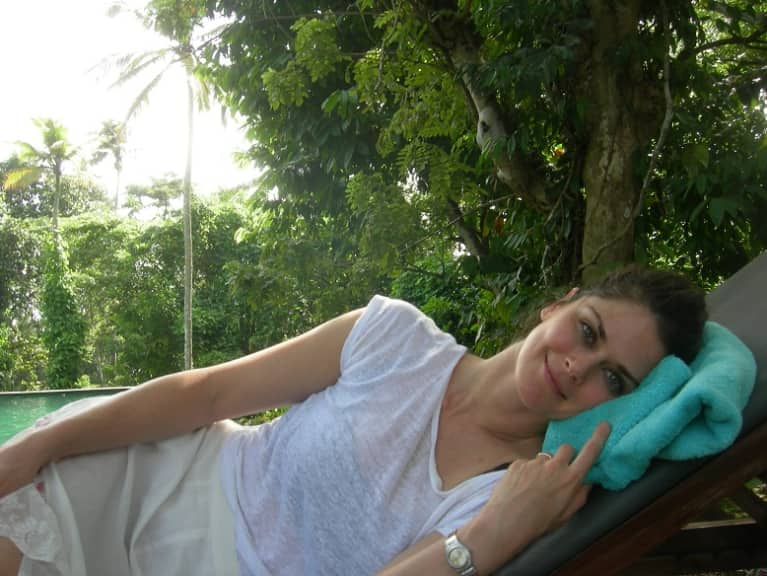 As I walked down the green highlighted path full of exquisite trees, hanging fruits and birds, I looked down at my feet and asked myself a question: "Am I where I thought I would be?" My answer was yes. After a minute I started to question that response, and so I took a deep breath and re-asked myself: "Am I where I thought I would be?" My answer was again, yes.
I started to think of how I was where I thought I would be, and I realized it was a series of moments that were given to me through breathing and living in the moment with truth and clarity.
I again looked around, and the path was soft and airy filled with the sweet sounds of natural silence. The frogs, bees, crickets and footsteps on the red clay path created another moment, a moment of truth.
Here I am in Kerala, India practicing yoga daily in complete serenity. I have managed after a few years to start to live my dream of travel and yoga. I look down again as my 2 year old son asks for mamma, and I again realize I am where I wanted to be: a mother, a wife and a messenger of this life-enhancing, life-blessing practice.
The moment I realized the immense strength of the practice was the first day my two feet touched a mat in San Francisco, California. I made the connection with body, mind and soul. I never cried so much as I did in my life until that first day I stepped onto my mat. I had a way to work with myself to find my higher ground; it was a torch to show light on my path. I felt home. I was shedding layers of old memories and thoughts that had left hurtful or sad moment in my soul and allowed me to be just me. I remember thanking all things that had been for bringing me to the gift of yoga.
In our lives we are constantly trying to understand what we should or should not be doing; we are looking for a reason to be. I always dreamed of helping and inspiring people to show unconditional love and to nurture all the souls out there, and yoga gave me the tools to channel that passion and live a life of adventure at the same time. My practice led me to my true friends, my husband, my son and the unconditional acceptance of all those around me in my life.
I try to be a truthful artist, and I try to show a level of courage. I enjoy that. I'm a messenger.
Love and Light to all beings…. May they all be free and happy…
Namaste