Starting Yoga? 4 Things to Look for, 4 to Avoid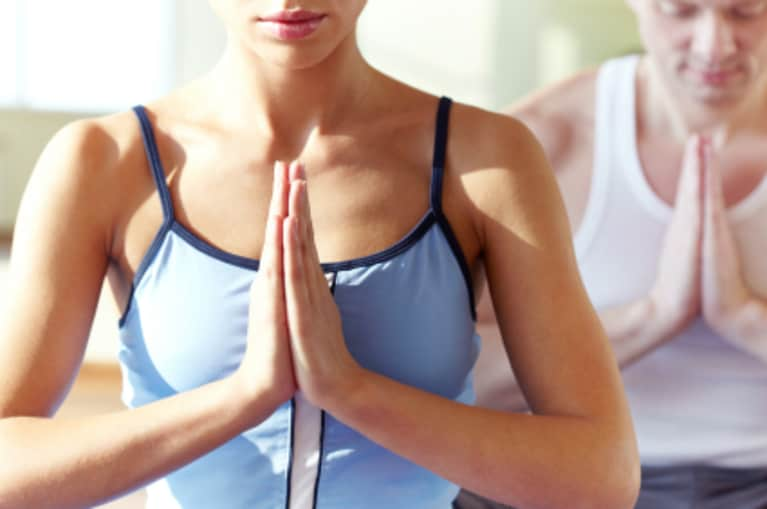 Yoga can be trendy, intimidating, and it can seem like you've got to be a hipster already in shape to even set foot in a studio. There are so many benefits to yoga as a "practice," it's worth busting those not-so-useful points of view. Yes, start a practice where you commit to doing it consistently. Consistently doesn't have to be every day, however, the greater the frequency, the greater the flexibility, strength, endurance, balance… and best of all, bliss! Below are some simple guidelines to follow as you embark on the yoga path.
1. AVOID: Comparing yourself to others. Some make yoga into a competitive sport, endeavoring to be the strongest, stretchy-est, most balanced, best yoga student in the whole class every single time! However, this approach often leads to injury or frustration.  Rather than watching what everyone else is doing, when you focus on breathing and your own body awareness, you will find the most benefit and joy. It's totally cool to be inspired by other more advanced students, but when using their abilities as a way to self-judge, it can be de-motivating and lead to quitting.
LOOK FOR: Safety. Safety is a studio where "the pose is not the goal," which means it is inclusive for all to attend. You can trust it will offer you a framework to find and develop your own practice, whatever level you may be. Yoga is truly not all about performance. Studios that have a less dogmatic style of teaching will also be less intimidating as they are usually open to all people, ages, and body types.
2. AVOID: Just another cross-training exercise. Although yoga definitely has benefits as another element of fitness for cross-training, there's much more richness to yoga available to you. Imagine going to the finest restaurant and ordering your favorite mouth-watering meal, and then someone tells you to eat it holding your nose and closing your eyes. You would miss out! Give yourself the opportunity to experience as much as you can testing differing styles, and check out the history and spirit of yoga before narrowing your choices on where and how you practice.
LOOK FOR: Yoga Lineage, History, and Tradition. Choosing a studio that has attention to each of these aspects is rooted in a total approach to yoga. Experiencing yoga with its many aspects: Asana (physical yoga postures), Pranayama (controlling the breath, the heart of yoga), and Nidra (ancient meditation technique), will give you a grounded experience of yoga as a lifestyle and not just a passing fad. Just as with anything you do that's new, it's a good idea to learn the foundation as your starting place.
3. AVOID: Gurus. Don't get overly enamored or side tracked by the "guru-ness" or personality of your yoga instructor to the point that you forget why you are going in the first place… YOU! When it's about the trendiness of the instructor or a studio, you can miss out on the real benefits of yoga as a practice. Yoga is a tremendous vehicle for self-development; your experience on the mat on any given day is a great metaphor for everything else going on in your life. You can use yoga as a way to work through challenges internally, creating greater peace and serenity day to day.
LOOK FOR: Yoga School/Certification for Teachers. When a studio offers certification and employs their own graduates, there will likely be a consistency of quality, which allows you to have greater certainty and confidence in the skills and experience of those teaching you.
4. AVOID: What's in it for me? Don't forget to identify what attracted you to yoga to begin with. Ask yourself some questions, or take it a step further: Set attainable goals as to your intention, which may be mental, physical, spiritual, or (d) all of the above. This way you can choose the studio(s) and teacher(s) truly aligned with what you desire, and realize fuller benefits in your practice.
LOOK FOR: Variety. A studio with a variety of teachers allows you to find the teacher(s) that truly resonate with you and keep you motivated to attend. More class times daily and weekly help create ease in maintaining a consistent practice. If you can, choose multiple locations or types of studios. Smaller classes allow for personalized attention and more adjustments from staff trained to do hands on. Larger studios allow for a bigger group energy effect; this vibe also has benefits.
Maybe you will simply enjoy the work out and relaxation combo of a Vinyasa Flow, or how sacred space is created by consciously taking time for yourself away from the busy-ness of life, or you may simply like the toning and stretching all yoga practices provide physically. Whatever reason you come for, yoga is an opportunity to explore vast terrains of intimacy, peace, and joy for your mind, body, and spirit. Om Shanti.