6 Misconceptions About Yoga Teachers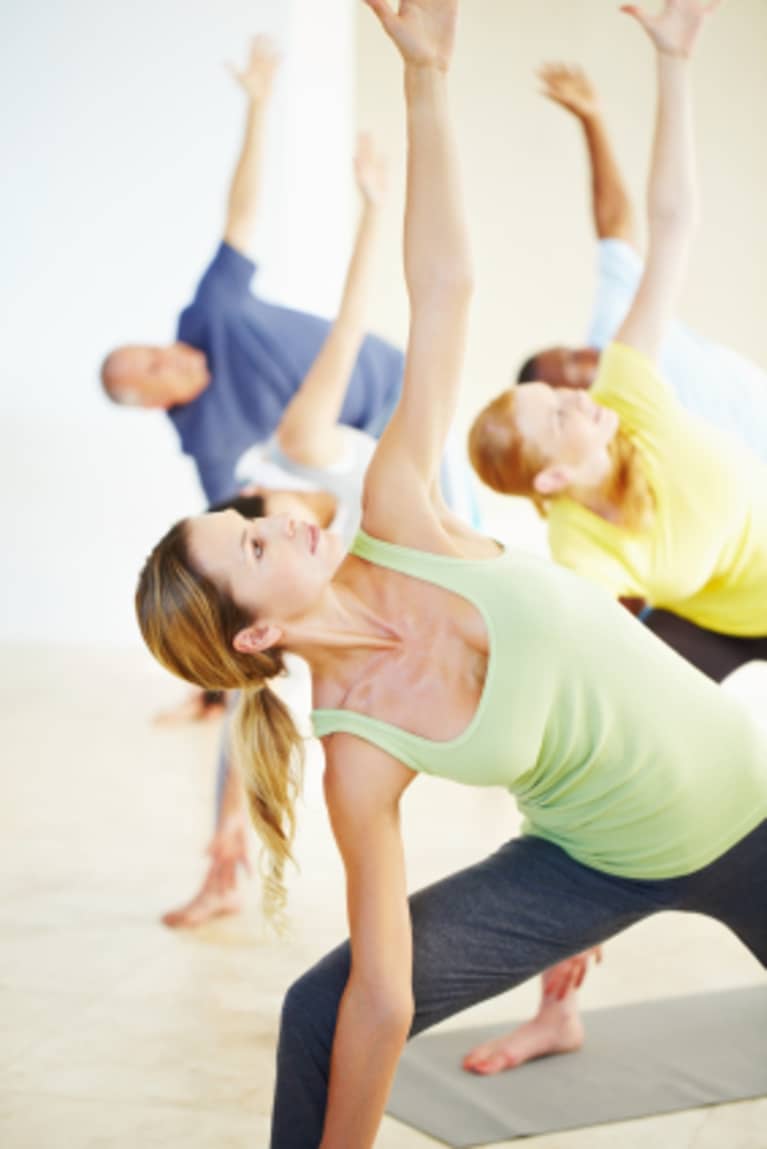 I went to my first yoga class thinking I would be bored. I fell in love immediately. I decided to become a yoga teacher but didn't think I had what it takes. I remember saying, "I will be a yoga teacher that shaves my armpits," although I had never met a yoga teacher with hairy armpits (except guys of course). Nevertheless, somewhere I managed to pick up this misconception about yoga teachers. It wasn't until I taught my first class that I realized all yoga teachers are unique -- and not as weird as I imagined.
Let me put my misconceptions to rest here:
1) Female yoga teachers do not shave their legs or armpits. For some reason I thought yoga teachers were hairy, that they didn't believe in shaving. The first day of my teacher training I met Dhyana, who owned the studio and trained the new students. I was shocked. She was gorgeous, wore makeup and a sequined sweat shirt. She totally smashed the idea that yoga teachers look as plain as granola -- hairy granola.
2) Yoga teachers don't crack jokes in class. I don't know where I got this idea. In my first class, the teacher was cracking jokes. For some reason I thought yoga was a serious matter -- all breathing and absolutely no smiles. I figured they didn't even watch television, and that they spent all day meditating. I realized as a yoga teacher that I need to stop taking myself so seriously. That I need to laugh and smile more often, and that if there are any yoga teachers out there that don't smile, I want no part of that. Besides it's kind of hard not to smile when you get to show up to work and take your shoes off.
3) Yoga teachers don't get angry -- everything is Zen. I teach, and sometimes I go home and I get angry. The reason for thinking yoga teachers are emotionless is unknown.
4) Yoga teachers can practice every asana perfectly. I have tight hips and tight ankles. It drives me nuts and sometimes leads me to judge myself. I had this idea that in order to be a yoga teacher you had to be super flexible and do a forward fold and have your hips work like a hinge. When my teachers were honest and spoke about how they had a tight this or that, it made me realize that in yoga we have strengths and weaknesses and that's why we call it a practice. Now, in class I can admit that, "hey, my hips are super tight," and sitting in cobblers pose my knees are up to my rib cage. My legs don't fall open like a book, but it's okay.
5) Yoga teachers don't believe in Facebook or social media. I am friends with heaps of teachers on Facebook. For some reason I thought yoga teachers lived in a cave and read by candlelight.
6) Yoga teachers don't have butts, guts or boobs. I thought in order to be a yoga teacher you had to be wafer thin, and that yoga teachers didn't have huge thighs like I do. I realized I was wrong. Each yoga teacher has a different body type. Yoga has helped me to accept my body. When I first started to practice my body didn't transform immediately, but my mind did. I began to feel differently about my body. I wanted to eat healthy, not because I wanted to be super thin, but because I wanted my practice to be stronger. Sometimes, I still get caught up in the idea that I need to look like a wafer, but I try to forget that and realize that all bodies are different. And the diverse bodies make it okay for everyone to do yoga. I constantly hear and sometimes think things like, "I am not flexible enough," "I am too fat to do yoga," "I have a bad back," "I am not strong enough." Practicing yoga has transformed my body. It has made me stronger and more flexible, but it has also transformed my mind, making it stronger and less judgmental.
I am glad that I continued to pursue yoga teacher training and didn't put any weight into my misconceptions. It has been one the most fulfilling things I have done, and I don't meet any of my misconceptions. Neither do the wonderful, full of emotion teachers I have met along the way.