My Journey to Trusting in Yoga Again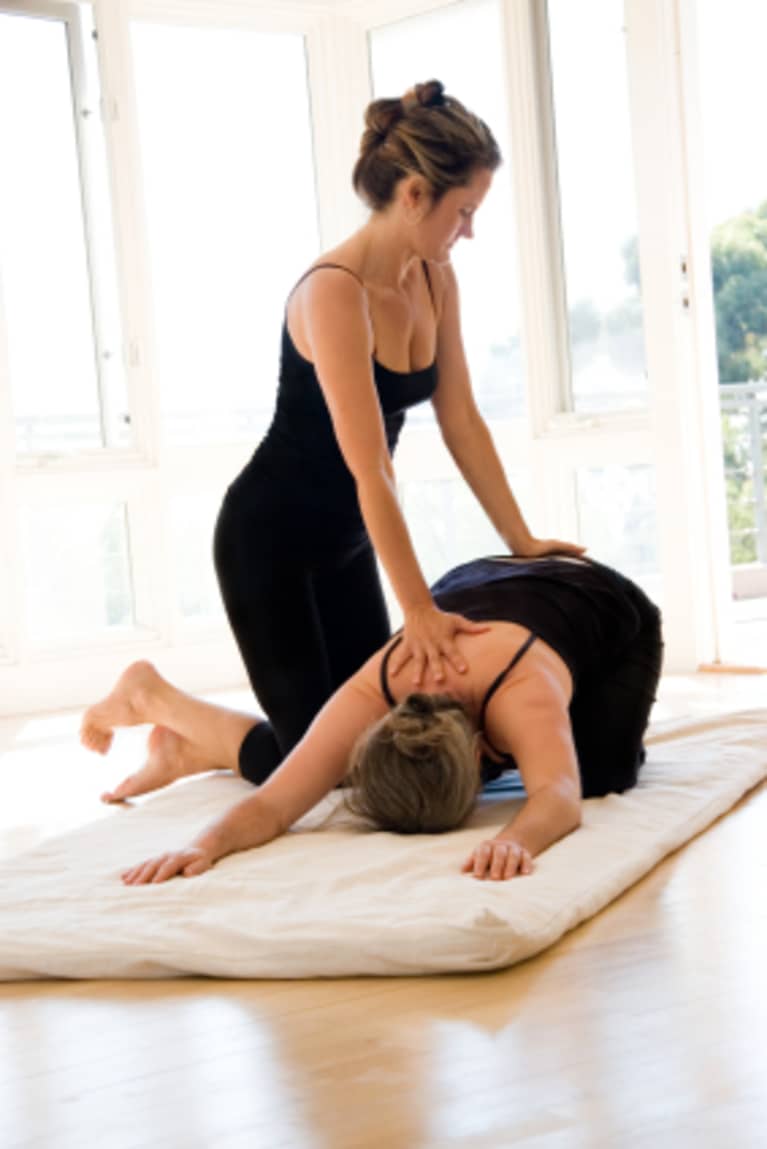 I never thought practicing yoga would leave me with a broken body and spirit, but for a period in my life, it did.
In 2009, I was training to be a yoga teacher, and an adjustment by a teacher resulted in the complete destruction of a disc in my neck and paralysis of my right arm. I was immobilized by the severity of the pain, and I was told that I would never do yoga again. I felt like my whole world had collapsed.
I required surgery to replace the disc that had been destroyed, to alleviate the crippling pain and to restore some function into my right arm. I now have a metal disc in my neck and partial paralysis of my right arm. The transition from being physically strong and capable to not being able to lift my head off the mat was hard to come to terms with. I tried to remain positive about yoga (and yoga teachers), but I didn't practice for about 18 months after the surgery. I struggled to come to terms with the way the injury occurred and the shattering of trust that accompanied it, however the consequences of the injury went even deeper than that. I felt I had lost not only the person I was, but also the person I had aspired to be. All my plans and goals fell in a heap, shattered. I felt lost, betrayed and distrustful of yoga teachers. It was an enormous event to come to terms with.
Almost three years later, I now own and run a yoga studio. I knew that if I didn't open the studio and teach yoga, yoga would be lost for me forever. I felt all sorts of fear at opening the studio. I knew that I would never regain full function of my right arm, and I knew that I would never be the fully functioning teacher that I had hoped to be. I was fearful of being judged for not looking like a yoga teacher, and felt I was working from a place of inadequacy because I was no longer able to do all the postures I had done before the injury. I felt inadequate and broken, but went ahead anyway, grateful for the support of my husband and my father. Without their support, the studio would not have come to be.
The first year was particularly hard, constantly wondering whether I should close the studio and whether I was "good" enough to teach. I learned a lot that year, especially from my students. It was during that year that I was lucky enough to find a teacher with whom I resonated with, and who inspired me. A workshop with Tiffany Cruikshank was the initial step toward recreating myself through my yoga practice and coming to terms with my physical limitations. I was still cautious about training with another teacher after the injury, but with Tiffany I felt safe in her knowledge of anatomy and experience in yoga. That workshop led me to teachers such as Kathryn Budig and Dice lida-Klein, and their precise intuitions and playful attitudes allowed me to work on regaining some strength in my right arm and shoulder in the safety of my own home. That was a big step forward in terms of trust and the first true steps to rediscovering myself through my yoga practice.
Thankfully, the steps toward trusting again didn't stop there. I took a trip to India to train with Tiffany. I felt unsure how I would go, but was grateful to be able to attempt training again. Needless to say, the training was amazing, and so was India. Even now, I get a lump in my throat when I think of the people in India, the yoga at Gandhi's memorial and the realization that I could do more than I thought. I just needed the right guidance and no pressure. I left that training filled to the brim. I don't know how else to describe it, that sense of fullness, of feeling complete and content. It was during Tiffany's training where I realized I was no longer focusing on what I couldn't do, but what I could do.
My journey into yoga doesn't stop there; it is a continual process of rediscovering and recreating myself. I have read bio's from other yoga teachers that express gratitude to teachers that have taught them, and I had never fully experienced or appreciated it, until now. Without the access to teachers such as Tiffany, Kathryn and Dice, I don't think I would have found the place I am in now. From a place that was broken, fearful and uncertain, I found strength, the beginnings of trust and new direction. For that, I am grateful.