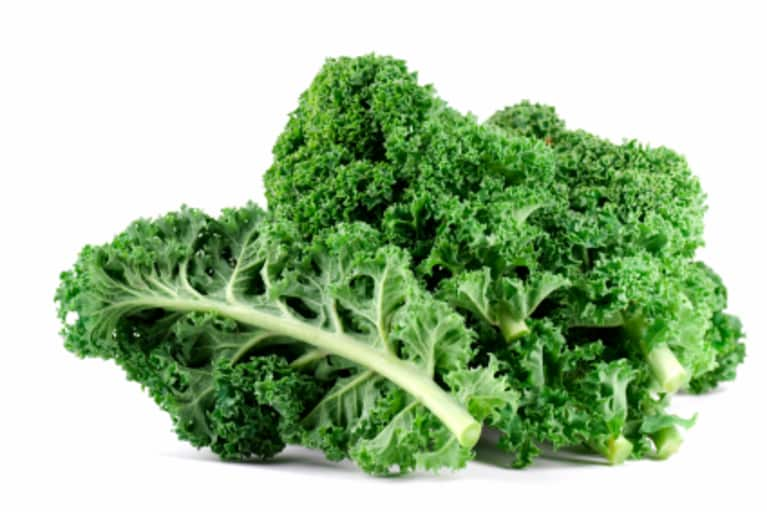 "Let Them Eat Kale!" Okay, so maybe the Queen of Versailles never met the Queen of the Greens, but now kale is poised for a royal welcome in France thanks to The Kale Project. An expat living in Paris, Kristen Beddard, was frustrated with not being able to find her favorite leafy green anywhere and is now on a mission to bring the forgotten vegetable to French soil.
The Kale Project is planting the seeds – literally! – for kale to not only grow on French farms, but also to find its way into markets, restaurants and into households in the country. I am in kale-withdrawal whenever I head back to Paris after a visit to the US, so I was so incredibly excited to meet Kristen and hear all about her cruciferous mission.
I lost my kale virginity on a hot summer day around this time last year and ever since, it's been a passionate love affair. There is a bakery on every street corner in Paris. A baguette is never more than an arm's length away. Café au lait is more ubiquitous than water. However, the leafy green known as kale is nowhere to be found. Thanks to The Kale Project, this is about to change. Check out the website, http://thekaleproject.com. Kristen and I are planning a kale marathon in NY at the end of the month, so if anyone has any kale-friendly ideas for us – your favorite kale-friendly spots or restaurant dishes – that would be great.
In the meantime, voilà my ode to my long-lost leafy love.
Ode to Kale
Kale by any other name would smell as sweet…
Some call you borecole from the brassica oleracea family – I don't care what you're called, let's eat!
You hail from the cabbage patch,
Whatever fruits or vegetables I have on hand, you're the perfect match.
You're cruciferously cool,
Anyone who doesn't like you is a fool.
Your sulforaphane helps to get rid of cancer,
And it's a great source of energy so unleash your inner dancer.
Scots Kale, Plain leaved, Rape, Leaf and Spear and Cavolo Nero,
Oh kale, did you ever know that you're my hero?
When I'm not eating you, I feel a void.
I desperately need your carotenoids.
You're so delicious,
It's hard to believe you're nutritious,
But you're packed with antioxidants and even the elusive Omega-3s,
That help keep us strong and fight disease.
Your isothiocyanates help the body detox,
And your vitamin C will keep the immune system strong – that rocks!
Sure, you're pretty to look at, but I'm more interested in what's underneath:
Your vitamin A helps to boost immunity, aid the reproductive organs and give us healthy bones and teeth.
You're low in calories and have zero fat,
How many foods can claim that?
You're rich in fiber that helps to digest,
I don't know how else to describe you – kale, you're just the best.
Milk does NOT do a body good no matter what they say,
Good thing you're high in calcium – I'll drink a glass of you instead every day!
You're higher in iron than spinach, hear that Popeye?
And even higher than beef per calorie, oh my!
Oh Kale how I love you, let me count the ways,
You send me into a cruciferous haze.
Seriously Kale, you're the best,
And the best part? You're easy to digest!
You're rich in fiber – isn't that cool?
It certainly is – for your stool.
You're great steamed or sautéed or cooked in the oven,
But I prefer you raw, for some enzyme-rich lovin'.
You're so versatile in recipes – from hearty soups to a big salad bowl,
In a curry, pâté or risotto or stuffed into a nori roll.
You can be juiced or mixed into a smoothie blend,
The possibilities for eating you never end.
I adore you Kale – you make me beautiful and never talk back,
You're like the vegetable version of legal crack.
You're the Queen of Greens and you've earned your crown,
And, thanks to your magnesium content, you're a good mood food to get rid of any frown.
You help lower blood cholesterol levels and prevent heart disease,
You can even help alleviate pain in the back, head or knees.
I'm not afraid to get my hands dirty to massage you until you're soft and mild,
And once I take a bite of you, my taste buds go wild!
Your leaves may be green, purple or red,
It doesn't matter – either way, you keep us well fed.
Don't get your liver in a quiver, Kale is a detox dream come true,
It will help you cleanse to discover the inner you.
Unfortunately, I know this isn't a monogamous relationship; I have to share,
You're the new "it" food and keep turning up everywhere.
But I don't care if you're trending,
Because it's my body you're mending.
Let's have a ménage-a-trois,
Because mixing you with just about anything doesn't break any food combining law.
You can be found in a curly or flat or dinosaur variety,
You're really making a difference in our society.
You're a culinary staple in The Netherlands, Ireland, Scotland, Germany, Denmark, Sweden, Portugal and Brazil, though still have yet to make it to France.
But thanks to The Kale Project, now you have your chance!