5 Signs Your Yoga Business Is in Trouble (And 5 Things You Can Do!)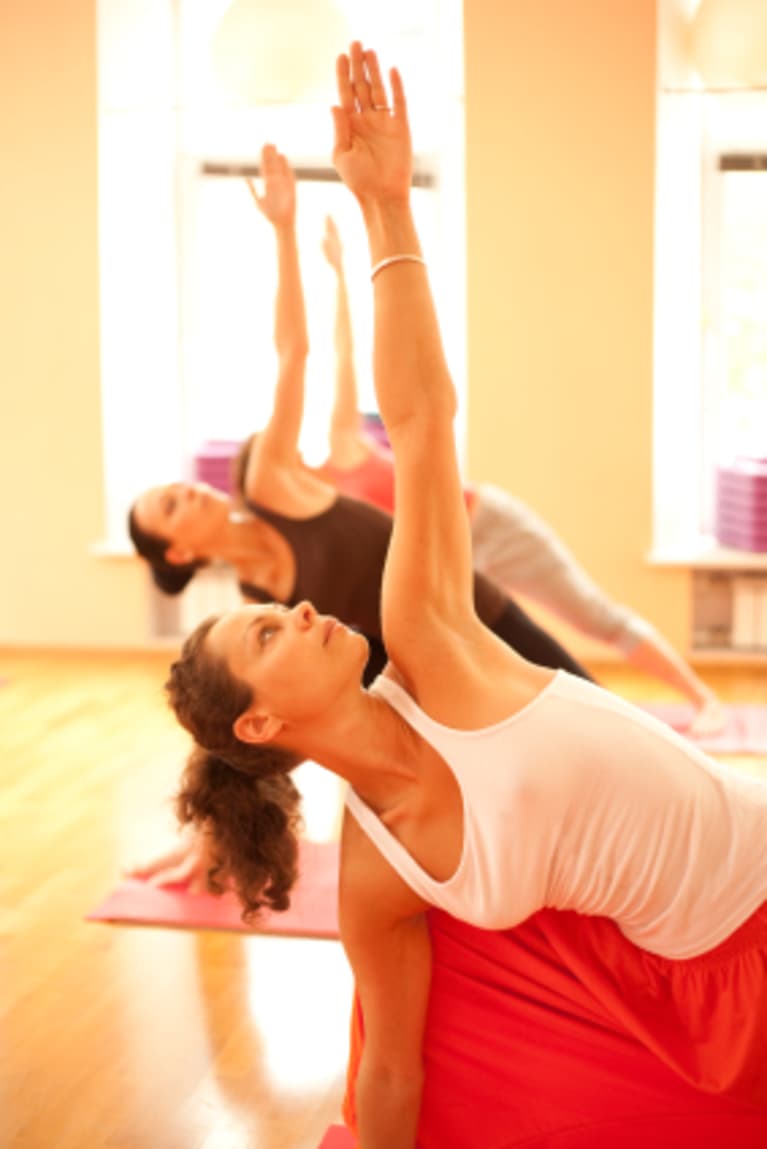 When I left my corporate job in 2003 and went to work full time as a yoga teacher, I tried my best to make the financial aspect work. After 3 years, I had built up a significant amount of debt and made the decision to go back to the corporate workplace and dig myself out. It was a hard lesson to learn but I promised myself that if I worked as a full-time teacher again, I'd do things differently.
Back then, I didn't see the "red flags" that should have alerted me that my business was in danger. Now, in my second incarnation of full time yoga teaching, I'm trying to be more aware of signs that things aren't working and trying to get ahead of them by taking some proactive steps.
Red flags:
1. You have a business loan or other source of savings to "use in emergencies" and you're using it to pay your monthly bills.
When you first get started as a yoga teacher, it can take a few months to build up a full-time teaching schedule. If you haven't done this while working full or part-time, you may have a period of time where you are unable to meet your basic living expenses with your teaching income. A business loan might be a source of money that could help you bridge this gap. However, if you find that you are always withdrawing from this source every month, for more than 12 consecutive months, you need to look at your expenses and revenue and determine what you can do to increase revenue. Otherwise, you will simply be working and building up debt at the same time. If you do decide to get a loan, look very closely at the terms. Many can be "interest only" loans, meaning your payment each month is only going to interest and none to principal.
2. You're teaching 3 classes a day, 5 days a week and you are unable to pay your bills.
If you find you're working non-stop but you still are unable to meet your basic living expenses, you must either do something to increase your "per class revenue" or think about another source of income contributing to your monthly revenue. For many teachers, while they would love to teach 3 classes a day, 5 days a week, they are hard pressed to find enough opportunities to meet this quota. But even if you find you have this kind of schedule, the physical and mental impact of teaching this much can impact your health and more importantly, your effectiveness as a teacher.
3. You haven't had a day off in 6 months.
Everyone needs time off. It's important for both the mind and body to rest and restore. As a yoga teacher, you're not only using your body to physically move around the room and stand, you're also using your coaching and support skills to be there for your students. This takes it's toll over time and you will develop resentment for teaching if you're unable to take a break. Even if you have a few hours off during the week, it's important to take a few full days off every few months and stay out of the studio. Even if you do nothing but relax at home, it will rest your mind and body and give you a renewed sense of enthusiasm when you return. If you've not had any time off in more than 6 months, you need to take a look at what's driving you and if it's finances, some of the steps below may help you make a much needed shift.
4. Your " average per transaction revenue" is less than $50 per hour.
One of the challenges for yoga teachers, from a business model perspective, is that there is only one person that can teach the class and that's you. The "scale-ability" of this model is limited, because no matter how many opportunities may be out there for you, you can only do so much. Therefore, unless you can create 1) higher revenue per teaching event and/or 2) other sources of income from yoga related activities that don't require you physically be teaching (such as DVD or book sales) you will be locked in a business model that is limited from a revenue generating perspective (another idea, however, is to partner with other teachers or create a model where you're referring work to other teachers that you receive, and you're getting a referral fee).
One thing you can do is review your current teaching schedule and the revenue associated with each class. Figure out what your average rate is and if it's $50 or less, look for opportunities outside of studios where you can set a higher rate. Private contracting for yoga services with non-studio entities, such as businesses, non-profits, schools, neighborhood groups, fitness centers or other training facilities for athletes may give you a chance to come in as the expert and set your own rate.
Another option is to create a product that you can sell, such as a DVD, e-book or other teaching related content. While this may involve some initial costs up front to create the product, it can provide a solid stream of regular revenue that while it might be small, can give you some extra income. Also look for writing opportunities where you will be paid for your contribution or public speaking to businesses and other groups about wellness related topics. The idea is to look for opportunities where you can set the rate. Due to the number of yoga teachers out there, it's often hard for teachers to negotiate a rate for studio teaching.
5. You don't have health insurance.
This is a huge issue for many people, not only self-employed yoga teachers. But, if you are going without health insurance or using public services that don't provide you with the opportunity to get preventative care (only urgent/emergency care), you need to take a look at the cost and viability of health insurance. Just as the above statement about the scale-ability of the independent yoga teacher model raises a revenue concern, if you are sick and can't teach, you don't make money. So, it's critical you take care of your body. Unfortunately, this really boils down to you making enough money to be able to afford insurance. Some of the steps below may allow you to earn a little more so you can afford even just a basic plan.
Things you can do:
1. Get a part-time job.
Yoga teachers often have blocks of time in their schedule where they are not teaching. While you don't want to be working 16 hours a day, when you have a chunk of time where you are not teaching, find a way to use those blocks of time to make some money. If you can find a part time job to fill in some of those slots, that is one option. There are many work-at-home options out there, but you need to be savvy to find a viable one. Even local things, like babysitting or office work at a local business might be something you can do to use the time to bring in cash.
2. Look for private contracting teaching where you can set a higher rate.
We talked about this in the earlier section on "per transaction revenue." In my Mentorship module about "Building your Yoga-preneurship," I share a spreadsheet I've created that's a business dashboard. It shows my ideal business model and all the activities associated with it to make a dollar threshold that is my yearly revenue goal. This spreadsheet allows me to see at a glance, what I'm doing, what I'm making per activity and in red, identifies teaching opportunities I don't yet have (but am purusing) to hit my annual revenue figure. Set up a visual format such as this so you can shape your marketing activities and see at a glance the classes where you're not pulling in as much as others. This can help you set a balance in your schedule between lower paying jobs where it may make sense to keep the job for other reasons (exposure, proximity to your home, partnership opportunities) and higher paying jobs.
3. Decrease the cost of the biggest item in your budget.
One way to increase revenue without having to find a new job is to decrease expenses. For most people, the biggest living expense they have is their rent or mortgage. If you can move, re-finance, take on a roommate or employ other options to decrease your living expenses, it will go a long way to helping your weekly cash flow. If this is not another option, look at all your regular monthly bills (cable, cell phone, electric, gas) and call each provider and look for ways to get a decrease in your bill. The accumulated savings may make a small dent in your monthly costs. Be sure to call your car and homeowner's insurance also. The last place to have an impact is your day-to-day expenses. Set a budget limit for your weekly expenses, say $200, and do your best to avoid going over that number.
4. Partner with a studio to take on administrative responsibilities for additional revenue.
Since you're a yoga teacher, you probably have a number of studios that you work for or have as contacts. If you have marketing skills or business/administrative skills, call some of these studio owners and discuss working part-time for them. You could manage the retail component of their business or create all the marketing materials for their events. Although this may be for a small hourly rate, it may be very easy to fit into your schedule given the flexibility that many studios have around when tasks can be completed.
5. Go back to a corporate job for 24 months and teach part-time.
Although this is usually the least desirable option, it sometimes is the only one. If you have more than $5,000 in debt (I did) you may see no other way to get out than to go back to a job that has regular pay, benefits and (possibly) a higher annual salary. Remember that even if you need to go back to the corporate world, it's possible to stay connected to teaching through at least 1 or 2 classes per week. If you currently have weekend classes, keep at least 2 on your schedule. This will help you stay connected to your yoga career until you dig yourself out of debt.
There is no doubt that working as an independent yoga teacher can be a challenging endeavor from a financial perspective. There is no doubt that it is highly rewarding on a personal level and many of us make sacrifices on a material basis in order to reap these personal, spiritual and emotional rewards. But there are basic needs we all have around home, food, health and financial stability and in order to meet these needs, we need a certain level of income. Despite your passion for yoga, stay alert to these red flags and take action early to help your business stay viable.