5 Easy Ways to Start Your Meditation Practice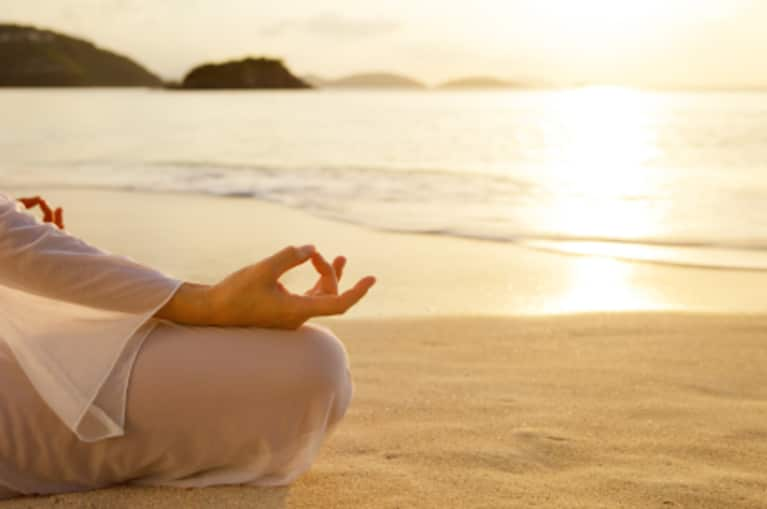 "Practicing regular, mindful breathing can be calming and energizing and can even help with stress-related health problems ranging from panic attacks to digestive disorders." - Andrew Weil, M.D.
Making meditation a part of your daily life is super beneficial. As part of your morning ritual, it is very centering, grounding and can really set the tone for your day. Done in the evening, it's great for clearing your head, quieting the mind, relaxation and reducing stress. Personally, I have noticed that my day runs more smoothly, with ease and flow when I spend even just a few minutes breathing with my eyes closed every morning. Yes! That's how easy it is to meditate. Just start by sitting and focusing on your breath. You can count your inhalations and exhalations (to slow down your breath and go deeper). Repeating a word or phrase (with or without meaning) as a mantra can help you slow down your thoughts. But the simplest method, when all else fails, just focus on your breath. Your mind will wander (that's normal!) but just be aware of it. When you notice yourself thinking, re-focus and go back to your breath.
I'm by no means a meditation expert but no matter how long or short I sit for or how much my mind wanders, it helps. Like anything new, it takes a while to get into the habit of doing it. Here are a few suggestions to help you get in the meditation groove:
1. Quiet & Comfy – Find a quiet, comfortable, safe place – a couch, chair or the floor (use some pillows if that's more comfy for you) all work…as long as you have some quiet and privacy.
2. Start Slow - Just set out to sit for 2-3 minutes. Every few days or after a week, build up to 5 minutes, then 10 minutes, etc.
3. RPM – Rise, Pee, Meditate: This is the technique from the Chopra Center that I use. It really works! Get up, go the bathroom (I wash my face & brush my teeth first too) and then I sit down and meditate. If you start to do other things you'll get distracted and never get to it. Like the Nike slogan says, JUST DO IT!
4. Same Time, Same Place - Whether you choose to meditate in the morning or at night, choose a consistent time and place so you get into a habit of doing it every day.
5. Be Guided – Try guided meditations such as the Chopra meditations, which are great and free! (there is a 21 day meditation going on now! )
I also like Andrew Weil's "Relaxing Breathe" meditation. The 4-7-8 (or Relaxing Breath) Exercise.
He guides you through it here.
Here's a simple 3 minute meditation from Dr. Andrew Weil.
And the simplest of all… a one moment mediation for you super duper busy bees!