5 Ways Yoga Has Made Me a Better Writer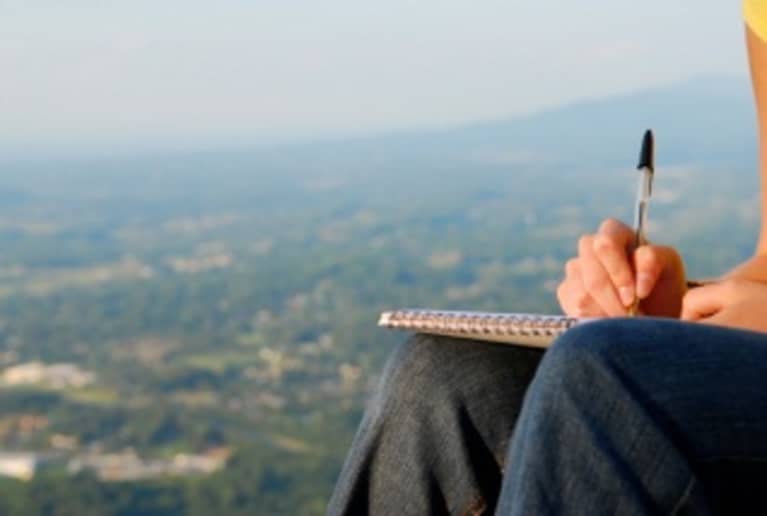 It was during the first week of my yoga teacher training that I realized my yoga practice and my writing practice were very similar. It was a week after that when I realized that my yoga practice was definitely helping my writing practice. Finally, a few months later, I sat down and really thought about how one was affecting the other.
1. Routine
Okay, so, I am not the best at keeping ANY type of routine, but I have succeeded from time to time. The times I am able to commit to doing yoga every other day (or even every day), I noticed that my practice grows tremendously. The same happens with writing. The times I get myself into a chair with my notebook every day, my writing gets stronger. With both yoga and writing, coming back to it every day allows for it to become a habit, or, better yet, a ritual.
2. Breath
When I am struggling with writing, I don't breathe. I hold my stomach in and try to force the idea out of my head with sheer will. This is not the healthiest situation for the creative juices to flow. Enter yoga. Yoga has taught me how to breathe through the frustrating moments in my writing and, well, life in general.
3. Trying Something New
I'm a creature of habit and often get stuck in a rut. Yoga has helped me out of my comfort zone. For instance, I was never the kid who did cartwheels or handstands or flips or basically anything physical and fun. It was a yoga workshop six years ago that got me to plant my hands on the ground and attempt to lift my legs over my head. I am still working on achieving inversions, but now I love to try new poses. This same energy makes its way into my writing. I try different styles, different themes. Honestly, I probably wander back to what I'm comfortable with, and that's fine. I'm just happy to test new waters every once in a while.
4. Focus
When I'm practicing yoga, I'm usually able to zone out the world. About halfway through a class, I realize that I haven't thought about what I have to do later that on, about the person next to me doing some crazy variation of a pose, or how much I'd love to skip to Savasana. I am (or was, until I realized it) completely focused on the task at hand: yoga. How do I focus? I think it is the breath, having a special place to do yoga (my mat), and, honestly, having the desire to let go and focus. Now, I try to breathe, find a special place to write (my favorite coffee shop or my favorite chair in my apartment), and let the desire to let go and focus sweep over me.
5. Inspiration
I can't tell you how many times I've been flowing through my Sun Salutations or resting in Savasana when an idea has popped into my head for my next written piece. By breathing, focusing, trying new poses, and coming back to the mat again and again, my creative side has grown. It has a little voice of its own, and it comes out when I least expect it. My yoga practice may be one of the few times a day that the usual chatter filling my brain goes quiet and let's that creative voice come through. By creating similar circumstances when I'm writing, I let that creative voice out yet again. This time, I'm armed with a pen and paper to get the ideas down.