15 of the Most Inspirational Yoga Songs Ever!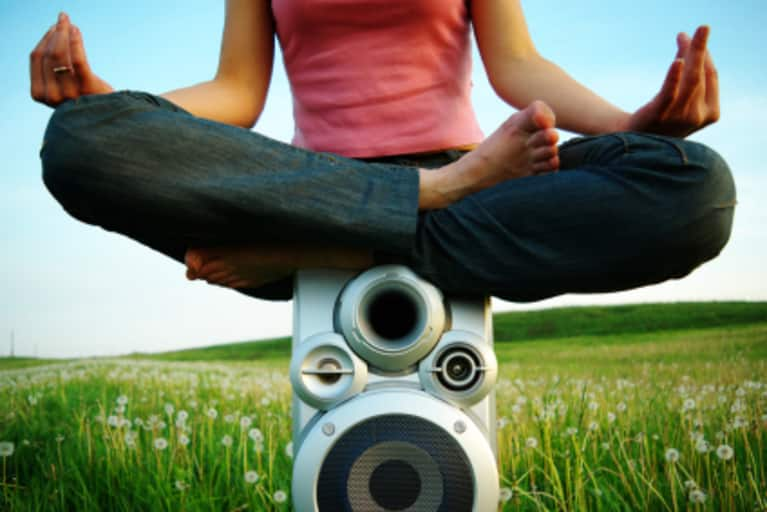 I don't know what my world would be without music. Music has served as my self-soothing device, my release and often times my reality check through all of life's crossroads.
Yoga has been a continuous learning experience for me, and as I get to know myself better, my practice grows even deeper. It has helped me set boundaries, melt fears, and become more comfortable in my shoes.
When I first began practicing yoga 13 years ago, the most difficult part for me was to let go, drop the ego, and let my mind transcend while staying present at the same time. The only vehicle that ever got me to that place has been my music, and for 13 years it has allowed my yoga practice to do its job so much more effectively. Before moving to the east coast, I taught yoga a few times a week in Los Angeles, and I played music during class because I believe it enhances its effectiveness. After my classes I'd always get asked what songs were on the playlist by students. Many of these songs were little windows to my soul, and I was grateful to be able to share them. Here is a current sampling:
1. "Shake It Off" Florence & the Machines – The words to this song are the reason I do yoga. They remind me that anything is possible and that "it's always darkness before the dawn."
2. "Fragile" Sting – Taken from the Sanskrit words, "sva," which means "self," and "adhyaya," which means "education of," this reminds us that with no self-awareness, there is no yoga. Remember, you are only a person. Just like life, we mindlessly "push through" the most difficult poses. This is where I set an intention for my practice. You can only do your best, and your best will change every day.
3. "Sail Away" David Gray – One of the biggest struggles for me in yoga is allowing my mind to get to that place of escape, where all the negative thoughts quietly drift away from my senses. This song gets me to that place.
4. "The Gravity of Love" Enigma – If the rule of life is to listen to you heart, then some heart-opening poses are in order. Enter thy sexy cobra pose!
5. "Walk on Water" Marc Cohn – The end of the first lyric says it best: "Baby when the bands and the barkers go home, they say that Venus she rises from out of the foam. She dances on air and laughs at the moon, and watches young lovers in fiery dunes." Ahhhhh, Savasana.
6. "Feels Like I'm 17" Annie Lenox – Oh Annie Lenox, how you set my spirit ablaze! If ever I begin my practice feeling tired and heavy, this song keeps me light on my feet like a kid. The perfect time to try a balancing pose.
7. "Steady On" Shawn Colvin – Beautiful voice, beautiful lyric and oh so humbling. What is a yoga pose that humbles you?
8."Let the Drummer Kick" Citizen Cope – When my practice starts to heat up, this song gets me psyched. I love its progression.
9. "Fade Into You" Mazzy Star – A perfect love song. I play this one while I breeze through all my standing poses, making them feel effortless. Sometimes I close my eyes in mountain pose with my index fingers touching and just smile. Try it!
10. "Chasing Cars" Snow Patrol – If life were one big tivo, this song would be the pause button. I truly wish I can just put a hold on life for a moment and let the world continue on. I guess that's what yoga is for.
11. "Angel" Jack Johnson – This song makes me feel beautiful. Without a mirror, I can pretend my legs look graceful, and that I didn't just fall out of an arm balance.
12. "The World Spins Madly On" The Weepies – Since part of yoga is about acknowledgement, I am often reminded of mistakes I've made, and certain songs help me come to a place of forgiving myself. For those five minutes there is no judgment, and I can reflect on becoming a better person. This song reminds me that all people make mistakes and sometimes we lack the clarity to make important decisions while the world is spinning so fast.
13. "I Get Lost" Eric Clapton – To be honest and vulnerable is difficult at times, but oh-so important during my yoga session. This song says, "here I am. I am not perfect. Take me or leave me (but I really, really want you to take me!" ).
14. "Watermark" Enya – Gotta have at least one relaxing Enya song in there. Am I getting a massage right now?! Oh, no wait, I'm in a headstand!
15. "Georgia On My Mind" Willie Nelson – Beautifully sung by the great Willie Nelson, Georgia goes so well with my cooling poses. In college my nickname was "nostalgia queen" for a reason. They just don't make music like they used to.
Cheers to you and your yoga practice. I hope to continue to share with you my music. Perhaps it can be your vehicle to get to that place of non-judgment, tranquility, and never-ending presence.