5 Reasons to Feed Your Baby Homemade Baby Food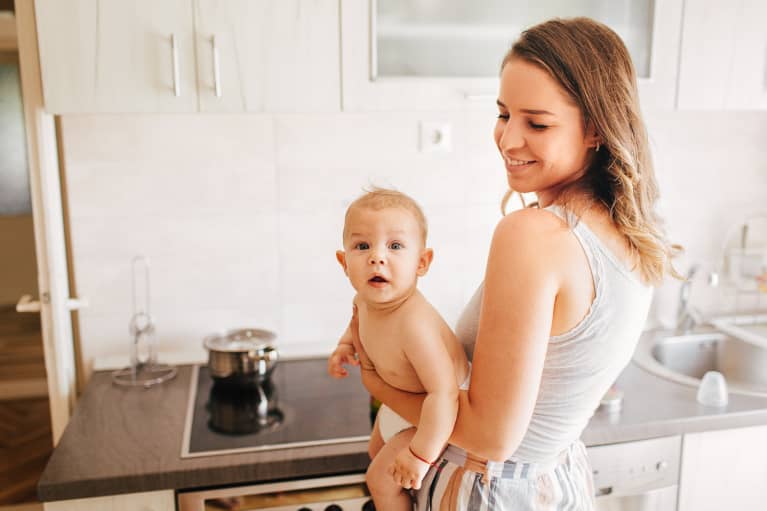 My daughter loves Indian food, pungent cheeses, fish (not just in stick form), parsnips, and my husband's authentic barbeque pork ribs. My daughter is not yet two. Don't get me wrong, my daughter also loves ice cream and the Gerber version of Cheetohs. So while I have many things that I haven't figured out about parenting (like how to get my toddler to take a consistent nap), I've always been pleased with how well she eats; and although I generally don't have tips or "secrets" to share about parenting—other than each child is different—I would like to offer that I genuinely believe we should be feeding our children whole, healthy foods rather than the common, processed foods we regularly see—and right from the beginning. So here are five reasons to feed your baby what you should already be eating yourself—fresh, nutritious foods that you cook yourself.
1. Children are just mini people. When your child gets older she'll be expected to eat her vegetables, and ideally she'll be physically rewarded by the non-processed foods that she chooses to put into her body. You'll hopefully encourage her to reach for an apple rather than a jar of pre-made applesauce, so why not start this behavior now when she's an infant? Making your own applesauce for your baby is easy. I don't believe in using microwaves and I made my daughter purées before we even got our food processor. Just peel and core an apple and put the chunks into a saucepan. Cook them with some water and cinnamon if you like (leave the sugar out entirely until she's at least one) on medium heat and then mash them with a fork. They'll be done and cool in less time than it would have taken you to go to the grocery store.
2. Get her taste buds used to healthy food. I'm not going to be bringing scientific evidence into this, as you can google and research just as well as I can. However, almost any parenting book out there will tell you that your child's taste buds become accustomed to the flavors you choose to feed her as early as in utero. So start feeding her the kinds of foods you want her to eat later in life right now.
3. You can be a healthy example. I'll never forget being on a field trip in college with a mother who was going back to school. At one of our rest stops, I was doing my best to choose wholesome fare when she said to me that she wished her children would eat healthfully like I did. I asked her if she ate the vegetables that she was serving her kids, or if she passed them up herself while expecting them to pile them on. She responded that she didn't particularly like vegetables. Let me tell you, kids are little mimics—and they're not stupid. If they see you not choosing to eat something, why would they? So now might be the time to get on the bandwagon and start eating well yourself.
4. It's easy. I've already mentioned how uncomplicated it is to make homemade applesauce, but I know it's often even easier as an exhausted parent to buy pre-packaged food from the grocery store. It was simple for me to feed my daughter homemade food because I was making my own dinner. Partly, this does tie into "number 3" in the sense that you shouldn't be heating up yourself a microwave dinner while cooking the baby asparagus on the stove; yet partly, it's much simpler. Until the age of one, your baby is getting her nutrition from your breast milk (hopefully you gave breastfeeding a try) or her formula. At this stage in the game foods are there for new textural and taste experiences (which is why it's important to feed her the right things). When I was tired and my husband had a late night, I'll admit to eating peanut butter toast and mashing up an avocado for my infant. It couldn't have been easier, and it was one of my daughter's favorite choices. There can still be good-for-you fast food.
5. Food is love. The most important reason that I choose over and over again to feed my daughter good food is simple—it shows love. Food, in every culture, is an experience that is much deeper than nutrition. We share our culture—and love—through food. Sadly, much of our American cuisine isn't healthy, but providing your child with a good diet doesn't mean you can't also introduce her to your favorite frozen treat—or the occasional baby Cheetohs. I think that's part of the love—teaching her that eating healthfully includes balance and some indulgence. So the next time you think about what to feed your child, make sure you're weighing a little love into the equation.
Choosing to eat a well-balanced diet really isn't difficult. To me, healthy food is simple—the more natural and close to how God made it the better. I generally try to stay away from boxes and mixes—and I've already shared my disdain for the microwave. I'm not a parenting expert, nor am I a nutritional counselor. I am, however, a mother who wants my daughter to grow up healthy in every sense of that word—and I want to know that I did all I could do to help get her there.