Celebrity Chef Sam Talbot on Yoga, Surfing & Living with Diabetes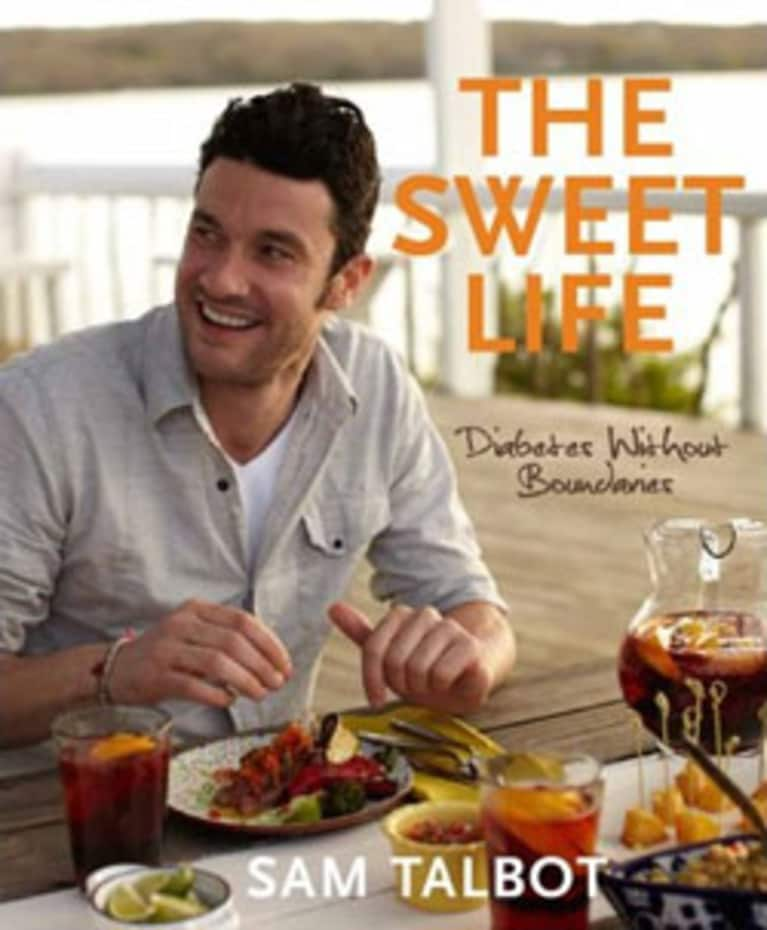 Author and celebrity chef Sam Talbot has a new book out: The Sweet Life - Diabetes without Boundaries. The Sweet Life is chock full of fresh, vibrant recipes, as well as one-of-a-kind tips from Sam on how to navigate the road of living with diabetes. Any way you slice it, Sam Talbot is the model for living a healthy lifestyle, and has a visceral understanding of how to live in harmony with the food that sustains us. I caught up with him one morning as he was headed to a yoga class in New York City:
You're a chef and foodie who also happens to have Type 1 diabetes. What is your message with your new book, The Sweet Life - Diabetes without Boundaries?
You know, there are about 26-28 million people living with diabetes, with another 7-8 million who are undiagnosed. Most of the people think that the food they can eat on a daily basis is really boring or bland, or they have to be in a prison: they can't eat this, they can't eat that. And this book is really out there to show them that's not the case. Fresh food that's left alone speaks for itself. You really can live a life and do everything you want living with diabetes - it's a life without boundaries. And the cool thing is if everyone were eating like a diabetic, the world would be a lot healthier of a place. We'd have less obesity and less heart attacks. The book is for foodies or for people trying to take food seriously and know where it comes from and know what it does for your body.
Why is yoga one of the main parts of your workouts? How did you get into it, and how does it benefit you?
One of my close friends turned me on to it. The reason why I love doing yoga is because it keeps me limber, lean and toned. I work out all the time. Weightlifting reduces glucose in the blood, and yoga does the same thing. I do it as much as possible.
You are a huge proponent of exercise. Why is exercise so important to you?
My whole thing is being healthy, being fit and being able to do all the things I want to do, whether it's to jump on a plane and go surfing in Costa Rica, or to go hiking in Wyoming. Whatever it is, I need to be fit; I need to be healthy. Leading a healthy, active lifestyle is really the only option. There is no other option for me. Diabetes or not, I remember as a kid - you know most kids are outdoors running around – I was always like that. I got diagnosed at 12, and I never skipped a beat; I never changed. If anything, it's driven me more to be as healthy as possible. Surfing is one of the best forms of exercise. I do it for hours. I just go out there with friends and it's therapeutic… it's like cooking almost. You can lose your head in it. There's no blackberry, there's no iPhone… it's just you and the water. It's the same thing in the kitchen, that same sort of zone, same intensity, same drive.
How did you get into surfing?
I'm really close friends with a family of surfers. Their parents surf every day. There are four boys, and they surf all the time. One of the brothers taught me how. I caught the very first wave I ever tried to stand up on. He said a lot of people can't do that; it might mean something. And I just fell in love with it… I opened up a restaurant called The Surf Lodge… you know, the whole thing.
You have this quote: "I can only do what I do when I feel my best." You talk about this in your book too, about how you have to be a model for healthy living, regardless of having diabetes… it's just a healthy lifestyle.
Regardless, I mean at the end of the day, you are your own model. There's no other person who has to look at me in the mirror every morning and be okay with what I see. I am my own role model. For me it's just about pushing and striving, thriving and living. If I'm just sitting and I'm not doing, I get agitated. I get ADD and start tearing at the walls. When I'm moving I'm at my best, creating, outdoors, in nature, in the elements, that's when I'm at my finest. My core friends, people that I associate with on a daily basis, they have that same mentality. It's a lifestyle: you believe in those things like sustainability. You believe in protecting the oceans, you believe in protecting the lands and the smaller farmers, and eating fresh and cooking fresh, and using the right ingredients… things that don't harm the earth and your body at the same time.
What are some hard-won tips you can give to those who have Type 1 diabetes, or to those who just wish to live the healthiest lifestyle possible?
When you see me, you don't see diabetes. You see this guy who is always fit, doing whatever, cooking, surfing. I could obviously go the other way. I could not care, have all this crap in my pantry and my refrigerator. You have to rid yourself of all these things that are bringing your body down, slowing you down. So, no matter how hard you try, you're just going to feel sluggish, you're not going to have that same pop. The Sweet Life tells you how. When you're making clam chowder for your family…. clam chowder has a ton of butter, white flour, a ton of heavy cream… clam chowder in the book uses almond milk, brown rice flour, smoked fennel. A lot of my recipes have some serious flavor and serious spice in them for your overall wellness. You can still have the same foods you grew up on; just switch them out a bit. Make what makes sense for your family, your body, your heart, your mind and your soul. That's how we do it. Then everybody's grooving and it's a beautiful thing. And, if you are diagnosed, it doesn't have to be as gloomy as it sounds. Sometimes when you hear diabetes, it's just this black cloud. The sooner we all band together, I think we'll be a lot better off. You're not alone.