To Retreat or Not To Retreat, That Is the Question!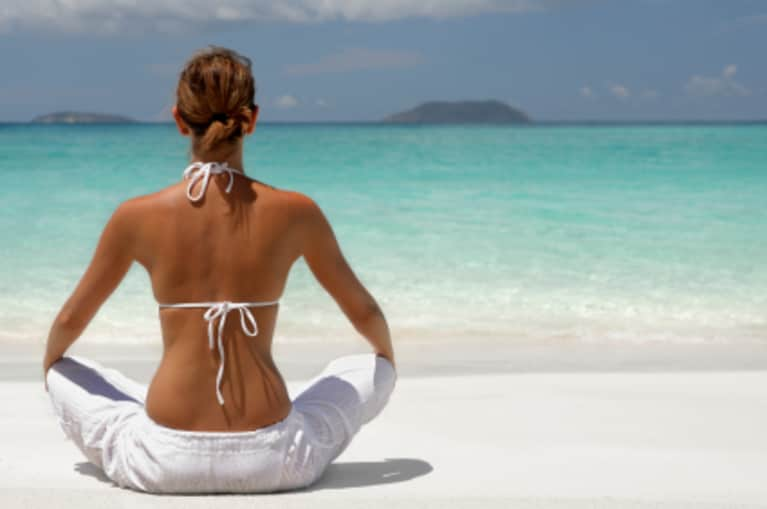 Have you ever found yourself intrigued by the idea of a yoga retreat? But perhaps you were afraid it would be too daunting, or that you were a beginner and wouldn't know the poses, or that the time and money just wasn't possible? Or perhaps you feared the unknown, as I often do. I've been on one retreat thus far and it was certainly a journey, emotionally and physically, one which I am somehow still on ten months later. If you are wondering whether or not a yoga retreat is for you, let me tell you a bit about my weekend at Sivananda Ashram and Yoga Farm in the lovely, remote area of Grass Valley, CA.
Last September, certain areas of life beckoned my recognition and I turned to my yoga practice for guidance. I was led, by fate I presume, to the beautiful farm retreat with a close friend and fellow yogi. We spent two nights camping on the property, waking at 5:30 in the morning to a soothing bell and the soft chant "Om Namah Shivaya, it's 5:30…" We would then meditate for twenty minutes, the early morning light peeking in through the windows and draping itself around the edges of the silent room, bodies swathed in white scarves and linen wraps, eyes closed, bodies humming with peace…after meditation we would chant, and then the Swami would give an inspirational and uplifting lecture. I hesitate to even use the word "lecture" for his beautiful blend of spiritual, relatable, modern and thematic story-telling. It was more than story-telling, more than a lecture; it was a "take what you will from this" type of verbal presentation in the fresh morning air.
From there we would go to our first yoga class. Sivananda yoga is a different practice from the Vinyasa Flow I'm used to, and it was difficult for me to bend my practice away from the familiar (an important lesson I learned about myself off the mat, an unwillingness to bend…we must learn to bend so as not to break). Since then, my heart has opened greatly and in the past year I have embraced many styles of practice. Now I look forward to practicing Sivananda yoga again with a year's worth of reflection in my medicine kit.
Post-yoga, we would retreat to brunch, which was a decadent spread of vegan, hearty, wholesome goodness consisting of lentils, breads, soups, vegetables, potatoes, salads, tea and rice which tasted absolutely divine. This was due in part to the expert Ayurvedic preparation and in part because we'd been up since 5:30 and not eaten (minus the Luna bar and piece of fruit in the tent at 5:30 each morning before heading down to meditation; it is virtually impossible for me to make it through half of my day without a bite to get my body going and I don't believe it's healthy for the metabolism either.) So if you are like me, packing your own healthy snacks is a must.
After brunch and the washing of our own dishes, there was something called "Karma Yoga" which I expected to be another style of asana practice. What a rookie perception! Karma Yoga consisted of kitchen clean-up, working around the ashram, watering the plants, turning the soil, etc. and it was a lovely concept. A spiritual place of beauty that is kept spiritual and beautiful by those who enjoy it, doing the work it takes to keep the land flourishing. It really is yoga: the act of beautifying what is in, around and part of you, because no one else will do that work. No one else ought to do that work. It was a humbling and inspiring practice.
After some free time we would reconvene for afternoon yoga which was the same sequence as the morning, I learned. After that class we were feeling particularly drained and sleepy from the heat, the lower consumption of food and the lack of sleep. We took free time to do some vinyasa and reflective writing on the gorgeous meditation deck overlooking the lake before dinnertime. Dinner was another phenomenal spread of vegan Ayurvedic amazingness. A bit more free time elapsed afterwards and then it was time to refill our mugs of tea and congregate for evening Satsang, which repeats the morning ritual with meditation, chanting and lecture.
We had arrived on a Friday and partook in dinner and Satsang, then Saturday was as I just described and Sunday the retreat ended. We completed our morning routine up until brunch and then we did Kirtan, a delightful call and respond singing/chanting practice, before departing from the Ashram.
All in all, I was completely changed by my experience. Now, this is not a place to be "holier than thou" and act as though I was blissed out and reached self-recognition and enlightenment during meditation. No. That did not happen. I had an "Eat Pray Love" moment during meditation where I wanted to crumble forward out of Sukhasana (simple cross-legged sitting pose) and wail into the floor, "WHY AM I THINKING ABOUT EVERYTHING THERE HAS EVER BEEN TO THINK ABOUT RIGHT NOW WHEN MY MIND IS SUPPOSED TO BE BLANK!?!?" The answer I came up with after months of reflection is not one you want to offer that hair-brained, mess of a self that is floundering in meditation amidst practiced yogis and pristine stillness. No. Just be gentle with that poor fragile part of you, because the answer that you too will realize is that you need to meditate more. Do I meditate more? Not really. Sometimes…but not really.
I'm coming up on a year since my retreat and I'm just now realizing how much it's changed me. I'm just now itching to go back. I'm just now realizing I want to meditate more. But I'm going to meditate lying down, or walking, because that's what allows my mind to quiet down. I'm going to focus more on being unattached to thoughts, letting them float by in a stream of consciousness and resisting the urge to pluck at any particular ones instead of forcing a clean and blank slate devoid of thought. I urge you to make your practice your own. Naturally, don't get up and stride out of Satsang to go do walking meditation because that would be rude. Try their methods, try to acclimate. Do your best. But in your own practice and your own life outside of the retreat, be creative. Find what works for you. So in the quest of answering To Retreat or Not To Retreat, I can only tell you that in a year's time I've found it to be life changing and the first step in a long journey; one that I anticipate with a soft smile and a very open heart.